Main content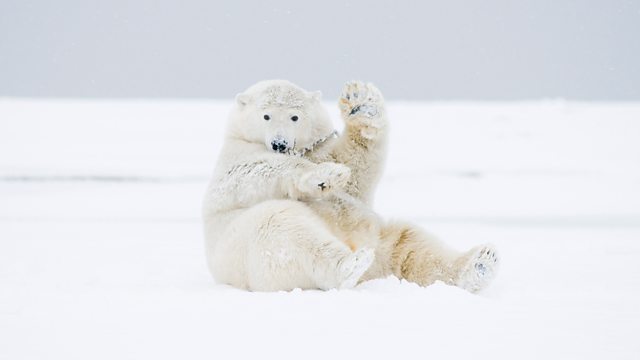 Ice and Snow
On Christmas Eve Andrew Marr is with novelist Michelle Paver, explorer Ben Saunders, materials scientist Mark Miodownik, and poet and writer Nancy Campbell.
On Christmas Eve, Andrew Marr explores the mysteries of snow and ice. Michelle Paver's novels dwell in the darkest places: an Arctic hut in midwinter haunted by ghosts, an isolated mountain peak, and a prehistoric frozen forest. She explains the appeal of these inhospitable settings, and asks why the cold still terrifies us.
Ben Saunders knows the sounds and smells of ice better than most. As one of the world's leading polar explorers he has skied to the North Pole and completed Scott and Shackleton's aborted trip to the South Pole. He describes the exhaustion, frustration and wonder of life on a frozen sea.
Materials scientist Mark Miodownik knows that liquids are not to be trusted, even when frozen solid. His latest book, Liquid: The Delightful and Dangerous Substances That Flow Through Our Lives, unpicks the cracks, creaks and crystals of ice.
Poet and writer Nancy Campbell set out from the world's northernmost museum to understand our fascination with ice and snow. Her new book, The Library of Ice: Readings from a Cold Climate,brings to life the people who dwell in these icy landscapes, many of which are now disappearing.
Producer: Hannah Sander
Last on
Ben Saunders
Ben Saunders is one of the world's leading polar explorers, and a record-breaking long-distance skier who has covered more than 7,000km (4,350 miles) on foot in the Polar Regions since 2001. His accomplishments include leading The Scott Expedition, the longest human-powered polar journey in history, and the first completion of the expedition that defeated Captain Scott and Sir Ernest Shackleton, a 105-day round-trip from Ross Island on the coast of Antarctica to the South Pole and back again.
Ben is the third person in history to ski solo to the North and South poles, and holds the record for the longest solo Arctic journey by a Briton.
Michelle Paver
Michelle Paver is a novelist and children's writer known for her fantasy series Chronicles of Ancient Darkness. She published her first ghost story,
Dark Matter
, in 2010 which is set in the Arctic, followed by
Thin Air
, set in the Himalayas.
Her latest novel, Wakenhyrst will be published in April.
Mark Miodownik
Mark Miodownik is Professor of Materials and Society at University College London, where he is also Director of the Institute of Making. He presents BBC TV and Radio programmes on science and engineering such as Everyday Miracles, and recently made a three-part BBC Radio 4 documentary called Plastic Fantastic.  
Liquid: The Delightful and Dangerous Substances That Flow Through Our Lives is published by Viking
Nancy Campbell
Nancy Campbell is a writer. A former magazine editor, she contributes to the Times Literary Supplement, Royal Academy Magazine and other journals. She has been a Marie Claire 'Wonder Woman', a Hawthornden Fellow and Visual and Performing Artist in Residence at Oxford University.
The Library of Ice: Readings from a Cold Climate is published by Scribner
Broadcasts