Main content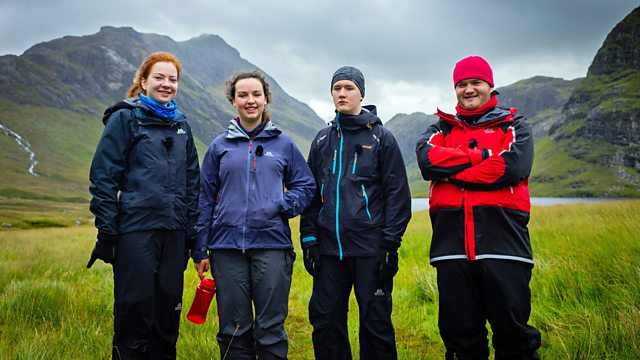 Episode 1
Sgiorradh air a' bhlàr a-muigh le Calum MacIlleathain. Four young adults take a hike into the wilds of Scotland. What could possibly go wrong?
Bidh ceathrar òg ghaisgeil le dì-uidheamachadh a' strì ri dùbhlan drùidhteach. A' tighinn à diofar cheàrnaidhean den dùthaich, bidh aca ri siubhal còmhla, ann an canù, coiseachd is sreap tron fhàsach mhòr mu dheireadh ann an Alba, Innis an Iasgaich air Taobh Siar Rois. Nì iad seo thairis air grunn oidhcheannan agus le stiùireadh bho fhear a tha cleachdte ri bhith air a' bhlàr a-muigh agus ainmeil airson snàmh mara is lochan, Calum MacIlleathain. A' feitheamh orra, tha droch shìde, builgeanan coise, meanbh-chuileag agus ìrean siùcar-fala ìosail. Ron sin ge-tà, feumaidh iad eòlas a' chur air a chèile agus togail air na sgilean sgiobaidh aca ann an ionad spòrs-uisge ann an Glaschu.
Four brave and underqualified young adults from across Scotland take on an epic challenge. Together they must canoe, hike and climb their way across Scotland's last great wilderness, Fisherfield in Wester Ross, over several nights. They will be led into the unknown by wild swimming star and outdoorsman Calum Maclean.
Wild weather, blisters, midges and low blood sugar levels await. But first, they need to get to know each other in a teambuilding session at a water sports centre in Glasgow.