Main content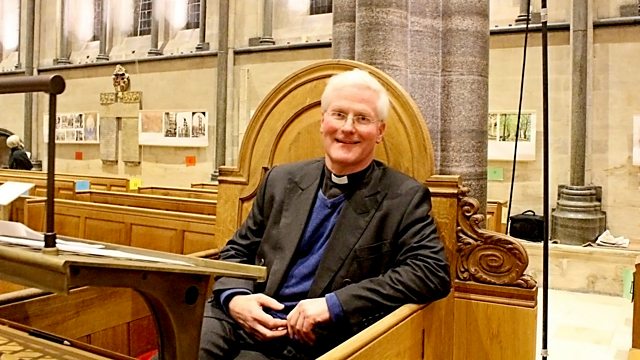 Advent
Robin Griffith-Jones, Master of the Temple Church, re-examines the Nativity stories told to us in Matthew and Luke's Gospels and asks what they say about the meaning of Christmas.
The Reverend Robin Griffith-Jones, Valiant Master of the Temple in London, explores the nativity narratives recorded in the Gospels of Matthew and Luke.
The familiar tales of virgin birth, shepherds and Magi are intriguing and laden with symbolism and meaning. "There is far more to them, as they were written then and as they have been read over the centuries, than meets the eye," he says.
Robin explores Matthew's desire to show that all the events in his telling are there to fulfil prophecies in the Hebrew scriptures. "In Jesus, Judaism's most venerable prophecies and vastest hopes were coming to fruition. The prophet Isaiah had written of gentiles and kings coming to Jerusalem's God-given light, bringing gold and incense and singing the praise of the Lord."
Luke meanwhile with his shepherds and the link to John the Baptist's birth, has another agenda. "Luke sees two stages in God's dispensation for the world - the old order, centred in Jerusalem and its Temple, and the new order, realised in Jesus. In Luke's grand narrative, the new grows out of the old, confirms it and transcends it."
To illustrate his thesis, Robin introduces music from Handel and Bach and the poetry of TS Eliot and John Donne.
Presenter: Robin Griffith-Jones
Producer: Michael Wakelin
A TBI production for BBC Radio 4
Last on

Readings
Title: Matthew 1:23, The Bible, (RSV)
Publisher: Oxford University Press
Title: Lancelot Andrewes Christmas Sermon 1622
Author: Lancelot Andrewes Works, Sermons, Volume One
Publisher: Library of Anglo-Catholic Theology
Title: Numbers 24.7 The Bible, (RSV)
Publisher: Oxford University Press
Title: The Journey of the Magi, Ariel Poems
Author: T. S. Eliot
Publisher: Faber & Faber
Title: On the Day of Christ's Nativity
Author: John Milton
Publisher: Poetry Foundation
Title: Immensity, cloister'd in thy dear womb, The Poems of John Donne
Author: John Donne
Publisher: Lawrence & Bullen
Title: On Christmas-Day
Author: Thomas Traherne
Publisher: Oxford Scholarly Editions
Today's programme was presented by Robin Griffith-Jones.
The producer was Michael Wakelin.
Broadcasts