Main content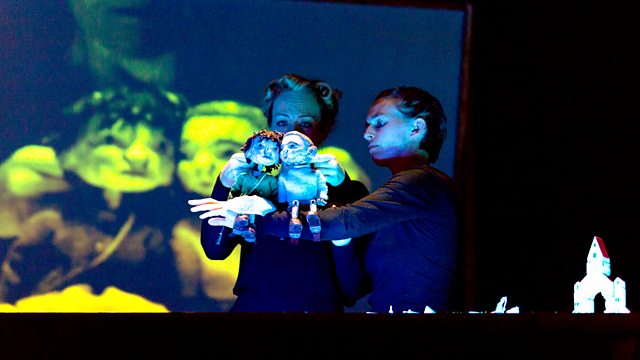 Hansel and Gretel
Simon Armitage's take on this classic fairy tale, with music by Matthew Kaner, in a stage production devised and performed live by the Goldfield Ensemble with narrator Adey Grummet
A re-imagining of the classic fairy tale by the poet Simon Armitage with music by Matthew Kaner, a work devised for the stage by the Goldfield Ensemble. This touring production was inspired by the visual creations of artist Clive Hicks-Jenkins, with puppeteers working alongside the chamber ensemble and narrator Adey Grummet. Kate Molleson introduces a recording of the London performance which took place at Milton Court Concert Hall in October. Also tonight, a selection of some of the best new releases of 2018.
Last on
Music Played
Matthew Kaner

Hansel & Gretel

Performer: Anna Durance. Librettist: Simon Armitage. Narrator: Adey Grummet. Ensemble: Goldfield Ensemble. Director: Kate Romano.

Cassandra Miller

Duet for Cello and Orchestra (excerpt)

Performer: Charles Curtis. Orchestra: BBC Scottish Symphony Orchestra. Conductor: Ilan Volkov.

O Zomer!.
Another Timbre.
4.

Lucy Railton

For JR

Performer: Lucy Railton.

Paradise 94.
Modern Love.
5.

Skadedyr

Frampek

Ensemble: Skadedyr.

Luigi Nono

La Fabbrica Illuminata (excerpt)

Performer: Loré Lixenberg.

La Fabbrica Illuminata.
All That Dust.

Ellen Fullman

The Air Around Her (excerpt)

Composer: Okkyung Lee. Performer: Ellen Fullman. Performer: Okkyung Lee.

The Air Around Her.
1703 Skivbolaget.

Charlotte Bray

Zustӓnde (2016) [2nd movement: "Freely, fiercely independent"]

Ensemble: Mariani Klavierquartet.

Chamber and Solo Works.
Nimbus Alliance.
2.

Huw Watkins

Flute Concerto (excerpt)

Performer: Adam Walker. Orchestra: Hallé. Conductor: Ryan Wigglesworth.

Huw Watkins: Flute Concerto, Violin Concerto and Symphony.
NMC.
1.

Hen Ogledd

Gwae Reged o Heddiw

Ensemble: Hen Ogledd.
Broadcast

Featured in...
We broadcast more live and specially-recorded concerts and opera than any other station.
Stockhausen's Gruppen – What's the Big Deal?