Main content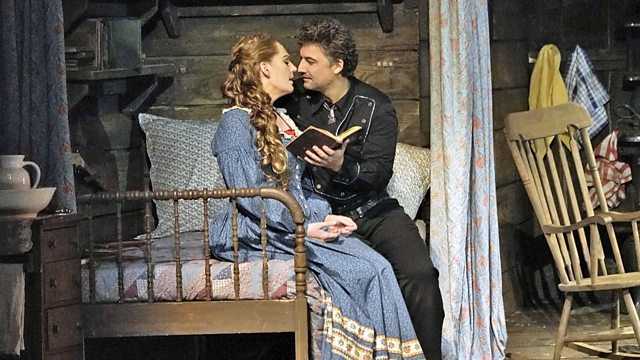 Puccini's La Fanciulla del West
Puccini's La Fanciulla del West, starring Eva-Maria Westbroek as Minnie, who falls in love with Ramerrez, a notorious bandit, sung by Jonas Kaufmann. From the Met in New York.
A mining town during the American gold rush of 1849: perhaps an unlikely setting for an Italian opera, but one that has a happy ending! Puccini's La Fanciulla del West, the Girl of the Golden West, tells the tale of Minnie, the bartender in the saloon whom all the local men adore, and Dick Johnson alias Ramerrez, a notorious bandit. Dick and Minnie fall in love on first meeting, so much so that he vows to change his life as a bandit. Puccini wrote the romantic leads for two great singers: Enrico Caruso and Emmy Destin, but the roles in this Met performance are sung by two contemporary great singers: Eva-Maria Westbroek and Jonas Kaufmann.
Presented by Mary Jo Heath in conversation with Ira Siff.
Minnie.....Eva-Maria Westbroek (Soprano)
Dick Johnson (Ramerrez)..........Jonas Kaufmann (Tenor)
Jack Rance.....Zeljko Lucic (Baritone)
Nick.....Carlo Bosi (Tenor)
Sonora.....Michael Todd Simpson (Baritone)
Ashby.....Matthew Rose (Bass)
Jake Wallce.....Oren Gradus (Bass)
Wowkle.....MaryAnn Mccormick (Mezzo-soprano)
Trin.....Eduardo Valdes (Tenor)
Harry.....Alok Kumar (Main Artist)
Joe.....Scott Scully (Tenor)
Postiglione.....Ian Kozlara (Tenor)
Sid.....Jeongcheoi Cha (Baritone)
Bellow.....Richard Bernstein (Baritone)
Harry.....Joseph Barron (Tenor)
Jim Larkens.....Adrian Timpau (Baritone)
Billy Jackrabbit.....Philip Cokorinos (Tenor)
Jose Castro.....Kidon Choi (Baritone)
New York Metropolitan Opera Orchestra (Main Artist
New York Metropolitan Opera Chorus
Marco Armiliato (Conductor)
Photo credit: Ken Howard / Met Opera
For full synopsis visit the programme page
Synopsis
ACT I
A miners' camp in California, 1849–50. At sunset at the Polka Saloon, Nick, the bartender, prepares for the miners' return from the hills. Jake Wallace, a traveling minstrel, sings a sentimental song that causes Jim Larkens to break down in tears. The men collect money for his passage back home. Trin and Sonora both bribe Nick to help them win the heart of Minnie, the owner of the bar, with whom all the men are in love. Sid cheats at cards, and Jack Rance, the camp's cynical sheriff, marks him as an outcast. The Wells Fargo agent Ashby arrives with news of the imminent capture of the Mexican bandit Ramerrez and his band. An argument breaks out between Rance and Sonora, each claiming Minnie will be his wife. Things almost get out of hand when Minnie herself appears. The men calm down and sit to listen to Minnie's bible teaching. Later, alone with her, Rance confesses his love to Minnie ("Minnie, della mia casa"). But she is not interested and, recalling her happy childhood, paints a different picture of her ideal love ("Laggiù nel Soledad").
A stranger appears in the bar, introducing himself as Dick Johnson from Sacramento. Minnie recognizes him as a man she once met on the road. The jealous Rance orders Johnson to leave town, but when Minnie declares that she knows him, the others welcome Johnson. As he and Minnie dance, the miners drag in a man named Castro, one of Ramerrez's band. Castro pretends that he will lead them to their hideout. He then whispers to Johnson—who is in fact Ramerrez—that he let himself be captured to lure the miners away from the saloon, in order for Johnson to rob it. The men depart with Castro, and Minnie and Johnson are left alone. She tells him about her simple life and that she is still waiting for her first kiss. When she shows him the hiding place where the miners keep their gold, he replies that as long as he is nearby, nobody will harm her or touch the gold. She shyly invites him to visit her in her cabin later that evening. 
ACT II
In Minnie's cabin in the mountains, the Indian woman Wowkle sings a lullaby to her baby and bickers with the child's father, Billy Jackrabbit. Minnie arrives and excitedly prepares for her meeting with Johnson. Alone with him, she gives in to his declarations of love and they kiss. Johnson, full of doubt as to how to tell her about his true identity, is about to leave, but she asks him to stay for the night as it has begun to snow. When several shots are heard, Johnson hides in the closet. Rance appears with some of the men and tells Minnie that they are concerned for her safety—they have discovered that Johnson is Ramerrez. Minnie claims to know nothing and the men leave. She then angrily confronts Johnson, who makes excuses about his past and declares that when he met her he decided to give up his former life. Deeply hurt, Minnie sends him away. Another shot rings out. Johnson, wounded, staggers back into the cabin and Minnie hides him in the attic. Rance returns, certain he has found his man, and demands to search the room. Minnie refuses and the sheriff is about to give up when a drop of blood falls on his hand from above. Johnson is forced to surrender, but Minnie has an idea—she challenges Rance to a game of poker. If he defeats her, she will give herself to him; if he loses, Johnson goes free. Minnie cheats and wins. Rance leaves. 
ACT III
Johnson has been nursed back to health by Minnie. Again on the run from Rance and his men, he is eventually captured in the forest. As the miners prepare to hang him, Johnson asks for one last mercy—that Minnie believe him free and far away ("Ch'ella mi creda"). Rance is enraged, but the men hesitate. At that moment, Minnie rides in, wielding a pistol. When her pleas to spare Johnson prove fruitless, she reminds the men how much they owe her. The miners finally give in and release Johnson. He and Minnie ride away to start a new life together.