Main content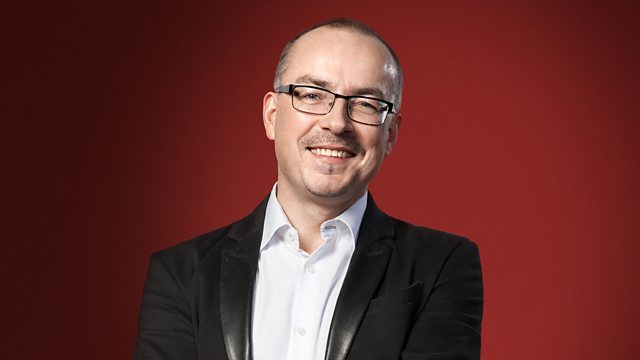 22/12/2018
Andrew McGregor rounds up the best new and recent releases, and in Building a Library Caroline Gill compares recordings of Vivaldi's Gloria RV589.
with Andrew McGregor.
09.30
Building a Library: Caroline Gill listens to and compares some of the available recordings of Vivaldi's Gloria,
Although Vivaldi wrote 3 settings of the Gloria (RV588-RV590), it is RV589 that has become known simply as 'The Vivaldi Gloria', owing to its enduring popularity. It is thought to have been composed in 1715 for the Pio Ospedale della Pietà, the orphanage, convent and music school in Venice in which Vivaldi taught. Not only is the Vivaldi Gloria strongly influenced by the operatic style of the day, but it also mimics the prevalent concerto grosso style in its alternating episodes for tutti choir and solos. Above all, Vivaldi's Gloria has gained its popularity because of its vibrant musical personality.
11.00
Andrew McGregor discusses new and recent releases of organ music with Oliver Condy.
11.45
Andrew chooses an outstanding new release as his Disc of the Week.
Record Review
9.00am
Vaughan Williams: Norfolk Rhapsodies Nos.1 & 2; The Bluebird; Music for an EFDS Masque; Variations for Orchestra plus David Matthews: Norfolk March
Royal Scottish National Orchestra
Martin Yates (conductor)
Dutton Epoch CDLX 7351 (SACD Hybrid)
https://www.duttonvocalion.co.uk/proddetail.php?prod=CDLX7351
'A Vaughan Williams Christmas' – Christmas carols by Ralph Vaughan Williams
Chapel Choir of the Royal Hospital Chelsea
William Vann (conductor)
Albion Records ALBCD035

Christmas Cantatas by Buxtehude, Telemann & Bach
La Petite Bande
Sigiswald Kuijken
Accent ACC 24348
'Cantique de Noël' – Christmas music by Berlioz, Fauré, Gounod, Saint-Saëns, Roques, Noyon, Debussy, Guilmant & Massenet
Choir of Gonville & Caius College, Cambridge
Geoffrey Webber (director)
Michael How & Luke Fitzgerald (organ)
Delphian DCD34197
http://delphianrecords.co.uk/product-group/cantique-de-noel-french-music-for-christmas-from-berlioz-to-debussy/
Christmas on Sugarloaf Mountain' – traditional Christmas music
Apollo's Fire (ensemble)
Apollo's Singers
Apollo's Musettes
Jeannette Sorrell (director)
Avie AV2396
http://www.avie-records.com/releases/christmas-on-sugarloaf-mountain/
9.30am – Building a Library – Caroline Gill on Vivaldi's Gloria
Composer: Vivaldi
Reviewer: Caroline Gill
Recommended Recording:

Collegium Musicum 90
Richard Hickox (conductor)
Chandos 0518


Other Recommended Recordings:
Schola Pietatis Antonio Vivaldi
Nadia Zwiener (conductor)
MP3s available online & DVD available on spav.co.uk
Choir of King's College, Cambridge
Academy of Ancient Music
Stephen Cleobury (conductor)
EMI Classics 5 57265

Taverner Consort and Players
Andrew Parrott
Virgin Veritas 0777 7 59326 2 1
10.20am – New Releases

'Nadales arreu' – Christmas music by Salvador Brotons, Mauel Oltra, Joan Alfonso, David Leon Fioravanti & Joan Casas
Banda Municipal de Barcelona (ensemble)
Salvador Brotons (director)
Coral Cantiga (choir)
Ulrike Haller (soprano)
Jordi Ricart (baritone)
Columna Musica 1CM0382
https://www.columnamusica.com/en/catalogue/nadales-arreu
'Folkjul II' – Swedish folk music for Christmas
Ulrika Boden (singer)
Gunnar Idenstam (singer)
Sandra Marteleur (singer)
St. Jacobs Kammarkor
Gary Graden (conductor)
BIS-2334 SACD (Hybrid SACD)
http://bis.se/performers/idenstam-gunnar/folkjul-2-a-swedish-folk-christmas
Arthur Sullivan: The Light of the World
Natalya Romaniw (soprano - Mary, the Mother of Jesus)
Eleanor Dennis (soprano - Mary Magdalene/Martha)
Kitty Whately (contralto - an angel)
Robert Murray (tenor - a disciple/nicodemus)
Ben Mcateer (baritone – Jesus)
Neal Davies (bass - a ruler/a pharisee/a shepherd)
BBC concert orchestra
Kinder children's choir
BBC symphony chorus
John Andrews (conductor)
Dutton Epoch 2CDLX 7356 (Hybrid SACD)
https://www.duttonvocalion.co.uk/proddetail.php?prod=2CDLX7356
'Christmas with Sonoro' – Christmas music by Archer, McDowall, Spicer, Higgins, Joubert, Treseder, Howells, McGlade, Roe, Beamish, O'Carroll, Warlock, Rutter, Todd & Nicholson
Sonoro (choir)
Michael Higgins (organ)
Neil Ferris (conductor)
Resonus Classics RES10226
https://www.resonusclassics.com/christmas-with-sonoro-neil-ferris-res10226
'A song for Christmas' – Christmas music arranged for orchestra by Mantovani
Mantovani and his orchestra
Decca Eloquence 484 0268
https://eloquenceclassics.com/releases/a-song-for-christmas/
'Himmelmusik' – Sacred songs and cantatas by Theile, JC Bach, Butner & Ritter
L'Arpeggiata (ensemble)
Christina Pluhar (director)
Warner Classics 0190295634001
http://www.warnerclassics.com/shop/3253479,0190295634001/christina-pluhar-himmelmusik
10.50am New Releases: Oliver Condy on new organ recordings
Krebs: Complete Organ Music
Manuel Tomadin
Brilliant Classics 95363
https://www.brilliantclassics.com/articles/k/krebs-complete-organ-music/
Soler: Six concertos for two organs
Jurgen Essl & Jeremy Joseph
Cybele CYBELE SACD 031802
Franck: complete organ works
Ben van Oosten
MDG 316 2080-2
https://www.mdg.de/titel/2080.htm
Organ music by Bach, Buxtehude, Mendelssohn & Reubke
Joseph Nolan
Signum SIGCD546
https://signumrecords.com/product/the-organ-of-st-bavo-haarlem/SIGCD546/

Music for organ duo by Ravel, Paulus & Stravinsky
Benedict Lewis-Smith
Julian Collings
Regent REGCD500
http://www.regent-records.co.uk/product_details_356.htm
Works for choir, organ & orchestra by Bach & Krebs
Lucas Pohle (organ)
Britta Schwarz (alto)
Luise Haugk (oboe)
Dresdner Barockorchester
Rondeau ROP6160

'Deo Gracias' – Organ music by Paul Spicer, Paul Edwards, John Weaver, Jehan Alain, Marcel Dupre, Leo Sowerby, Iain Quinn, Percy Whitlock & Andrew Carter
Stephen Moore
Priory PRCD1199
https://www.prioryrecords.co.uk/index.php?route=product/product&path=59_73&product_id=2336

Messiaen: Les Corps Glorieux, L'Ascension, Messe de la Pentecote, Apparition de l'Eglise éternelle, La Nativité & Le Banquet Céleste
Louis Thiry
La Dolce Volta LDV 49.1
https://www.ladolcevolta.com/album-music/messiaen-oeuvres-pour-orgue-louis-thiry/

Messiaen: La Nativité du Seigneur
Richard Gowers
King's College KGS0025
https://www.kingscollegerecordings.com/product/messiaen-la-nativite-du-seigneur/
11.45am – Disc of the Week

Debussy: Nocturnes, Jeux & Prélude à l'après-midi d'un faune
Les Siècles
Les Cris de Paris
François-Xavier Roth - Conductor
Harmonia Mundi HMM905291
http://www.harmoniamundi.com/#!/albums/2469