Main content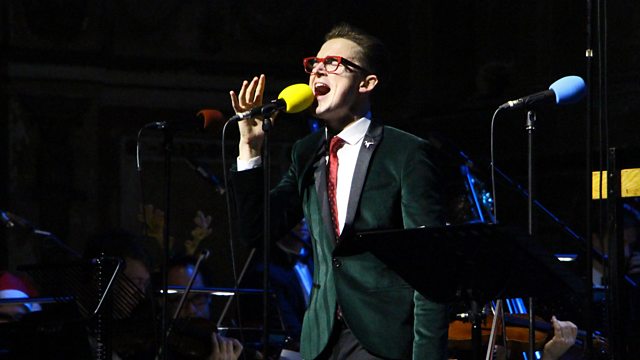 Christmas at Ally Pally
Ken Bruce serves up a Friday Night Festive Feast with guests Alfie Boe, the BBC Radio 2 Choristers of the year and Tom Flectcher, with songs from The Christmasaurus.
Ken Bruce serves up a Friday Night Festive Feast with guests Alfie Boe, the BBC Radio 2 Choristers of the year - Cassian Pichler-Roca and Emilia Jaques - and with songs from his magical musical story "The Christmasaurus" - Tom Fletcher.
Tonight Friday Night Is Music Night returns to an important BBC heritage site - Alexandra Palace. The programme is recorded at the newly restored Alexandra Palace Theatre where close-by the first regular television service was launched in 1936. Friday Night is Music Night is now in its 65th year - at the heart of the programme, as ever, the BBC Concert Orchestra conducted by Richard Balcombe . Tonight's programme the orchestra perform the "Troika" from "Lieutenant Kije" by Prokofiev; "Sleigh Ride" by Leroy Anderson and excerpts from Tchaikovsky's "Nutcracker".
Tonight's special guests include tenor Alfie Boe who joins the orchestra in a selection of favourites; and making their Friday Night is Music Night debuts the two winners of the BBC Radio 2 Young Chorister competition - 13 year old Cassian Pichler-Roca from Cheltenham and 16 year old Emilia Jaques from Thirsk. They perform a selection of Christmas carols and duet on John Rutter's "The Angel's Carol"
Tom Fletcher is a musician, singer, composer, author and vlogger but perhaps best known as the lead vocalist and guitarist of pop band McFly. In 2016 he wrote his first children's book and bestseller "The Christmasaurus" about a young boy called William Trundle. Tom added songs to the book and a musical version was premiered last year. William Trundle loves dinosaurs more than anything in the world and so he asks Santa for a dinosaur for Christmas. On Christmas Eve William finds the amazing Christmasaurus in his bedroom, and is soon off on a magical adventure complete with snow, elves, flying reindeer and, of course, Santa Claus himself.
During the interval Ken Bruce dons his hard hat to find out about the restoration of the Alexandra Palace Theatre and more about the BBC's history at this remarkable building.
Recorded at Alexandra Palace Theatre on 18th December.
Last on