Main content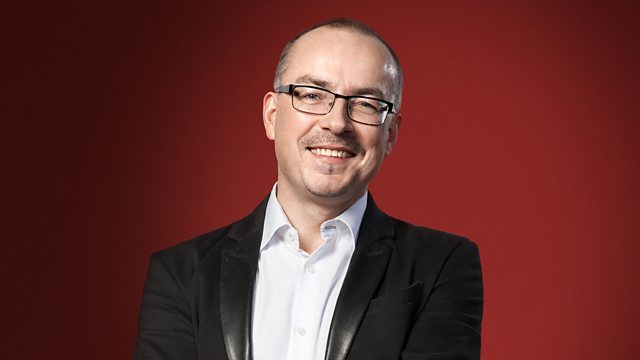 Andrew McGregor with William Mival
A round-up of the best 2018 new classical releases, and in Building a Library William Mival picks a favourite recording of Richard Strauss's orchestral showpiece Till Eulenspiegel.
Throughout today's programme Andrew McGregor is joined by Record Review regulars Katy Hamilton, Jeremy Sams, Harriet Smith to hear them round up and play their top recordings of 2018.
09.30
Building a Library: William Mival picks a personal favourite from among the recordings of Richard Strauss's Till Eulenspiegels lustige Streiche (Till Eulenspiegel's Merry Pranks).
In an exhilarating tour de force of orchestral writing and musical form, Strauss's 1895 symphonic poem depicts the exploits of the 14th century Till Eulenspiegel. Rascally, foolish and mischievous, courageous and scornful, Till rampages through medieval German society, leaving destruction and outrage in his wake as he confronts and exposes pomposity and hypocrisy. By identifying himself through musical brilliance as an anarchic devil-may-care hero, Strauss was at least in part giving the finger to the musical establishment after the critical dubbing of his recently premiered first opera Guntram. Late in life, Strauss said of Till 'I just wanted to give the people in the concert hall a good laugh for once.' Or was that, too, just another prank...?
Record Review
9.00am – Best of 2018 with Harriet Smith, Katy Hamilton & Jeremy Sams – Part 1
Vivaldi: Four Seasons; Il riposo per il Santissimo Natale; L'amoroso & Il grosso mogul
Rachel Podger (violin)
Brecon Baroque (ensemble)
With:
Johannes Pramsohler (violin)
Sabine Stoffer (violin)
Jane Rogers (viola)
Alison McGillivray (violoncello)
Jan Spencer (violone)
Daniele Caminiti (theorbo)
Marcin Swiatkiewicz (harpsichord / Chamber organ)
Channel Classics CCS SA 40318 (Hybrid SACD)
https://www.channelclassics.com/catalogue/40318-Vivaldi-Le-Quattro-Stagioni-The-Four-Seasons/
'Handel's Last Prima Donna / Giulia Frasi in London' – operatic arias for soprano by Handel, Ciampi, Arne, John C. Smith & Hayes
Ruby Hughes (soprano)
Orchestra of the Age of Enlightenment
Laurence Cummings (conductor)
CHANDOS Chaconne CHSA0403 (Hybrid SACD)
https://www.chandos.net/products/catalogue/CHSA%200403

John Adams: Doctor Atomic
Gerald Finley (Dr. J. Robert Oppenheimer)
Brindley Sherratt (Edward Teller)
Andrew Staples (Robert Wilson)
Julia Bullock (Kitty Oppenheimer)
Jennifer Johnston (Pasqualita)
Aubrey Allicock (General Leslie Groves)
Marcus Farnsworth (Frank Hubbard)
Samuel Sakker (Captain James Nolan)
BBC Singers
BBC Symphony Orchestra
John Adams (conductor)
Nonesuch 7559793107 (2 CDs)
https://www.nonesuch.com/albums/doctor-atomic
'Destination Rachmaninov, Departure' – Rachmaninov: Piano Concerto Nos. 2 & 4 + JS Bach: Partita for Violin Solo No.3 in E Major arr. Piano by Rachmaninov
Daniil Trifonov (piano)
Philadelphia Orchestra
Yannick Nézet-Séguin (conductor)
DG 4835335
https://www.deutschegrammophon.com/gb/cat/4835335
9.30am – Building a Library – William Mival on R. Strauss's Till Eulenspiegel's lustige Streiche
Composer: Richard Strauss
Reviewer: William Mival
Recommended Recording:

Staatskapelle Dresden
Rudolf Kempe (conductor)
Warner Classics 5747562 (download)
Warner Classics 4317802 (9 CD  Box Set)

Other Recommended Recording:

Zurich Tonhalle Orchestra
David Zinman
Arte Nova 74321870712
Budapest Festival Orchestra
Ivan Fischer
Hungaroton HCD12899
Cleveland Orchestra
George Szell
Sony Classical SBK48272

10.20am – Best of 2018 with Harriet Smith, Katy Hamilton & Jeremy Sams – Part 2

Haydn: Piano Trios Hob.XV:21 in A flat major, XV:18 in A major, XV:21 in C major, XV:26 in F sharp major, XV:31 in E flat minor
Trio Wanderer
Harmonia Mundi HMM902321
http://www.harmoniamundi.com/#!/albums/2329
'Star of Heavem – The Eton Choirbook Legacy': Choral music by Cooke, Cornysh, Galvani, Hough, Lambe, MacMillan, Phibbs & Wylkynson
The Sixteen
Harry Christophers (conductor)
Coro COR16166
https://thesixteenshop.com/products/cor16166
Chopin: Cello Sonata & Schubert: Arpeggione Sonata
Steven Isserlis (cello)
Dénes Várjon (piano)
Hyperion CDA68227
https://www.hyperion-records.co.uk/dc.asp?dc=D_CDA68227

Handel: Acis and Galatea
Lucy Crowe (Galatea)
Allan Clayton (Acis)
Benjamin Hulett (Damon)
Neal Davies (Polyphemus)
Jeremy Budd (Coridon)
Rowan Pierce (Chorus)
Early Opera Company
Christian Curnyn (conductor)
Chandos CHSA 0404 (2 hybrid SACDs)
https://www.chandos.net/products/catalogue/CHSA%200404

Solo piano works and transcriptions by JS Bach
Víkingur Ólafsson (piano)
DG 4835022
https://www.deutschegrammophon.com/gb/cat/4835022

Ruth Gipps: Symphonies Nos. 2 & 4, Song for Orchestra & Knight in Armour
BBC National Orchestra of Wales
Rumon Gamba (conductor)
Chandos CHAN20078
https://www.chandos.net/products/catalogue/CHAN%2020078