Main content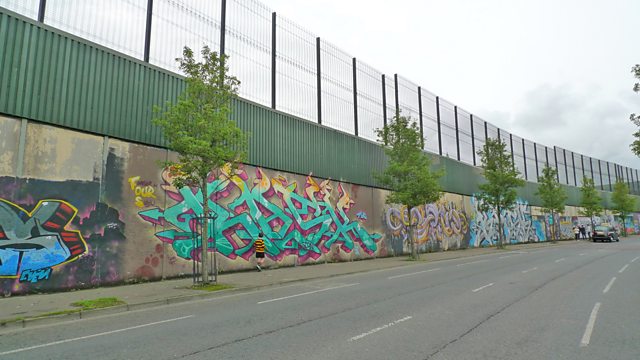 Along the Peaceline
Northern Ireland's peacelines remain a visible symbol of the Troubles. Maria Fusco and Glenn Patterson, two Belfast-born writers, reflect on life alongside these walls.
In February 2016 a controversial wall in Belfast was demolished. It was the first of over a hundred such structures across Northern Ireland set to disappear by 2023. Collectively, they're known as peacelines. Some are just a few hundred yards long, others over three miles. Some are flimsy, rickety affairs, others are made of reinforced concrete, galvanised steel and razor wire. Depending on one's personal view, they either divide or protect Catholic and Protestant communities from each other.
Peacelines first appeared in Belfast in 1969, intended only as temporary structures. But they're still there today, steadfast symbols of the Troubles.
What was it like growing up next to one of these walls? In Along the Peaceline, two Belfast-born writers, Maria Fusco and Glenn Patterson, each return to a peaceline they've known since childhood.
Glenn revisits the Shankhill Road, an area of Belfast he got to know well as a boy on his way to see his aunt and uncle. Parts of the peaceline there have since become a tourist attraction. Meanwhile, Maria heads to the Ardoyne neighbourhood she grew up in, where the local peaceline was "a constant flashpoint for rioting".
It's an evocative journey for both of them as they trace the length of their respective peacelines. They recall how these structures affected their lives during the Troubles and observe what's changed since. Reflecting on the then and now, Glenn and Maria bring historical fact and their own personal perspectives to help excavate these contested sites and try to gauge the overall effect peacelines have had on today's much changed Belfast.
Photo: Conor Garrett
Producer: Dan Shepherd
A Far Shoreline production for BBC Radio 4
Last on
Broadcasts