Main content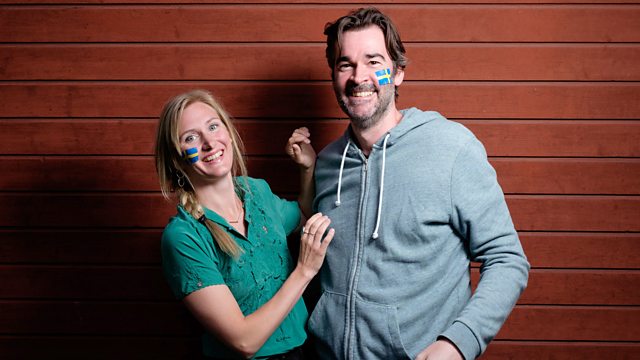 Stadsfest
Adam Riches heads a cast that includes some of Sweden's finest comedians in Danny Robins' comedy about an English stand-up making a new life abroad. Recorded on location.
In Danny Robins' sitcom, Geoff (Adam Riches), is really beginning to feel Swedish. He has become a Swedish citizen, married his Swedish girlfriend, Linda (Sissela Benn), and has a son, John (or Yon). Geoff now has a proper job too and is beginning to tour on the English speaking stand-up circuit as well. This year Geoff has learnt about office etiquette and how to bond with workmates in a canoe, about Easter witches, death cleaning and about a gender-neutral God.
This week he finds his burgeoning career on the Swedish stand-up circuit is taking him further away from his family. The bright lights of Swedish TV beckon. Then his in-laws surprise him by staging a music festival and when Linda promises to be a rising singing star, his loyalties are put severely to the test.
Full Cast:
Geoff: Adam Riches
Linda: Sissela Benn
Gunilla: Anna-Lena Bergelin
Sten: Thomas Oredsson
Anders: Fredrik Andersson
Ian: Danny Robins
Man in Loo and Traffic Cop: Thomas Eriksson
John: Harry Nicolaou
and featuring The East London Norrsång Choir
Written by Danny Robins
Produced and directed by Frank Stirling
A 7digital production for BBC Radio 4