Main content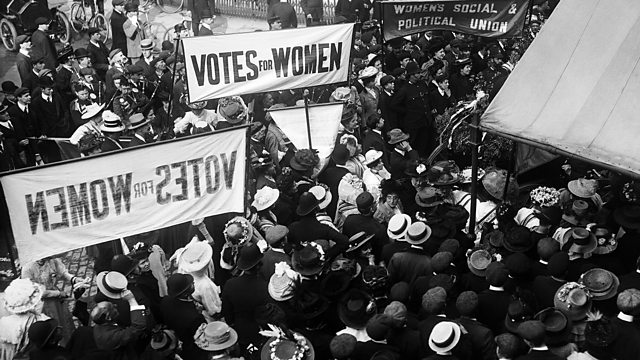 The Birth of Suffrage Campaigning in Wales
Cerys Matthews begins a two part series examining the contribution of Welsh women to the campaign for the right to be given the vote for the first time 100 years ago this year.
Over two programmes Cerys Matthews tells the story of how Welsh women won the battle for the right to vote 100 years ago this year.
In December 1918, a limited number of women in Wales voted for the first time in UK wide parliamentary elections and although it would be another ten years before all adult women were granted the right to vote, it did signal a major turning point in a campaign for universal suffrage which had begun in the middle of the 19th Century in Wales.
The struggle to be granted the vote had been a long and hard one - and the women who had campaigned for change became known as the suffragettes. Their militant tactics, disrupting meetings, smashing windows and planting bombs, were often criticised by another group of women known as the suffragists who engaged in more direct political and peaceful campaigning.
In the series, Cerys hears about the early origins of suffrage campaigning in Wales which began with a meeting in Merthyr Tydfil in 1866. We hear how the first suffrage groups would attract different kinds of women but how the early tactics didn't seem to help in changing the status quo at Westminster during the days of 19th Century political giants like Prime Ministers' Benjamin Disraeli and William Gladstone.
With the arrival of the radical reforming Liberal Government of 1906 there was every hope women's suffrage would be on the agenda but when it didn't materialise women from Wales became attracted by the more militant tactics of Manchester woman Emmeline Pankhurst and her daughters. Soon pillar boxes were being blown up in South Wales, senior politicians public speeches were being disrupted in North Wales while many Welsh women joined others in smashing windows and chaining themselves to railings in a bid to get attention in London.
Some women were jailed for their role in militancy, some went on hunger strike - and these programmes include real testimony from women who were force fed by the authorities. Their recollections, which also talk about splits in the movement, were recorded by historian Brian Harrison back in the 1970s.
Cerys hears how support for the First World War effort would raise the profile and role of women in the eyes of senior politicians especially popular Welsh Liberal David Lloyd George who would eventually finally grant women the vote when he was Prime Minister in 1918.
The series is presented by Cerys Matthews.
The actors are Dyfan Rees (famous for his role in Pobol Y Cym) & Stephanie Turner (best known as Inspector Jean Darbley in classic 80s series Juliet Bravo).
The Lost World of the Welsh Suffragettes is produced by Ashley Byrne and Iain Mackness and is an MIM Production for BBC Radio Wales.
Last on
Credit
| Role | Contributor |
| --- | --- |
| Presenter | Cerys Matthews |
Broadcasts