Main content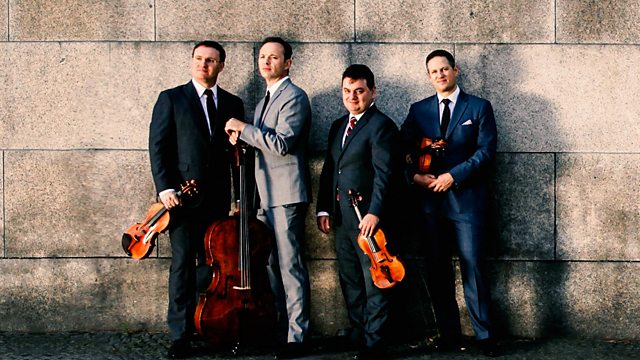 A classic sandwich with a twist
The internationally acclaimed Jerusalem Quartet put late Haydn (Op. 76, No. 1) and middle period Beethoven (Op. 18 'The Harp') on either side of Claude Debussy's string quartet.
Since their 1996 debut the Jerusalem Quartet have become acknowledged as one of the world's leading string quartets. Their programme tonight puts a generous Gallic filling in between two slices of classic Viennese bread and butter.
Haydn's Op. 76 set of six string quartets are accepted as his greatest achievement in the genre he himself had invented and developed over more than 30 years. He completed them towards the end of the 18th century and No. 1, like all of the set, acted as a spur on his chippy 'I never learned anything from him, anyway' former pupil, Beethoven. The younger composer was determined to take on and best Haydn in all the key areas he'd excelled at, and even before Beethoven completed his Op. 74 quartet in 1809 he had already changed string quartet history forever on his own characteristically uncompromising terms.
At the end of the 19th century, less than 70 years after Beethoven's death, Debussy composed his one and only string quartet, its shimmering textures, exotic scales and unresolved chords a world away from Classical Vienna. Debussy had very deliberately (and with a little bit of exaggeration) nailed his colours to the mast: "I am more and more convinced that music, by its very nature, is something that cannot be cast into a traditional and fixed form. It is made up of colours and rhythms. The rest is a lot of humbug invented by frigid imbeciles riding on the backs of the Masters – who, for the most part, wrote almost nothing but period music. Bach alone had an idea of the truth."
Recorded on Saturday at the Queen Elizabeth Hall, Southbank Centre and presented by Ivan Hewett.
Haydn: String Quartet in G, Op.76 No.1
Debussy: String Quartet in G minor, Op.10
8.25pm
Interval Music (from CD)
Stravinsky: Three Movements from Petrushka
Alexander Melnikov (piano)
8.45pm
Beethoven: String Quartet in E flat, Op.74 (Harp)
Jerusalem Quartet
Alexander Pavlovsky & Sergei Bresler (violins)
Ori Kam (viola)
Kyril Zlotnikov (cello)