Main content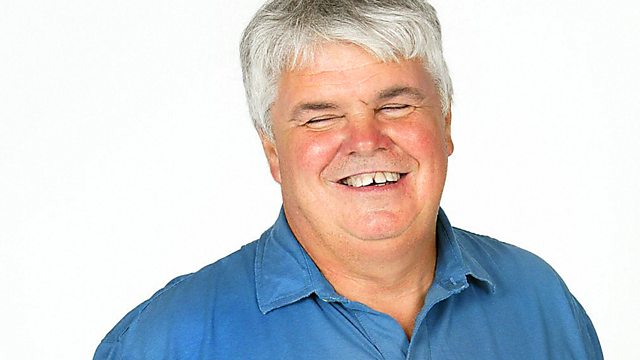 Calls for VAT-free Ebooks
Publishers call for VAT to be abolished on digitally-downloaded books. Plus the In Your Pocket streaming device that can now use video to help visually-impaired people.
Due to a long fought-for change by member states to EU legislation, the UK government now has discretionary powers to abolish VAT on all ebooks. The CEO of the Publishers' Association says that no VAT would help people on low incomes including some visually-impaired people for whom these are essential.
Reporter Tom Walker looks in to why Ofcom ruled that a London shock jock overstepped the mark when he derided a visually-impaired man for wanting to be the first person to train with a guide-horse in the UK.
Tom Walker also asks Allan Tweddle, a candidate in the recent local elections, whether a grant for aspiring visually-impaired politicians which is to be-reinstated in 2019, would have been of use to him.
In Your Pocket, a one-buttoned smartphone, will now be able to video call with a volunteer assistant. Roger Wilson-Hinds tells us why In Your Pocket and Be My Eyes app are teaming up.
Presenter: Peter White
Producer: Lee Kumutat
Reporter: Tom Walker
In Touch Transcript: 11-12-2018
THE ATTACHED TRANSCRIPT WAS TYPED FROM A RECORDING AND NOT COPIED FROM AN ORIGINAL SCRIPT.  BECAUSE OF THE RISK OF MISHEARING AND THE DIFFICULTY IN SOME CASES OF IDENTIFYING INDIVIDUAL SPEAKERS, THE BBC CANNOT VOUCH FOR ITS COMPLETE ACCURACY.
IN TOUCH – Calls for VAT-free eBooks
TX:  11.12.2018  2040-2100
PRESENTER:          PETER WHITE
PRODUCER:            LEE KUMUTAT
White
Good evening.  Fairer and easier access to information, is our theme tonight.  Could we, for instance, soon be paying less for our digital books?  And a new way to get help with things in the world around you without battling with a smartphone.  We hear about a new information partnership.
But first, VAT has never been the most popular of taxes in the world – mind you, which ones are?  But ever since its introduction here, in the 1970s, there's been a consensus that it won't be applied to books and newspapers – don't tax knowledge – seems to be the principle.  But that principle doesn't extend to digital books.  And now the Publishers' Association is arguing that this unfair to people on lower incomes, including visually impaired readers, for whom digital offerings, such as electronic texts and audiobooks, are essential.  They say, that the government can, as of last week, do something to change the VAT status of digital downloads, due to a change in EU legislation.
Well Stephen Lotinga, is CEO of the Publishers' Association, and he joins me from London.
Stephen, first of all, just explain the tax position at the moment.  Where does VAT apply and not apply when it comes to things like books?
Lotinga
On print books, both newspapers, magazines, books and journals, they're currently zero rated for VAT, so VAT is not applied.  But for digital products, so eBooks, audios, if you have a newspaper subscription for example, all of those will be currently having an additional 20% of tax applied to them.  As of almost a week ago, the European Union has provided discretionary powers for all member states, and we are still a member state, we would also have this power after we left obviously, to be able to remove VAT on digital products.
White
And how much is the government making from this element of VAT?
Lotinga
So, currently, we believe, on the calculations that we've put together, that around about £210 million goes into the Treasury revenues coffers each day.  But about 55 million of that is coming from public institutions.  So, it's circular money – it goes out via public funding to places like universities but then comes back in again.  So, our best estimates are around about £150 million.
White
But why would you think the government would want to give up £150 million for what is perhaps something which it thinks is a growing income potentially?
Lotinga
Because there's a very important social principle as to why the government hasn't taxed reading, learning and education in the past.  There was an acknowledgement, from a very early stage, that the government shouldn't be seeking to provide barriers to people to having access to this information.  And clearly cost and an additional tax is a potential barrier to people being able to do that.
White
That sounds very noble Stephen but is this really about visually impaired people and people on low incomes or is it just about selling audiobooks cheaper and therefore making more money for your authors?  Which is not a bad thing but isn't that the reality of the situation?
Lotinga
I think some of the major beneficiaries would be the blind community and as you said also low-income groups but yeah, I wouldn't deny that actually I want everyone to benefit from this.  I believe there's a very basic principle at stake here and I should remind people that VAT is a consumer tax, it is paid by the consumer.  So, this is not about publishers being able to pocket the additional 20% that they're paying.  So, it's about reducing price to consumers and of course over time we want to grow the number of people who are reading and reading books and I personally have no embarrassment having that as part of our goal.
White
But as an association you haven't always been quite so wedded to the idea of easy access for visually impaired people, I mean you opposed something called the Marrakesh Treaty which would have made the exchange of books between countries easier.  There's an inconsistency there surely?
Lotinga
So, I don't think we opposed the Marrakesh Treaty.  There were concerns…
White
You opposed its ratification.
Lotinga
…there were concerns – we didn't oppose its ratification either – there were concerns specifically around what's called the commercial exception, the question about whether or not if a book is already commercially available whether it not it should then be – other copies made.  But we've gone through that process and there's a common acceptance that we've had to learn, as part of that, and I don't think our industry are in a position at the moment where we would oppose any aspect of the Marrakesh Treaty, it is being ratified, we're a supporter of that.  We have accessible schemes ourselves, which we work in partnership with groups, like the RNIB, to try and ensure that our overall ambition, which is to try and make sure that the same book is available at the same price at the same time for everyone is reached as soon as possible.
White
Are we any where near that, we've been calling for that for about 20 years?
Lotinga
That is an entirely fair argument to make, Peter, I wouldn't defend the fact that it's taken far too long to get here.  But there is a recognition and there has been learning on all sides and I think I entirely acknowledge that part aspects of that treaty developed more [indistinct word] but I think real progress has been made.
White
As I said, this is very much a growing potential income for the government, how do you read its attitude to this suggestion?  Have you talked to the Treasury about it?
Lotinga
So, we have.  I mean, first and foremost, I would say this is a very tiny amount of government income, we're talking about 0.03% of the overall tax take.  Basically, a rounding in government terms.  And yes, we have started conversations with the Treasury.  This law is so new that up until now all conversations have been hypothetical and I would very much urge any of your listeners who are interested or groups that they're associated with, to also talk to the Treasury because they intend to undertake a consultation looking at this over the next few months, ahead of the next Budget.
White
We'll certainly keep an eye on that.  Stephen Lotinga, of the Publishers' Association, thank you very much.
Lotinga
Thank you.
White
And we stay with a couple of access stories which relate to our role in public debate.  First, with talk of a possible General Election hanging in the air, what looks like a change of heart over a grant to help would be candidates who have a disability. 
Well our reporter Tom Walker's been looking into that.  Tom, there's new financial help for disabled people who are standing for election.  So, what's the background?
Walker
There was a similar scheme up until 2015 but the government says this new one is different.  Only 10% of counsellors have a disability compared with 20% of the population as a whole.  The enable fund for elected office, is going to be worth up to £4,000 per candidate.
White
And what's that intended to pay for?
Walker
The additional costs disabled candidates experience as a result of their disability, Peter.  Things like transport, screen readers, braille, transcription etc.
White
Now you've been talking to a visually impaired man who stood in last year's local elections.
Walker
Indeed I have Peter, yes.  I spoke to Allan Tweddle who stood for the Liberal Democrats in the Orpington area of Bromley.  This is a true-blue Tory area and Allan knew he stood very little chance of winning a seat.
White
And what was his view of the new funding?
Walker
Broadly positive.  He looked into the question of funding to help with the additional costs but at the time there was nothing available.
Tweddle
I heard about the grant for disabled candidates and I was interested enough to research it back – just before I was standing.  I thought that additional money would definitely help with the kind of difficulties that you have as a disabled candidate.  I thought it would help with transport costs, particularly, because even in a small ward like mine it's a large ward if you have to walk all the way round it.  Not being able to drive means that taxi costs, you know all those kind of things, additional money would have helped with that definitely.
White
So, how did he cope with getting round, given that he had no extra financial help on this occasion?
Walker
Well in Bromley they have multi-member wards, so he was able to rely on other candidates to drive him round and help out at public meetings.  Allan says, however, that if he was standing for parliament things would be very different.
Tweddle
Then I'd be looking at doing all these things on my own – getting to places where you want to canvas on my own and getting to local public meetings on my own.  And that in itself is problematic but even when you're at such things, as a blind person, you need assistance of finding your way around, you know where am I.  If I'm at a local meeting where there's a buffet you need someone with you.
White
Allan Tweddle.  And from a one-horse race to Mohammed Salim Patel's proposed guide horse.  Now Salim has a phobia of dogs and therefore he's been looking into the possibility of using a guide horse.
Walker
Indeed Peter.  I know you've been away but you won't have missed the extensive coverage in the press of Ofcom's judgement on the rather derisory comments made by LBC radio's Steve Allen on this story.  Guide horses are miniature and occasionally used in the United States and other countries.  During his show on October 1st, among other things, Mr Allen said:
LBC clip
The guide horse for the blind man who's afraid of dogs!  Well if he's blind, tell him it's a rabbit or something.  I've never heard of anything so stupid.  This is the blind man scared of dogs hoping that a horse will guide him on his commute.  Where are you going to take that, for goodness sake?  You can't take it on the train, can you?  This is – he's a BBC journalist.  What do you mean he's allergic to dogs?  Well don't give him a dog then, just give him a white stick. 
Walker
After a listener complained that Mr Allen's comments were discriminatory in relation to blind people, Ofcom carried out an investigation and ruled that LBC had breached part of the broadcasting code. 
White
So, how does Salim feel about what happened and what was said?
Walker
Firstly, Peter, Salim is very positive about the possibility of him having a guide horse within the next couple of years.  In terms of Mr Allen's comments, Salim accepts that guide horses are a new concept and that it will take time for people to get their heads round the idea.  Salim hasn't heard anything from LBC, nor Mr Allen.  He believes the comments amount to disability discrimination.
Patel
I am seeking legal advice to see where I stand and if this can be taken further in any other way.
Walker
What's your thinking on that?
Patel
I appreciate that comments have been made and Steve Allen, as a presenter, might have a certain technique or method but at the end of the day his comments, from a personal opinion, are disability discrimination and I would have thought that his station would have at least got in touch to apologise or ask me how I'm doing.
White
And in their response to Ofcom LBC accept, I think, that Mr Allen does indeed have a certain technique or method – to quote Salim – has the radio station responded?
Walker
At the time of recording we haven't heard anything from them.  They did say to Ofcom that the programme is centred around Steve Allen's unique and acerbic take on the news of the day.
White
Hardly unique I think is a bit flattering.  I mean as shock jocks go, let's face it, they do tend to have a go at everybody, don't they, that's the style.
Walker
Hmm yes.  They went on to say his very brief commentary on the story had a total duration of less than a minute.  They added that Steve Allen is aware that his comments may have had the capacity to offend.  However, his intention was not to treat the blind community with insensitivity.
White
Tom, thank you very much indeed.  And there's more information on how to have your say on that, available online.
Now, one of the more tantalising aspects of life, for us, at the moment, is that high tech can open up all sorts of opportunities for us, many based on smartphones.  But you do need to be quite adept to take advantage of them.  So, we were interested to hear about two projects getting together.  We've talked before about Be My Eyes, on the programme, that's where volunteers can help you by phone match clothes or find lost items using your phone's camera.  Meanwhile, a device called In Your Pocket is a way of accessing some services, like RNIB Talking Books and Talking Newspapers.  It's a smartphone but using voice commands alone, no need to grapple with a touchscreen, which many people still find fiddly and awkward – me included.  Well now, Be My Eyes, will be included when you sign up for a contract and receive one.
Roger Wilson-Hinds, it's UK director, told me more.
Wilson-Hinds
You open the box and you have a small smartphone and you hold it in your hand, it has effectively one button at the bottom of the screen, you press the button, you dab at the button and it goes beep and you say "read the Guardian" or "where am I" or in this particular case "be my eyes".   And when you say "be my eyes" you're through to the first volunteer who's helping you with your problem.
White
Now I actually tried this and as you know, because you were the person who kind of instigated me to do it, actually knowing exactly when to make your announcement I found a bit difficult, I think I was a bit too slow off the mark.  So, is it as clear as you're actually making out?
Wilson-Hinds
You know you need a bit of patience to learn anything new, especially us oldies, Peter, you know we do, don't we?
White
We do.  As things stand at the moment, what will this give you access to – before we bring Be My Eyes into it – what is available?
Wilson-Hinds
A couple of hundred thousand books, I don't know how many podcasts but thousands and thousands of them, 113 magazines, 70 newspapers, access, like I've said, to the time, the weather, to where are you in the street.  Will that do?  That's a good start.
White
What's the difference between what people have been doing in the past and what they will do if it's on In My Pocket?
Wilson-Hinds
If you're techie and you know what to do you can get to the app, like you get to all the other hundreds of apps on your phone, and you can make it work.  If you're not techie you can't, you're barred, you're locked out.  If you buy In Your Pocket, then you open the box and you press and you start to talk.  Be My Eyes is set up for you automatically as are all the other things.
White
Roger Wilson-Hinds of In Your Pocket.  To get it you pay a monthly rental of £22 or a one-off payment of £528.
Hans Wiberg, he's founder of the free service Be My Eyes, told me more about how the cooperation between the two would work.
Wiberg
Be My Eyes is a super simple app that basically makes a live media connection between a blind person's smartphone and a sighted volunteer.  Ninety per cent of our calls are inside the house and most likely in the kitchen where you are about to do some dinner or something and you have those two cans and you don't know what's in what can.  And also turning on the washing machine or making coffee, these days making coffee can be quite complicated.  But also navigating outside, finding the right doorbell to ring when you find the right door, make sure that you are entering the right bus or something like that.
White
How many users do you think you have?
Wiberg
One hundred and four thousand blind people across the globe.  We have 1.8 million volunteers in basically any country in the whole world.
White
And how long might these contacts be?
Wiberg
Ninety per cent of our calls are less than three minutes and we have a 15 second call – have I set my oven to 200 degrees?  Yes you have.  Okay, thank you very much.  And it just a normal thing and you just want to make sure, but you would not ask your neighbour over to look at this, so – and that's the power that you can get so easy access to a pair of eyes and you don't have to buy them coffee afterwards or anything.
White
Some people have naturally expressed worries about security.  You know, you are inviting someone into your life for however small a time who you don't know.  What are the safeguards?
Wiberg
I usually say it's just like meeting a person on the street and you should not show your credit card to a completely stranger, and of course never use it to decide when it's safe to cross the street because you cannot have a person sitting in Chicago telling you when it's safe to cross the street in London.
White
So, why have you decided to hook up with In Your Pocket?
Wiberg
All the people that are using Be My Eyes they have to be able to navigate a smartphone and so on and we all know that it can be kind of troublesome and In My Pocket is taking care of all that.  And it's a wonderful thing that we can now reach people that we wouldn't reach otherwise.
White
Recently, there are schemes which are commercial but are, in a way, more like navigational aids and will almost follow you on a journey.  Can you survive those do you think?
Wiberg
We brag about that we have 100,000 users but when you think about there's 250 million low vision or blind people in this world, so I think there's plenty of room for us and for plenty more apps that could join this field.
White
How do you manage to make it sustainable?
Wiberg
We have made a partnership with Microsoft and hopefully a number of other companies down the line.  So, now you can call a volunteer or you can call Microsoft support.  Now they can actually see what's on the screen because the first thing support will ask you, when you call them, is what's on the screen now and if the screen reader's stopped talking you cannot tell them but now you can use the Be My Eyes to get this information.  And the second thing is that Microsoft is paying Be My Eyes a monthly fee, so we help them help their blind customers.
White
Hans Wiberg.
That's it for this week.  If you want more information about anything you've heard on the programme you can call our actionline on 0800 044 044 for 24 hours after the programme.  You can email intouch@bbc.co.uk or click on contact us on our website, from where you can also download tonight's and previous programmes.
From me, Peter White, producer Lee Kumutat and the team, goodbye.