Main content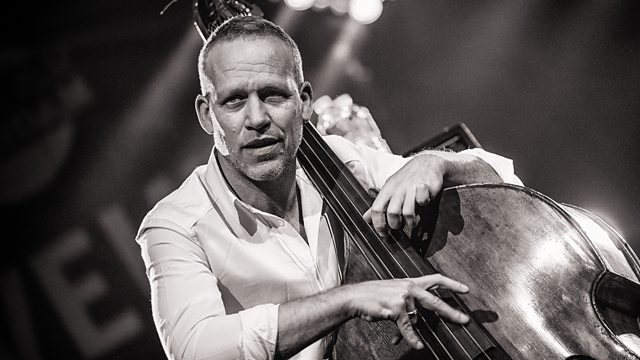 Avishai Cohen Trio celebrating Gently Disturbed
Avishai Cohen Trio celebrating Gently Disturbed, feat. Avishai Cohen, Shai Maestro and Mark Guiliana, in concert at the London Jazz Festival. Presented by Soweto Kinch. And Soweto catches up with Shane Forbes and Tom Farmer from Empirical.
Episode image credit:Bernard Rie
PLAYLIST
DISC
Artist              Soweto Kinch
Title                The Healing
Composer     Kinch
Album            The Legend of Mike Smith
Label              Soweto Kinch Recordings
Number        SKP003 CD 2 Track 39
Duration       21"
Performers: Soweto Kinch, as, rhodes, prog; Shabaka Hutchings, ts; Karl Rasheed-Abel, b; Graham Godfrey, d. . 2015
Clip – Avishai Cohen  – 11 Wives – 40"
CLIP – Empirical – Persephone – 46"
The Avishai Cohen Trio perform at London's Barbican on 24th November 2018, as part of the EFG London Jazz Festival
MUSIC:
Seattle (Cohen) – 6'14"
Chutzpan (Cohen) – 5'53"
Umray (Cohen) – 7'04"
11 Wives (Cohen, Maestro, Guiliana)
La Baiom Velo Balayla (Trad) – 7'42"
Structure In Emotion (Cohen) – 6'48"
Puncha Puncha (Trad) – 6'59"
Ever Evolving Etude (Cohen) – 9'07"
Personnel: Mark Guiliana, drums' Shai Maestro, p; Avishai Cohen, db.
Soweto Kinch Interviews Shane Forbes and Tom Farmer from Empirical about their new album, 'Indifference Culture'
DISC
Artist              Empirical
Title                Persephone
Composer     L Wright
Album            Indifference Culture
Label             Empirical Music (Self-Released)
Number        MCD001
Duration       1'56"
Performers: Nathaniel Facey, alto sax; Lewis Wright, vib; Tom Farmer, db; Shaney Forbes - Drums
DISC
Artist              Empirical
Title                Non Verbal Language
Composer     T Farmer
Album            Indifference Culture
Label              Empirical Music (Self-Released)
Number        MCD001
Duration       2'52"
Performers: Nathaniel Facey, alto sax; Lewis Wright, vib; Tom Farmer, db; Shaney Forbes - Drums
DISC
Artist              Empirical
Title                Jebel Barkal (Coronation)
Composer     S Forbes
Album            Indifference Culture
Label              Empirical Music (Self-Released)
Number        MCD001
Duration       2'24"
Performers: Nathaniel Facey, alto sax; Lewis Wright, vib; Tom Farmer, db; Shaney Forbes - Drums
DISC
Artist              Empirical
Title                Celestial Being
Composer     S Forbes
Album            Indifference Culture
Label              Empirical Music (Self-Released)
Number        MCD001
Duration       2'52"
Performers: Nathaniel Facey, alto sax; Lewis Wright, vib; Tom Farmer, db; Shaney Forbes - Drums
DISC
Artist              Empirical
Title                Indifference Culture
Composer     T Farmer
Album            Indifference Culture
Label              Empirical Music (Self-Released)
Number        MCD001
Duration       5'07"
Performers: Nathaniel Facey, alto sax; Lewis Wright, vib; Tom Farmer, db; Shaney Forbes - Drums