Main content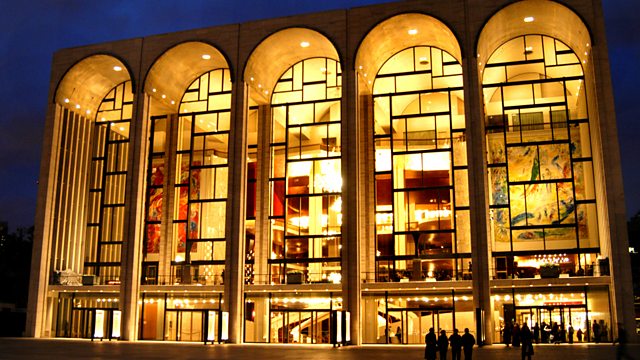 Puccini's Il Trittico
Tonight's opera from the Met is Puccini's triple bill in a performance to mark the centenary of the work's world premiere at the Met. Starring Marcelo Alvarez and Placido Domingo.
Tonight's opera from the Met is Puccini's triple bill in a performance to mark the centenary of the work's world premiere at the Met. Tenor Marcelo Álvarez and soprano Amber Wagner are the illicit lovers of Il Tabarro; soprano Kristine Opolais sings the shattering title role of Suor Angelica; and the ageless Plácido Domingo takes an unusual comedic turn in the baritone title role of Gianni Schicchi.
Presented from the Met by Mary Jo Heath and Ira Siff.
Puccini: Il Tabarro
Giorgetta….. Amber Wagner (soprano)
La Frugola….., Stephanie Blythe (mezzo-soprano)
Luigi ….. Marcelo Álvarez (tenor)
Michele….. George Gagnidze (baritone)
Il 'Talpa' ….. Maurizio Muraro (bass)
Il Tinca ….. Tony Stevenson (tenor)
Song-seller….. Brian Michael Moore (tenor)
One of two lovers….. Ashley Emerson (soprano)
The second of two lovers Yi Li (tenor)
Suor Angelica
Sister Angelica….. Kristine Opolais(soprano)
Sister Genovieffa….. Maureen McKay (soprano)
The Princess….. Stephanie Blythe (contralto)
The Monitor….. MaryAnn McCormick (mezzo-soprano)
The Mistress of the Novices….. Jane Shaulis (mezzo-soprano)
The Nursing Sister….. Megan Marino (mezzo-soprano)
The Abbess….. Lindsay Ammann (mezzo-soprano)
Alms collector….. Leah Hawkins (soprano)
Alms collector 2….. Cassandra Zoé Velasco (soprano)
Lay Sister 1 Stacey Tappan (soprano)
Lay Sister 2….. Edyta Kulczak (soprano)
Novice 1….. Jessica Faselt (soprano)
Novice …..2 Sandra Piques Eddy (soprano)
Sister Dolcina….. Sharon Azrieli (soprano)
Sister Osmina….. Rosalie Sullivan (mezzo-soprano)
Sister Lucilla….. Elizabeth Brooks (mezzo-soprano)
First of the three Sisters …..Anne Nonnemacher (soprano)
Second of the three Sisters….. Marie Te Hapuku (mezzo-soprano)
Third of the three Sisters….. Meredith Woodend (contralto)
A Sister Maria D'Amato (soprano)
Gianni Schicchi
Lauretta….. Kristina Mkhitaryan (soprano)
Rinuccio….. Atalla Ayan (tenor)
Gianni Schicchi….. Plácido Domingo (baritone)
Nella, Gherardo's wife….. Gabriella Reyes de Ramírez (soprano)
La Ciesca….. Lindsay Ammann (mezzo-soprano)
Zita….. Stephanie Blythe (contralto)
Gherardo….. Tony Stevenson (tenor)
Marco…..Jeff Mattsey (baritone)
Simone….. Maurizio Muraro (bass)
Betto di Signa….. Patrick Carfizzi (bass)
Maestro Spinelloccio….. Kevin Burdette (bass)
Amantio di Nicolao….. Philip Cokorinos (baritone)
Pinellino….. Scott Conner (bass)
Guccio….. Christian Zaremba (bass)
Synopsis
IL TABARRO
Paris, 1927. Giorgetta, the young wife of the barge-owner Michele, is having an affair with the deckhand Luigi. At the end of a day's work, she offers wine to him and the two other stevedores, Tinca and Talpa. They begin a playful dance, which is interrupted by Michele. Giorgetta asks him why he seems so troubled, but he remains silent. Talpa's wife, Frugola, arrives to take him home. When Tinca claims he loves nothing more than to drink, Luigi suddenly blurts out that drink seems to be the only way to cope with their bleak existence ("Hai ben ragione"). Frugola dreams of a little house in the country and Giorgetta wishes she could leave the barge for a happier life. She and Luigi consider the beauty of the city (Duet: "È ben altro il mio sogno"). Michele appears from the cabin and Luigi, who can't bear to see Giorgetta with her husband, asks to be left in Rouen on the next trip out. Michele dissuades him, arguing that there will be no work there. Giorgetta and Luigi arrange to meet later that evening; she will light a match once Michele has gone to sleep. Luigi goes off and Michele again comes on deck. He tries to evoke Giorgetta's past love for him by recalling happier days before the death of their infant child a year earlier, but she rejects him. Alone, Michele expresses his suspicions that she is in love with another man ("Nulla! Silenzio!"). He settles down on the deck and lights his pipe. Seeing the lit match from a distance, Luigi rushes on board believing it is Giorgetta's signal. Michele grabs him and forces him to confess his love for Giorgetta, then strangles him and conceals the body under his cloak. Giorgetta reappears on deck to apologize to Michele, who throws open his cloak exposing Luigi's dead body.
SUOR ANGELICA
Tuscany, 1938. Banished to live in a convent after having an illegitimate child, Sister Angelica has not heard from her family in seven years. Finally a visitor is announced: it is Angelica's aunt, the princess. Rejecting Angelica's gestures of affection, she explains that when Angelica's parents died, she was made guardian of both her and her younger sister. The sister is to be married, and the princess demands Angelica sign her share of the inheritance over to her. Crushed by her aunt's cruelty, Angelica asks about her little son. The princess coldly tells her that he died two years earlier. The devastated Angelica signs the document, and the princess leaves. Angelica grieves that her child died without her mother by her side ("Senza mamma"). She drinks poison, then suddenly realizes that suicide is a mortal sin. Praying for forgiveness, she dies with a vision of her son greeting her in heaven.
GIANNI SCHICCHI
Florence, Italy, 1959. The greedy relatives of the wealthy Buoso Donati discover that the deceased has left his fortune to the church. The young Rinuccio suggests that Gianni Schicchi, a shrewd, self-made man and the father of his girlfriend, Lauretta, can help them. Schicchi appears with his daughter. Disgusted by the hypocrisy and avarice of the aristocratic family, he is about to leave but persuaded to stay by Lauretta who proclaims her intention to marry Rinuccio ("O mio babbino caro"). Reading the will, Schicchi devises a plan to impersonate the dead man. The relatives send for the notary and Schicchi, wearing Buoso's nightshirt and cap, from his sickbed dictates a new will, in which he leaves the greater part of the estate, including the house they are in, to his "dear friend Gianni Schicchi." The relatives are furious, and steal what they can from the house, chased out by Schicchi, who remains behind with Lauretta and Rinuccio. Turning to the audience, he points out how happy his fraud has made the young lovers and pleads that he not be judged too harshly.
Featured in...
We broadcast more live and specially-recorded concerts and opera than any other station.