Main content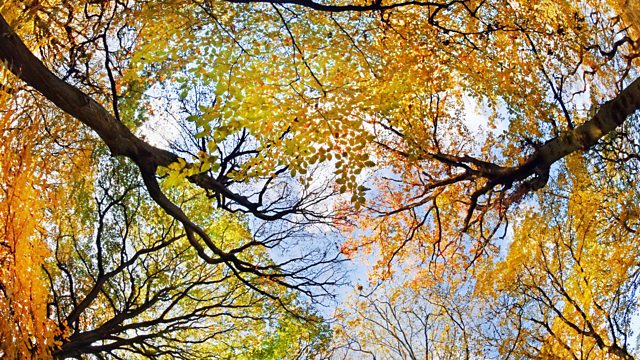 Trees: a wood wide web
Andrew Marr explores the life of trees with Peter Wohlleben, Kathleen Jamie, Ruth Pavey and Gary Fuller.
Trees may have vibrant inner lives and certainly appear to have individual personalities, claims the forester-cum-writer Peter Wollheben. In his bestselling book, The Hidden Life of Trees, he uncovers an underground social network of communication between trees.
In the late 1990s the journalist Ruth Pavey purchased four acres of scrub woodland in Somerset, and set about transforming this derelict land into a sanctuary for woodland plants, creatures and her own thoughts.
The natural world comes alive in the poetry of Kathleen Jamie. Although her landscape is often her Scottish homeland, politics, history and human folly are never far
away, as she asks how we can live more equably with nature.
And breathing clean air is the goal of Gary Fuller's book, The Invisible Killer. He studies the rising threat of air pollution from London's congested streets to wood-burning damage in New Zealand.
Producer: Katy Hickman
Last on
Peter Wohlleben
Peter Wohlleben is the acclaimed author of the international bestsellers The Hidden Life of Trees and The Inner Life of Animals, which have sold more than 2 million copies combined and have been translated into several languages. Wohlleben spent more than twenty years working for the forestry commission in Germany before leaving to put his ecological ideas into practice. Today he manages a forest academy and an environmentally friendly woodland in Germany.
 The Hidden Life of Trees  - The Illustrated Edition is published by Greystone Books
Ruth Pavey
Ruth Pavey is a writer and journalist who has written a. She has written about contemporary fiction and culture for several national newspapers and magazines, and is currently the Gardening Correspondent for a local newspaper in London. In 1999 Ruth acquired a four acre piece of derelict woodland in Somerset, which she has been working to restore ever since. 
 Her book about the project, A Wood of One's Own, is published by Duckworth
Kathleen Jamie
Kathleen Jamie is a Scottish Poet. Her poetry collection
The Tree House
, won both the Forward Prize and the Scottish Book of the Year Award in 2014. She also won the Costa Poetry Prize for
The Overhaul
.  Her non-fiction books include the acclaimed essay collections 
Findings
and
Sightlines.
 Kathleen Jamie's Selected Poems is published by Pan Macmillan
Gary Fuller
Dr Gary Fuller is an air pollution scientist at King's College London. His research focuses on the sources of urban air pollution and how these affect people's health. He led the development of the London Air Quality Network, making information on air pollution more accessible to the public. He writes the Pollutionwatch series for the Guardian and was one of Evening Standard's "Progress 1000" selections, highlighting London's most influential people in 2017.
 The Invisible Killer: The Rising Threat of Air Pollution – and How We Can Fight Back is published by Melville House
Broadcasts