Main content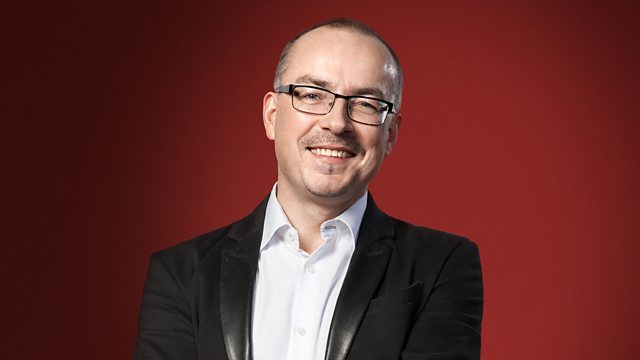 Andrew McGregor with Iain Burnside and Flora Willson
New classical releases and Building a Library on Haydn's Piano Sonata in E flat HOB XVI:52 with Iain Burnside. Flora Willson reviews new opera releases
with Andrew McGregor
09.30
Building a Library: Iain Burnside picks a personal favourite from among the recordings of Haydn's Piano Sonata in Eb, H 16:52
Written in 1794, this is the last and one of the greatest of Haydn's piano sonatas. In this piece Haydn expanded the sonata structure beyond its normal scope, explored unusual harmonies and developed his thematic material with unusual rigour. Haydn wrote it for the outstanding pianist Therese Jansen, who lived in London at the time of his visits there in the 1790s.
1030
Andrew and Flora Willson discuss the latest batch of new opera releases including Verdi's Macbeth and Wagner's Gotterdammerung
11.45
Andrew chooses an outstanding new release as his Disc of the Week.
Record Review
9.00am
Corelli: Concerti Grossi, Op.6
Gottfried von der Goltz (violin)
Petra Mullejans (violin)
Guido Larisch (cello)
Freiburger Barockorchester (orchestra)
Aparte AP190
http://www.apartemusic.com/discography/corelli-concerti-grossi/
'Frage' - Schumann: Sechs Gesange Op.107, Romanzen und Balladen II Op.49, Warnung Op.119 No.2, Drei Gesange Op.83, Gedichte von Justinus Kerner Op.35 & Lieder Op.142
Christian Gerharer (baritone)
Gerold Huber (piano)
Sony 19075889192 
'Handel – Italian Cantatas': Aminta e Fillide HWV 83, Armida abbandonata HWV105, Trio Sonata in B minor HWV 386b & La Lucrezia HWV 145
Sabine Devieilhe (soprano)
Léa Desandre (mezzo soprano)
Le Concert d'Astrée (ensemble)
Emmanuelle Haim (director)
Erato 0190295633622 (2 CDs)
http://www.warnerclassics.com/release/3251821,0190295633622/haim-emmanuelle-handel-italian-cantatas
'Messa per Rossini' – Requiem mass movements by Buzzolla, Bazzini, Pedrotti, Cagnoni, Ricci, Nini, Boucheron, Coccia, Gaspari, Platania, Rossi, Mabellini & Verdi
Maria José Siri (soprano)
Veronica Simeoni (mezzo soprano)
Giorgio Berrugi (tenor)
Simone Piazzola (baritone)
Riccardo Zanellato (bass)
Coro e Orchestra del Teatro alla Scala
Riccardo Chailly (conductor)
Decca 483 4084 (2 CDs)

9.30am – Building a Library – Iain Burnside on Haydn's Piano Sonata in E flat major XVI:52
Composer: Joseph Haydn
Reviewer: Iain Burnside
Recommended Recording:

Dejan Lazic
Channel CCSA19703 (Hybrid SACD)
Other Recommended Recording: 
Ronald Brautigam (fortepiano)
BISCD994
Alain Planes (piano)
Harmonia Mundi HMX 2961994
10.20am – New Releases
Debussy: Prélude à l'après-midi d'un faune, Jeux & Nocturnes
Les Siècles (orchestra)
Les Cris de Paris (choir)
François-Xavier Roth (conductor)
Harmonia Mundi HMM 905291
http://www.harmoniamundi.com/#!/albums/2469
Debussy: Douze Etudes; Messiaen: Fauvettes de l'Hérault – Concert des garrigues
Roger Muraro (piano)
Harmonia Mundi HMM 905304
http://www.harmoniamundi.com/#!/albums/2468

'Beethoven: Violin Sonatas Vol.3' – Kreutzer Sonata Op.47 + Op.12 No.2 & Op.96
Chloe Hanslip (violin)
Danny Driver (piano)
Rubicon RCD1012
http://rubiconclassics.com/release/beethoven-violin-sonatas-vol-3/
10.50am New Releases: Flora Willson on opera releases
Verdi: Macbeth
Giovanni Meoni (Macbeth)
Nadja Michael (Lady Macbeth)
Fabrizzio Beggi (Banco)
Giuseppe Valentino Buzza (Macduff)
Marco Ciaponi (Malcolm)
Valentina Marghinotti (Dama di Lady Macbeth)
Federico Benetti (Medico/Servo)
Podlasie Opera and Philharmonic Choir
Europe Galante
Fabio Bondi (conductor)
Glossa GCD 923411 (2 CDs)
http://www.glossamusic.com/glossa/reference.aspx?id=479

Massenet: La Navarraise
Aleksandra Kurzak (Anita)
Roberto Alagna (Araquil)
George Andguladze  (Garrido)
Brian Kontes (Remigio)
Issachah Savage (Ramon)
Michael Anthony McGee (Bustamente)
Opera Orchestra of New York
Alberto Veronesi (conductor)
Warner Classics 9029560570
http://www.warnerclassics.com/shop/60,0190295605704/roberto-alagna-massenet-la-navarraise

Saint-Saens: Ascanio
Jean-Francois Lapointe (Benvenuto Cellini)
Bernard Richter (Ascanio)
Joé Bertili (Pagolo)
Éve-Maud Hubeaux (Scozzone)
Jean Teigten (Francois I)
Karina Gauvin (La Duchesse d'étampes)
Clémence Tilquin (Colombe d'Estourville)
Mohammed Haidar (Un Mendiant)
Bastien Combe (D'Estourville)
Maxence Billiemaz (D'Orbecf)
Raphael Hardmeyer (Charles Quint)
Olivia Doutney (An Ursuline nun)
Chorus of the Haute école de musique de Genève and of the Geneva Grand Theatre
Orchestra of the Haute école de musique de Genève
Guillaume Tourniaire (conductor)
B Records LBM 013 (3 CDs)
https://www.b-records.fr/ascanio-saint-saens/

Wagner: Götterdämmerung
Gun-Brit Barkmin (Brunnhilde)
Daniel Brenna (Siegfried)
The Three Norns (Sarah Castle, Stephanie Houtzell, Jenufa Gleich)
Eric Halfvarson (Hagen)
Gunther (Shenyang)
Gutrune (Amanda Majeski)
Waltraute (Michelle DeYoung)
Alberich (Peter Kálmán)
Woglinde (Eri Nakamura)
Wellgunde (Aurhelia Varak)
Flosshilde (Hermine Haselbock)
Bamberg Symphony Chorus
Latvian State Choir
Hong Kong Philharmonic Chorus
Hong Kong Philharmonic Orchestra
Jaap van Zweden (conductor)
Naxos 8.660428-31 (4CDs – also available as Bluray Audio)
https://www.naxos.com/catalogue/item.asp?item_code=8.660428-31
11.45am – Disc of the Week

Bartok: String Quartets
Arcadia Quartet
Chandos CHAN10992 (2 CDs)
https://www.chandos.net/products/catalogue/CHAN%2010992
* * * ENDS * * *