Main content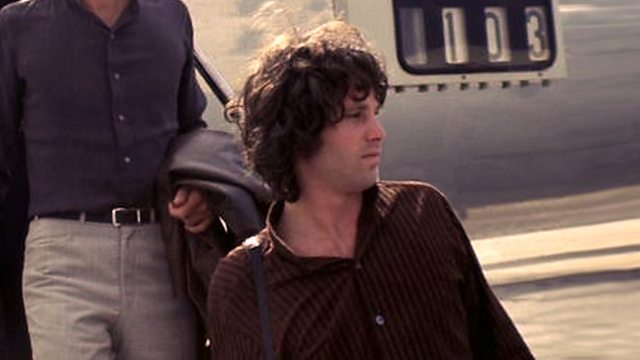 Jim Morrison's Will to be Weird
Made for 4 Extra. Paul Gambaccini celebrates the mystique of Jim Morrison including 'Cult Heroes', 'Cult Classics', 'The Marriage of Heaven and Hell' and 'Cemetery Confessions'.
Had Jim Morrison of The Doors not died in mysterious circumstances at the tender age of 27 in 1971, he would have celebrated his 75th birthday this year.
In this three-hour selection, Paul Gambaccini mixes the music and poetry of the man with the influences that moulded the self-proclaimed 'The Lizard King'. Paul first encountered Morrison in 1967 when; as a young music director on a New Hampshire radio station, he eagerly opened The Doors' first single 'Break On Through'. He followed his career from beginning to end and, to this day, occasionally visits Morrison's grave in Paris.
Such is Morrison's lasting mystique, that the programmes featured originate from four different BBC networks:
* Cult Heroes: Jim Morrison [Radio 5 Live 18/12/1990]
Tony Slattery looks back at Morrison's volatile career
* Dreadzone Aldous Huxley Readings [Radio 1 1995]
Greg Roberts [now Greg Dread] reads excerpts from 'Brave New World']
* The Marriage of Heaven and Hell [Radio 3 29/03/1995]
A unique interpretation of William Blake's 18th century masterpiece
* Like A Rolling Stone [Radio 4 26/03/2006]
The life, work and lasting influence of French poet Arthur Rimbaud
* The Cemetery Confessions [Radio 4 06/05/2004]
A star-studded cast interprets the final confessions of some of the many notable occupants of the Cimetiere du Pere-Lachaise, Paris.
Producer: Mik Wilkojc
Made for BBC Radio 4 Extra