Main content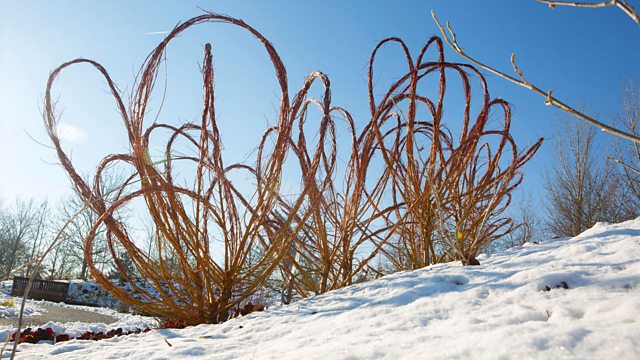 RHS Garden Hyde Hall
Peter Gibbs hosts the show from RHS Garden Hyde Hall in Essex. Joining Peter to answer the questions are Christine Walkden, Matthew Wilson and James Wong.
Produced by Dan Cocker
Assistant producer: Laurence Bassett
A Somethin' Else Production for BBC Radio 4
Fact Sheet
Q – Why does my Decaisnea Fargesii (Blue bean shrub) not fruit?
Christine – Try tickling it a bit – keep it damper when it is in flower and feed it with some pot ash.
Q – I have had Gall wasp in my mature oak tree over the last 3 years, should I try and stimulate the tree to try and fight off this pest?
Matthew – It can look disturbing –however over the lifetime of an Oaktree it is not a problem for it. it will disrupt the acorns but, in a few years, you might have a clean year or several clean years. It won't affect the health of your oak tree.
Q – Should I be concerned by the appearance of earth star fungi (Astraeus hygrometricus) in my rose bed?
Matthew – As far as I am aware, I don't think they are a problem.
Christine – Most of them will disappear quite quickly and cause no harm.
Q – Could the panel recommend a variety of Mahonia with a good scent that will grow well in a shady corner of my garden?
Matthew – You need to maintain them well and prune them often.
Christine – I would suggest Mahonia aquifolium. Make sure you don't keep it too dry and add enough organic matter into the soil when growing them. Some of the newer varieties are sensational.
James – I would go Mahonia Japonica which is much taller and more structural. Or the Mahonia Eurybracteata ('Soft Caress') which has much thinner more divided ferny-looking foliage and doesn't have prickles.
Q – We are developing an arboretum and over the next 3 years plan to plant 160 trees – considering our dry climate and clay soils can the panel recommend a suitable tree that they would love to see growing?
James – I have an obsession with Eucalyptus (Gum Trees) – they have structure throughout the year.
Christine – Pseudolarix amabilis (Golden Larch Conifer)
Matthew – I would go with the Sweet Maple Tree (Acer Saccharum)
Q – I have been growing potatoes for the last few years and been disappointed as none of them have tasted have good as they did when I was a child – what variety would the panel recommend?
Christine – The only two I now grow are Charlotte and Pink Fur Apple – which are both salad potatoes which seem to retain the flavour.
James – I would definitely go for the salad ones as they are most expensive in the supermarkets and have a better flavour in general. I would go with Anya.
Q – I would like the panels opinion on whether I should use charcoal in my Terrariums?
James – I have never used charcoal in my Terrariums. It holds water but doesn't rot so it could be a good growing medium. I would say that is growing med is important as is hydration. I like to use a heavy mixture of thing that drain well like a vermiculite and perlite mixed with regular house plant compost at a 50/50 ratio.
Christine – Charcoal is meant to keep the water and compost sweet, as it absorbs smell.
Q – What ways could the panel suggest for generating copious amounts of compost matter?
Christine – A good quality chipper will produce an awful lot of stuff, but it requires an awful lot of stuff. Shredders are useful in a certain type of setting.
Peter – Little robot mower
Plants mentioned in the feature: Callicarpa (Beautyberry), Panicum Virgatum ('Northwind'), Cyclamen hederifolium (Ivy-leaved cyclamen), Cyclamen coum (Eastern sowbread), Hellebore, Sarcococca, Galanthus reginae-olgae, Crocus, Puschkinia, Camellia sinensis (Tea plant), Camellia japonica (Japanese camellia)