Main content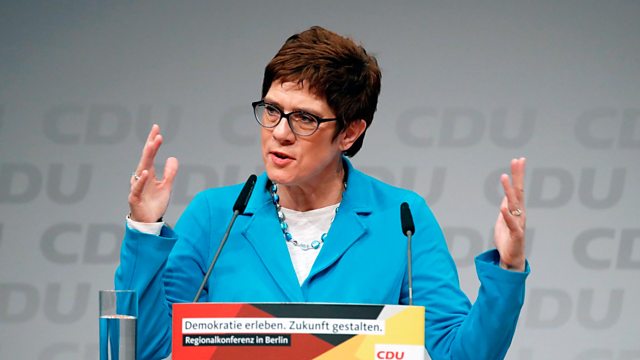 Angela Merkel's Successor? Plus Baby Banks, Aimee Stuart, Supporting Support Workers
Will Annegret Kramp-Karrenbauer succeed Angela Merkel? Plus the rising use of baby banks, forgotten playwright Aimee Stuart and how to support frontline support workers.
Angela Merkel has announced she is to step down after 18 years at the helm of Germany's Christian Democratic Union, though will stay on as Chancellor for the rest of her current term. So who will replace her? One woman is up against two men – Annegret Kramp-Karrenbauer has been described by some as 'mini Merkel'. We discuss her policies and what her chances are.
Thousands of mums are turning to baby banks to feed and clothe their families and the numbers are increasing. Babybanks work like food banks. Families are referred by their midwife, their social or health worker and they can pick up essential donated items like clothes, buggies and wipes. There are over 100 babybanks across the UK. Little Village runs three in London. Henrietta Harrison went to meet some families at a bank in Balham in South London.
Aimée Stuart was a popular and controversial Scottish playwright in the 1930s – so why have we not heard of her? Nicolette Key has directed a revival of Stuart's play 'Jeannie', a Cinderella story of a young women desperate to escape domestic drudgery. She's here to talk about what she discovered about this feminist writer and her interesting life.
As the Radio 4 Christmas Appeal continues we ask who supports the support workers. Three female charity workers Sophie, Bethan and Sophie explain the pressures they feel at work and how they cope.
Presenter: Jenni Murray
Producer: Kirsty Starkey
Interviewed Guest: Kate Connolly
Interviewed Guest: Nicolette Key
Interviewed Guest: Sophie Tomlinson
Interviewed Guest: Bethan Lant
Interviewed Guest: Sophie Campion
Reporter: Henrietta Harrison
Last on
Broadcast

Podcast
Women's voices and women's lives - topical conversations to inform, challenge and inspire.