Main content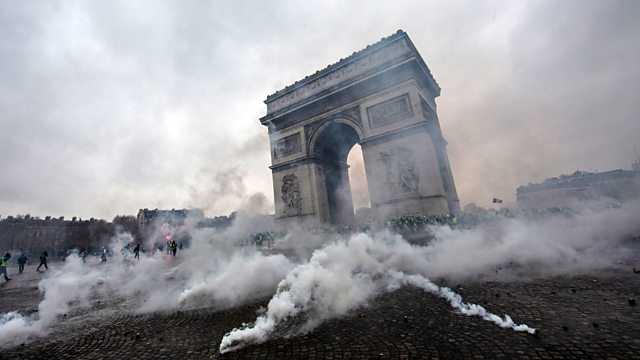 Les Gilets Jaunes
The French government has withdrawn its planned fuel tax rise, but the country is still bracing for more demonstrations this weekend. We ask what's going on in France.
In France a wave of protests has brought the country to a standstill in recent weeks. The original cause of the anger - the government's plan to raise the rate of tax on diesel - has now disappeared. President Macron responded this week to the mood in the country by withdrawing the tax, due to be introduced next year. The question now is whether that will temper the anger of the Gilets Jaunes, the protesters who take their name from the hi-viz vest that every French driver must carry with them in their vehicle. The protesters form an amorphous movement without leaders and their demands are many and various. President Macron is being criticised as much for his style and tactics as his policy. Where does France go from here? With Sophie Pedder of The Economist, the geographer Christophe Guilluy, the pollster Bruno Jeanbart, the writer Jane Weston-Vauclair and Professor Philippe Marliere of University College London.
Is Brazil breaking with its leftist past in favour of a conservative future?