Main content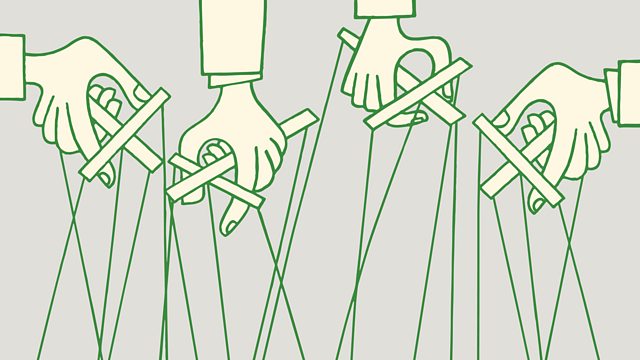 Are we being manipulated?
Who is pulling your strings? Sarah Marks, Gustav Kuhn, Poppy Noor, Quassim Cassam and Robert Colvile join Matthew Sweet to hunt down the day's hidden persuaders.
Who's pulling your strings - from advertisers and peer pressure to political campaigns and self-deception - hidden persuaders are everywhere. Journalist Poppy Noor, historian Sarah Marks, psychologist and magician, Gustav Kuhn, the philosopher, Quassim Cassam and Robert Colvile from the Centre for Policy Studies join Matthew Sweet to track them down. We're all confident that we know our own minds -- but do we? And if we don't, why not?
Producer: Zahid Warley
Quassim Cassam is professor of philosophy at Warwick University. He is the author of Self Knowledge for Humans and his new book, Vices of the Mind will be published next year.
Gustav Kuhn teaches psychology at Goldsmiths College, University of London. His book Experiencing the Impossible : The Science of Magic will be published next year.
Sarah Marks is a post doctoral researcher at Birkbeck College in London where she is one of the team involved in the Hidden Persuaders project.
Poppy Noor is a journalist and contributes to The Guardian newspaper.
Robert Colvile is the director of the Centre for Policy Studies.
Who's pulling your strings - Matthew Sweet and guests track down today's hidden persuaders
CLICK to LISTEN & SEE all programmes from the Free Thinking Festival 2018: The One and the Many