Main content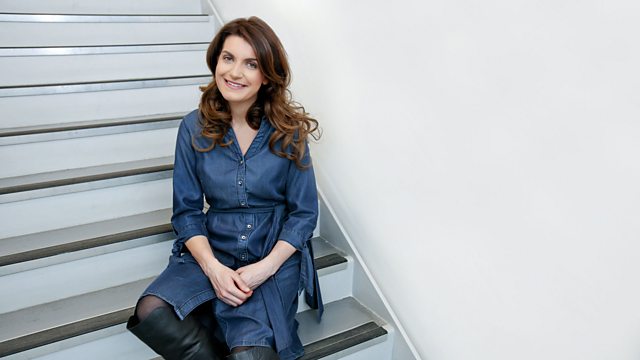 Thursday - Georgia's classical mix
Georgia Mann presents Radio 3's classical breakfast show, featuring listener requests and our musical Advent Calendar.
Email 3Breakfast@bbc.co.uk
Last on

Music Played
Louise Farrenc

Sextet in C minor, Op.40 (3rd mvt)

Performer: Les Vents Français. Performer: Éric Le Sage.

Winds & Piano.
Warner Classics.
6.

Henry Purcell

Pavan in G minor à 4

Orchestra: Accademia Bizantina. Conductor: Stefano Montanari.

Henry Purcell, O Solitude: Andreas Scholl/Accademia Bizantina.
Decca.
16.

Richard Strauss

Capriccio: Passepied - Gigue - Gavotte

Performer: Wolfgang Sawallisch. Performer: Sebastian Hess. Performer: Anna Kandinskaia.

Complete Chamber Music Vol. 9.
Arts.

Johann Sebastian Bach

Christmas Oratorio, BWV 248 (Part 5)

Choir: Vienna Boys' Choir. Choir: Chorus Viennensis. Ensemble: Concentus Musicus Wien. Conductor: Nikolaus Harnoncourt.

Johann Sebastian Bach: Weihnachtsoratorium.
TELDEC.
11.

Pyotr Ilyich Tchaikovsky

The Nutcracker: Overture

Orchestra: Los Angeles Philharmonic. Conductor: Gustavo Dudamel.

Johannes Ockeghem

Alma redemptoris mater

Conductor: Paul Hillier. Ensemble: The Hilliard Ensemble.

Power / Dunstaple: Masses and Motets.
Warner Classics/Erato.
202.

Claude Debussy

Préludes, Livre 2, L. 123: XI. Les tierces alternées. Modérément animé

Performer: Alexander Melnikov.

Debussy: Préludes du 2e Livre, La Mer.
harmonia mundi.
111.

Claude Debussy

Midi, Do Majeur

Ensemble: Quatuor Debussy.

Debussy… et le jazz.
harmonia mundi.
103.

Dieterich Buxtehude

Trio Sonata in A minor, BuxWV 254

Ensemble: Arcangelo.

Felix Mendelssohn

Concert piece no. 1 in F minor Op.113

Ensemble: The Clarinotts. Ensemble: Wiener Virtuosen.

The Clarinotts.
DEUTSCHE GRAMMOPHON.
1-3.

Joseph Haydn

Baryton Trio no. 57 in A

Ensemble: Esterházy Baryton Trio.

James Oswald

A Sonata of Scots Tunes (excerpt)

Ensemble: Concerto Caledonia.

Benjamin Britten

Saint Nicholas (The Birth of Nicholas)

Singer: David Hemmings. Singer: Peter Pears. Choir: Girls' Choir of Sir John Leman School, Beccles. Choir: Boys' Choir of Ipswich School Preparatory Department. Performer: Ralph Downes. Orchestra: Aldeburgh Festival Orchestra. Conductor: Benjamin Britten.

John White

Doggerel Machine (extract)

Ensemble: Wallace Collection.

The Golden Section.
LINN.
8-10.

Igor Stravinsky

Pulcinella Suite: III. Scherzino - Allegro - Andantino

Conductor: Masaaki Suzuki. Orchestra: Tapiola Sinfonietta.

Stravinsky: Pulcinella Suite, Apollon musagète & Concerto for Strings in D Major.
BIS.
103.

Domenico Scarlatti

Sonata in G minor Kk30, "Cat's Fugue"

Performer: Jean Rondeau.

Henryk Mikolaj Górecki

Totus Tuus, Op. 60

Ensemble: VOCES8.

Christmas.
Signum Classics.
801.

Frédéric Chopin

Waltz in E flat major, Op 18, 'Grande valse brillante'

Performer: Stephen Hough.

Chopin: Waltzes: Stephen Hough.
Hyperion.
1.

Johann Sebastian Bach

Mass in B minor, BWV 232: Et in unum Dominum

Singer: Katherine Watson. Singer: Iestyn Davies. Orchestra: Orchestra of the Age of Enlightenment. Conductor: Stephen Layton.

Bach: Mass In B Minor.
HYPERION.
3.

Maurice Ravel

String Quartet in F major (2nd mvt)

Ensemble: Tesla Quartet.

Haydn, Ravel, Stravinsky.
Orchid Classics.
002.

Fęlá Şowándé

African Suite (Nostalgia)

Orchestra: CBC Radio Orchestra. Conductor: Mario Bernardi.

Peter de Rose

Deep Purple

Singer: Adelaide Hall. Performer: Fęlá Şowándé. Performer: Al Craig.

Sergey Rachmaninov

Prelude in B flat major, Op.23 no.2

Performer: Nikolai Lugansky.

The Rachmaninov Experience.
Warner Classics and Jazz.
2.

Giovanni Gabrieli

Canzon primi toni à 10, C176

Ensemble: Concerto Palatino. Director: Charles Toet. Director: Bruce Dickey.

Gabrieli: Sonate e Canzoni: Concerto Palatino/Dickey/Toet.
Harmonia Mundi.
3.
Broadcast