Main content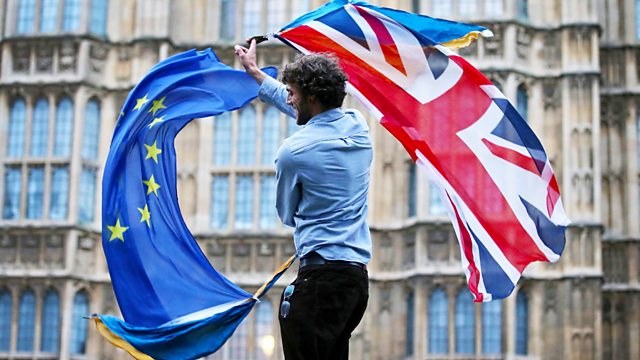 Scotland - England
Young people discuss the implications of Britain's departure from the EU on the younger generations of people in the UK. How do prospects differ either side of the UK border?
The BBC's Scotland Editor Sarah Smith, chairs a discussion of twenty- and thirty-somethings invited to debate their own prospects in a post Brexit world.
The programme comes from The Stove Network, a community centre on Dumfries High Street, and the panel and participants are drawn from both sides of the England-Scotland border, from Dumfries and Galloway and from neighbouring Cumbria, in England. Immigration, farming, the local economy, transport and the problem of young people leaving for cities are among the subjects discussed.
Panellists
Stacy Bradley (33) is a local SNP activist who works for a housing charity. She voted Remain in June 2016. She is single, has a young son and lives in rented housing in Dumfries. She works for the Dumfries charity Midsteeple Quarter where she helps communities to develop affordable housing.
Kerryanne Wilde (46) is a charity worker. She's Scottish but currently lives in Cumbria. A former UKIP member she voted Leave in the Referendum. Kerry joined the Women's Royal Army Corps when she was 17 and became a Serbo-Croat linguist. During her 12 years as a non-combatant in the intelligence core, she served all over the world – including during the Bosnian conflict.
Alistair Mackintosh (25) is a tenant sheep farmer from Whitehaven in West Cumbria who voted Remain. He did a degree in agriculture at Edinburgh Napier and worked in New Zealand. He runs his local Young Farmers branch at Drigg.
Adam Wilson (22) is Labour councillor in Dumfries. He voted Leave, He is is the council's 'young people's champion' and a former member of the Scottish Youth Parliament.
Presenter: Sarah Smith
Producer: Helen Grady
Researchers: Ben Cooper and Bethan Head
Editor: Andrew Smith