Main content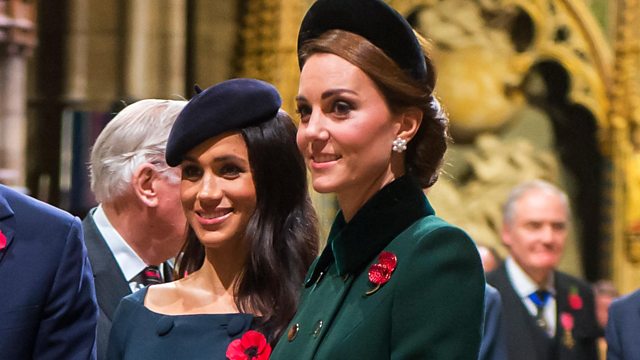 Media reporting of the Duchess of Cambridge and the Duchess of Sussex
Media reporting of the Duchess of Cambridge and the Duchess of Sussex. New research into the costs of raising a child with a disability.
Some newspapers are reporting a feud between the Duchess of Cambridge and the Duchess of Sussex. But how much is this really the case? How much is it simply a made-up misogynistic storyline? We hear from Victoria Murphy, a journalist who has written royal stories for the Mirror and the political commentator Jane Merrick.
New research from Contact, the charity for families with disabled children has revealed a sharp rise in disabled children going without vital therapies and equipment. This is leading to increased ill health for both the parents and the children. Jenni hears from Gabriella whose two year old daughter Thea, has a severe life-limiting condition and from the CEO of Contact Amanda Batten.
A new website '100 Voices that made the BBC: Pioneering Women' explores the contribution that women have made to shaping close to 100 years of British broadcasting. Jenni speaks to one of the curators Dr Kate Murphy, Principal Academic at Bournemouth University.
The musical Caroline, or Change now on at the Playhouse theatre, London continues to provoke and entertain with its fierce social observation and a gospel-and-Motown-inflected score delivered by a cast that includes kitchen appliances and a rising moon. Jenni speaks to Sharon D. Clarke who plays the African-American maid working in a liberal Jewish household in 1960's Louisiana.
Presenter: Jenni Murray
Producer: Dianne McGregor
100 Voices that made the BBC: Pioneering Women