Main content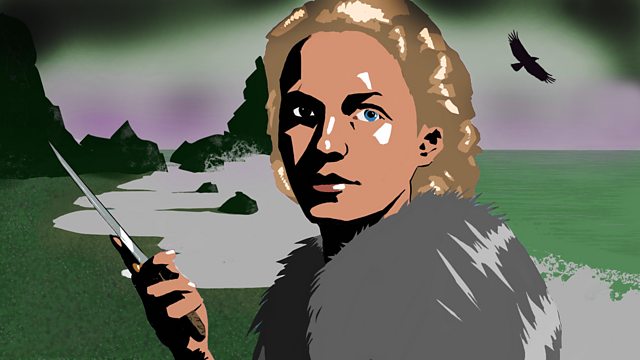 1/10
Lucy Catherine's Viking epic of love, revenge and faith continues. On a remote island, Gudrun seeks out an old friend.
By Lucy Catherine.
Gudrun, a young woman in 11th century Iceland, must forge her path through a world of unearthly beauty yet uncompromising harshness. Lucy Catherine's Viking epic of love, revenge and faith inspired by the Icelandic sagas.
On a remote island, Gudrun seeks out an old friend.
Gudrun . . . . . Kate Phillips
Freija . . . . . Samantha Dakin
Dag . . . . . Cameron Percival
Sylvia . . . . . Carolyn Pickles
Aoife . . . . . Lucy Doyle
Directed by Sasha Yevtushenko
Iceland is now an occupied country, its people forced to convert to Christianity by rival Norse kingdoms. After many years away, with plans to overthrow the regime and rescue her daughter who is being brought up in the new faith, Gudrun once more sails into Icelandic waters.
Despite the warmongering and bloodshed Gudrun is a story of family and a mother's love. An avenging angel forged from violence, she continues to try and lead a good life in a man's world. She longs for the freedom to live according to her own rules. She's under the protection of Freija, the Norse Goddess of love and war. Freija's voice cries out for a new kind of leadership. She can sometimes be as slippery a customer as her protégée - is she really on Gudrun's side or does she have an agenda of her own?
The series is inspired by the famous Icelanders' saga known as The Laxdoela Saga. Written in the 13th century, it tells of people in the Breiðafjörður area of Iceland from the late 9th century to the early 11th century. The Laxdæla saga remains popular and appreciated for its poetic beauty and pathetic sentiment. Since the saga has often been regarded as an unusually feminine saga, it has been speculated that it was composed by a woman.
Kate Phillips reprises the role of Gudrun. Previous roles include Jane Seymour in Wolf Hall, Linda in Peaky Blinders and Lise in War & Peace, all on BBC1.
Lucy Catherine has written extensively for BBC Radio Drama, including Friday Plays, Classic Serial adaptations and Woman's Hour series. Her 95' adaptation of THE MASTER AND MARGARITA by Mikhail Bulgakov was broadcast in early 2015 and won the BBC 'Best Audio Drama (Adapted); her 2 x 60' adaptation of Mary Shelley's FRANKENSTEIN was broadcast in December 2012 as well as her half hour 'Gothic Horror' original LOOTED. Original 10 x 14' Woman's Hour drama series HALFWAY HERE and 2 x 45' Afternoon Drama in the series 'Riot Girls', SUSAN AND EMMA were broadcast in 2016. Other recent commissions for Radio 4 include BOY and GOING SOLO, adapted from Roald Dahl's autobiography; LIGHTS, CAMERA, KIDNAP! based on a true story about Kim Jong Il.