Main content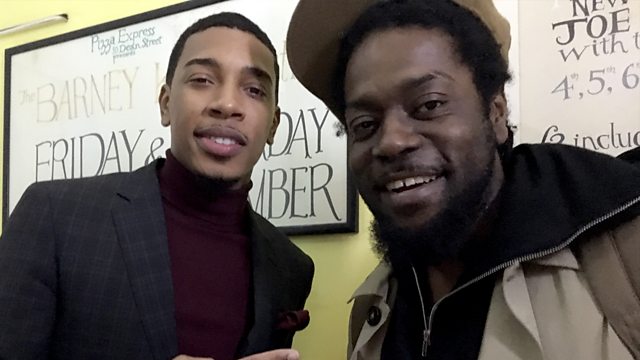 Christian Sands
From the 2018 London Jazz Festival Soweto Kinch presents a session by US pianist Christian Sands and his trio at Pizza Express Live in London's Soho. Plus Soweto also catches up with Italian composer and pianist Stefano Bollani.
PLAYLIST
DISC
Artist              Soweto Kinch
Title                The Healing
Composer     Kinch
Album            The Legend of Mike Smith
Label              Soweto Kinch Recordings
Number        SKP003 CD 2 Track 39
Duration       13"
Performers: Soweto Kinch, as, rhodes, prog; Shabaka Hutchings, ts; Karl Rasheed-Abel, b; Graham Godfrey, d. . 2015
The Christian Sands Trio perform at Pizza Express, Soho
MUSIC
Rebel Music (Sands)          7'33"
Bolivia (Walton)                  11'38"
FSR  (Brown)                         7'38"
Body & Soul (Green)           13'49"
Blue Monk    (Monk)          14'58"
Personnel: Christian Sands on piano, with Ryan Sands on drums and  Yasushi Nakamura on bass.
Soweto Interviews Stefano Bollani
DISC
Artist             Stefano Bollani
Title                Que Bom
Composer     Stefano Bollani
Album            Que Bom
Label             Alobar
Duration       34"
Performers: Stefano Bollani, Jorge Helder, Jurim Moreira, Armando Marcal, Thiago da
Serrinha, Caetano Veloso, Hamilton de Holanda, Jaques Morelenbaum,
Joao Bosco; 2018
Soweto interviews Stefano Bollani 
DISC
Artist             Stefano Bollani
Title                Certe Giornate Al Mare
Composer     Stefano Bollani
Album            Que Bom
Label             Alobar
Duration       5'05"
Performers: Stefano Bollani, Jorge Helder, Jurim Moreira, Armando Marcal, Thiago da
Serrinha, Caetano Veloso, Hamilton de Holanda, Jaques Morelenbaum,
Joao Bosco; 2018
DISC
Artist             Stefano Bollani
Title                La Nebbia A Napoli
Composer     Stefano Bollani
Album            Que Bom
Label             Alobar
Duration       1'54"
Performers: Stefano Bollani, Jorge Helder, Jurim Moreira, Armando Marcal, Thiago da
Serrinha, Caetano Veloso, Hamilton de Holanda, Jaques Morelenbaum,
Joao Bosco; 2018
DISC
Artist             Stefano Bollani
Title                Galapagos
Composer     Stefano Bollani
Album            Que Bom
Label             Alobar
Duration       3'16"
Performers: Stefano Bollani, Jorge Helder, Jurim Moreira, Armando Marcal, Thiago da
Serrinha, Caetano Veloso, Hamilton de Holanda, Jaques Morelenbaum,
Joao Bosco; 2018
Al Ryan with our latest selection of BBC Introducing Tracks
Elliot Galvin – Lobster Cracking – 4'18"
Mosed Boyd – Rye Lane Shuffle – 4'28"