Main content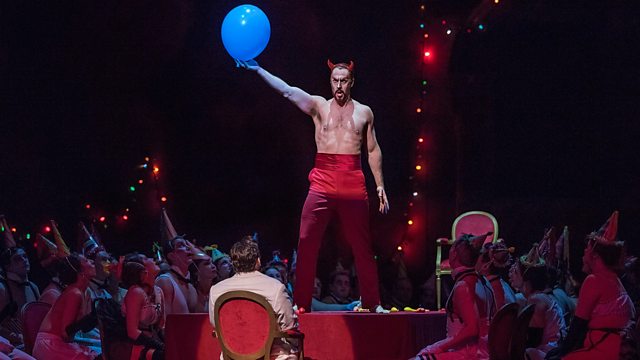 Boito's Mefistofele from the Met
Arrigo Boito's take on the Faust legend from the Metropolitan Opera House in New York, starring Christian Van Horn, Michael Fabiano and Angela Meade. Joesph Colaneri conducts.
Perhaps better known as Verdi's librettist, Arrigo Boito was also a composer, and this evening's Met is a chance to hear his only completed opera, Mefistofele. Based on Goethe's Faust, it tells the tale of his pact with the devil, and was heavily criticised at the premiere for being too Wagnerian.
The Met's performance stars bass-baritone Christian Van Horn as the diabolical title character, tenor Michael Fabiano as Faust, and soprano Angela Meade as Margherita.
Presented from New York by Mary Jo Heath and Ira Siff.
6.30pm
Boito: Mefistofele
Margherita….. Angela Meade (soprano)
Elena….. Jennifer Check (soprano)
Faust….. Michael Fabiano (tenor)
Mefistofele….. Christian Van Horn (bass)
Marta….. Theodora Hanslowe (contralto)
Pantalis….. Samantha Hankey (contralto)
Wagner….. Raúl Melo( tenor)
Nerèo….. Eduardo Valdes (tenor)
Metropolitan Opera Chorus
Metropolitan Opera Orchestra
Joseph Colaneri (conductor )
For full synopsis please visit programme page
Synopsis
PROLOGUE
A heavenly choir praises the Lord; Mefistofele appears and mockingly addresses God, apologizing for his lack of a halo. He complains that God's worthy creation, Man, has become so degenerate that he is not worth tempting any more. A mystical choir asks him if he knows Faust. Mefistofele does indeed and wagers to trap the aging, fanatical scholar. Mefistofele boasts to the Creator that, by ensnaring Faust, he will finally triumph over God. The scene ends with a hymn of praise to the Master of the Heavens.
ACT I
Faust and his student Wagner join the holiday crowd. The old scholar notices the first signs of spring—a group of townspeople begins a country dance. After the crowd disperses, Wagner and Faust notice a monk, the sight of whom greatly disturbs the old man. He imagines seeing traces of burning footprints on the ground.
In his study, Faust prepares to meditate on the Bible when a piercing cry is heard, and the mysterious monk appears. Faust makes the powerful sign of Solomon, which forces Mefistofele to abandon his disguise. He introduces himself as the spirit that negates and destroys everything. Mefistofele offers his services to Faust on Earth, on the condition that their positions are reversed after the old man's death. Faust accepts, provided that he find just one moment of true happiness that he could greet with the words, "Stay, for you are beautiful!" They agree upon the contract, and Mefistofele transports Faust away.
ACT II
The rejuvenated Faust, now calling himself Enrico, courts Margherita, while Mefistofele distracts her neighbor Marta. Margherita asks Faust about his religious beliefs, but he says that he seeks an even deeper truth: the mystery of love. He persuades Margherita to let him visit her at home and gives her a sleeping potion (provided by Mefistofele) for her mother. Faust reassures Margherita that the potion will cause no harm, as both couples declare their love.
Mefistofele urges Faust up the mountains to witness the Witches' Sabbath. Witches and warlocks appeal, and Mefistofele demands obeisance as their king. They present him with the attributes of his power and a symbol of the world, which he derides and then destroys. Faust suddenly sees in the sky a vision of a young girl in chains who resembles Margherita. Mefistofele tries to dismiss it as a trick of imagination, but Faust realizes that the woman with a ring of blood around her neck is indeed the girl that he abandoned. The revels continue.
ACT III
The imprisoned Margherita has lost her reason after being condemned to death for poisoning her mother and drowning the child that she bore Faust. Faust begs Mefistofele to save her. The devil denies responsibility but promises to do what he can. He produces a key, and Faust enters the prison. At first, Margherita thinks she is being led to execution but then recognizes Faust and starts to relive their past, recalling their meeting in the garden. Faust wants her to escape with him, but she cannot face a life of remorse. They imagine the happiness they might have had. When Mefistofele orders Faust to leave with him, Margherita prays for forgiveness and renounces Faust: A celestial choir proclaims Margherita's salvation.
ACT IV
Mefistofele has transported Faust, who stills quests for the perfection of art and beauty, to ancient Greece. Helen of Troy and her companion Pantalis serenade the full moon. In the distance, Faust is heard calling for Helen. As the two women leave, Faust enters, enchanted with his surroundings. Mefistofele, however, feels uncomfortably out of place. Helen now reappears, praised by a chorus who pay her homage. She is obsessed by a nightmare vision of the destruction of Troy. She receives Faust, who declares his love for her, the embodiment of pure and ideal beauty. They pledge their love and contemplate life together in peaceful Arcadia.
EPILOGUE
In his study, Faust reflects on his past: The love of the real woman brought only suffering, while that of the goddess was only an illusion. Mefistofele despairs that Faust has still not experienced the supreme moment. Realizing that death is near, Faust invokes another dream, one in which he would rule wisely over prosperous people in a peaceful world. Mefistofele, fearing that his victim will escape him, urges Faust to accompany him once again. But Faust, now enraptured in his heavenly vision, speaks the fatal words, "Stay, for you are beautiful!" and dies redeemed. Mefistofele, although defeated, whistles in defiance.
(C) Met Opera