Main content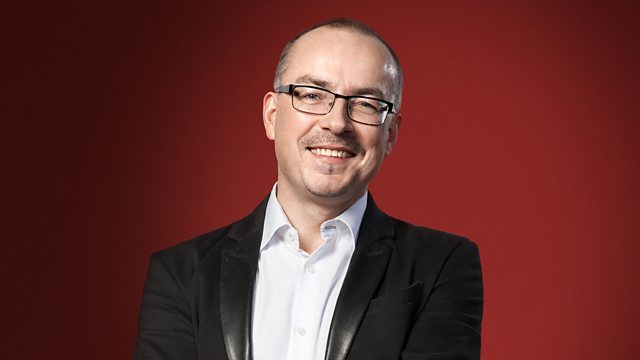 Andrew McGregor with Sarah Devonald
A round-up of the best new classical releases, and in Building a Library Sarah Devonald picks a favourite from among the recordings of Dvorak's delightful Wind Serenade in D minor.
with Andrew McGregor
09.30
Building a Library: Sarah Devonald picks a personal favourite from among the recordings of Dvorak's Wind Serenade in D minor.
'It would be difficult to discover a finer, more refreshing impression of really abundant and charming creative talent', wrote no less an authority than Johannes Brahms about Dvorak's Wind Serenade. Inspired by Mozart's great Wind Serenade for 13 wind instruments, this 1878 work is suffused both with the spirit of Czech folk music and Dvorak's distinctive blend of sunniness and wistful nostalgia. The Serenade's wonderfully idiomatic instrumental writing (including three horns, cello and double bass) still sounds fresh and delightful and it was one of Dvorak's earliest successes, helping to carry his reputation to the rest of Europe and beyond. Recordings cover 60+ years and range from rustic and characterful to refined and ultra-sophisticated.
11.00
Jeremy Summerly separates the plums from the turkeys from among the Christmas releases.
11.45
Andrew chooses an outstanding new release as his Disc of the Week.
Record Review
9.00am
Vaughan Williams: A Sea Symphony & The Lark Ascending
Sarah Fox (soprano)
Mark Stone (baritone)
James Ehnes (violin)
Royal Liverpool Philharmonic Orchestra
Royal Liverpool Philharmonic Choir
Andrew Manze (conductor)
Onyx Classics ONYX 4185
http://www.onyxclassics.com/cddetail.php?CatalogueNumber=ONYX4185
Josquin Desprez: Miserere mei Deus, In principo erat Verbum, Planxit autem David etc. Plus Gombert: Musae Jovis
Capella Amsterdam
Daniel Reuss (conductor)
Harmonia Mundi HMM 902620
http://www.harmoniamundi.com/#!/albums/2465 
Schubert: Sonata in A minor 'Arpeggione', Sonata (Duo) in A major, Sonatina (Sonata) in D major (arranged for violin and guitar)
Daniel Migdal (violin)
Jacob Kellermann (guitar)
BIS-2375 SACD (Hybrid SACD)
http://bis.se/orchestras-ensembles/duo-kemi/schubert-sonatas-on-violin-and-guitar
'Star of Heavem – The Eton Choirbook Legacy': Choral music by Cooke, Cornysh, Galvani, Hough, Lambe, MacMillan, Phibbs & Wylkynson
The Sixteen
Harry Christophers (conductor)
Coro COR16166
https://www.europadisc.co.uk/classical/139683/Star_of_Heaven:_The_Eton_Choirbook_Legacy.htm
9.30am – Building a Library – Sarah Devonald on Dvorak's Wind Serenade in D minor, Op.44
Composer: Antonin Dvorak
Reviewer: Sarah Devonald
Recommended Recording:
Linos Ensemble
Capriccio 10559
Other Recommended Recording:
Chamber Orchestra of Europe
Alexander Schneider (conductor)
ASV CDCOE801

Academy of St. Martin-in-the-Fields
Neville Marriner (conductor)
Philips 4000202

London Philharmonic Orchestra
Christopher Hogwood (conductor)
Decca 4489812
10.20am – New Releases
Stravinsky: The Firebird & Rimsky-Korsakov: Le Coq D'Or Suite
Royal Liverpool Philharmonic Orchestra
Vasily Petrenko (conductor)
Onyx Classics ONYX4175
http://www.onyxclassics.com/cddetail.php?CatalogueNumber=ONYX4175
Haydn: String Quartets Op.64
The London Haydn Quartet
Hyperion CDA68221 (2 CDs)
https://www.hyperion-records.co.uk/dc.asp?dc=D_CDA68221
Julian Anderson: The Comedy of Change & Heaven is Shy of Earth
Susan Bickley (mezzo-soprano)
London Sinfonietta
BBC Symphony Orchestra
BBC Symphony Chorus
Oliver Knussen (conductor)
Ondine ODE 1313-2
https://www.ondine.net/?lid=en&cid=2.2&oid=6132
10.50am New Releases: Jeremy Summerly on Christmas music
'Advent Live' – Choral music by Britten, Vaughan Williams, Palestrina, Gibbons, Malcolm Archer, Tim Watts, Ian Shaw, Judith Bingham and others
Choir of St. John's College, Cambridge
Andrew Nethsingha (director)
Signum Classics SIG CD 535
https://signumrecords.com/product/advent-live/SIGCD535/
'Verbum caro factum est – a Christmas Greeting' – Choral music by Daquin, Bach, Gruber, Mendelssohn, Scheidt etc.
Bach Collegium Japan Chorus,
Masaaki Suzuki (conductor)
BIS-2291 (Hybrid SACD)
http://bis.se/performers/bach-collegium-japan-chorus/verbum-caro-factum-est-a-christmas-greeting
Telemann: Christmas Oratorios
Monika Mauch (soprano)
Nicole Pieper (alto)
Georg Poplutz (tenor)
Klaus Mertens (bass)
Raimonds Spogis (bass)
Manfred Buhl (bass)
Joel Urch (bass)
Kolner Akademie (orchestra)
Michael Alexander Willens (conductor)
CPO 555 254-2

'The Darkest Midnight: Songs of Winter and Christmas' – Vocal music by Tavener, Ravel, Don Macdonald, Joni Mitchell, Oliver Tarney, Tone Krohn etc.
Papagena (choir)
Somm Céleste SOMM CD 0189
https://www.somm-recordings.com/recording/the-darkest-midnight-songs-of-winter-and-christmas/
'A Renaissance Christmas' – Choral music by Sweelinck, Lassus, Tallis, Byrd, Victoria, etc.
The Sixteen (choir)
Harry Christophers (conductor)
CORO COR 16167
https://thesixteenshop.com/collections/all-products/products/cor16167
'A German Christmas' – Instrumental ensemble music by Praterious, Schutz, Waklekamp, Mazak, Hurtado, Hassler & Schein
Margaretha Consort
Marit Broekroelofs (conductor)
Naxos 8.551398
https://www.naxos.com/catalogue/item.asp?item_code=8.551398
'Have yourself a merry cello Christmas' – Christmas music arranged for cello by Ned Paul Ginsburg
James Kreger (cello)
Guild GM CD 7812   
https://www.guildmusic.com/shop/wbc.php?sid=36243467b82fb&tpl=produktdetail.html&pid=17674&rid=261&recno=2
'100 Years of Nine Lessons and Carols' – Traditional Christmas hymns and other choral works
The Choir of King's College, Cambridge
Stephen Cleobury (director)
Philip Ledger (conductor)
David Willcocks (conductor)
BBC KGS 0033
https://www.kingscollegerecordings.com/product/100-years-of-nine-lessons-and-carols/


11.45am - Disc of the Week

Tchaikovsky: Swan Lake
State Academic Symphony Orchestra of Russia 'Evgeny Svetlanov'
Vladimir Jurowski (conductor)
Pentatone PTC 5186 640 (2 Hybrid SACDs)
https://www.pentatonemusic.com/tchaikovsky-swan-lake-jurowski-gaso