Main content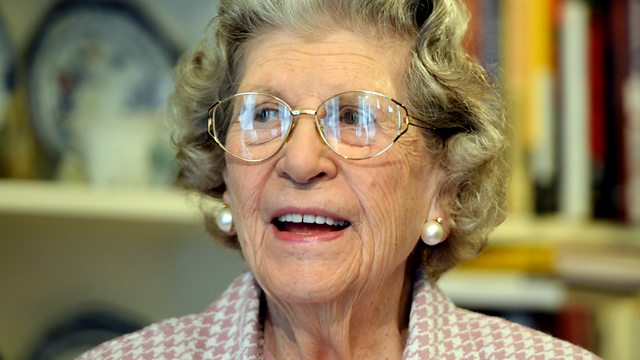 Baroness Trumpington, Roy Bailey, Chief Inspector Henry Stevens GC, Bernardo Bertolucci
Matthew Bannister on Baroness Trumpington, singer Roy Bailey, police officer Henry Stevens and film director Bernardo Bertolucci.
Pictured: Baroness Trumpington
Matthew Bannister on
Baroness Trumpington, who worked for Lloyd George and at Bletchley Park during the war then became a government minister noted for her cheerfully unstuffy attitude.
Roy Bailey the socialist folk singer who teamed up with Tony Benn in an award winning live act.
Henry Stevens, the police officer who won the George Cross for repeatedly tackling a burglar who shot him in the face.
Bernardo Bertolucci, director of the acclaimed film "The Last Emperor" and the controversial "Last Tango In Paris".
Interviewed guest: Martin Simpson
Interviewed guest: Stephen Stevens
Interviewed guest: Simon Stevens
Contributor: Angie Errigo
Producer: Neil George
Archive clips from: Have I Got News For You, BBC One 27/05/16; Profile, Radio 4 14/10/17; Desert Island Discs, Radio 4 25/11/90; 5 Live Breakfast 27/11/18; Today, Radio 4 27/11/18; Mike Harding, Radio 2 Folk Show 08/10/08; Front Row, Radio 4 29/04/13; The Last Emperor directed by Bernardo Bertolucci, RPC/Hemdale/Yanco Films/TAO Film 1987; The Conformist directed by Bernardo Bertolucci, Mars Film/Marianne Productions/Maran Film 1970; Last Tango in Paris directed by Bernardo Bertolucci, Les Productions Artistes Associés/Produzioni Europee Associate 1972.
Baroness Trumpington
Born 23 October 1922; died 27 November 2018, aged 96.
Roy Bailey
Born 20 October 1935; died 20 November 2018, aged 83.
Last Word spoke to his son in law, musician Martin Simpson.
Chief Inspector Henry Stevens GC
Born 24 January 1928; died 17 November 2018, aged 90.
Last Word spoke to his sons, Stephen and Simon Stevens.
Bernardo Bertolucci
Born 16 March 1941; died 26 November 2018, aged 77.
Film critic Angie Errigo pays tribute.