Main content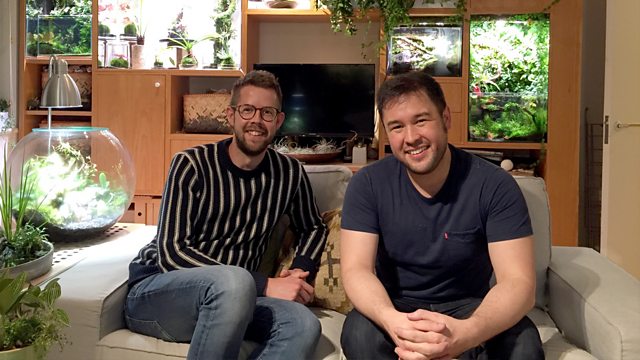 Godmersham
Eric Robson and the panel are in Godmersham, Kent.
Eric Robson and the team are in Godmersham, Kent. Matthew Wilson, Christine Walkden, and Pippa Greenwood are on-hand to answer the questions from enthusiastic gardeners this week.
The panellists offer advice on saving vegetable seeds, how to overwinter agapanthus, and how to prevent bitter pit in apples. They also help gardeners who are despairing over mealybugs and discuss how to overwinter banana trees.
Also, Matthew Pottage visits James Wong's apartment and they explore how you can be green-fingered in a flat without a garden.
Produced by Laurence Bassett
Assistant Producer: Rosie Merotra
A Somethin' Else Production for BBC Radio 4
Fact Sheet
Q1 – How can I get rid of lichen growth on my apple trees?
Christine – It does very little harm at all and indicates a clean, healthy environment so it is a good sign.
Pippa – They do often colonise on slightly sickly plants and assume they have caused the damage, but they haven't.
Q2 – I live in a south facing house with a steep rear garden would it be outlandish to grow a tea bush and, if not, what type would you recommend?
Matthew – It's hard to manipulate the climatic atmospheric conditions – they thrive in high altitude.
Pippa – I always think it is worth having a go. I would get some horticultural fleece for when bad weather is forecast and when the plant is relatively young.
Q3 – I save my own vegetable seeds – does the panel see any potential problem with what I am doing?
Pippa – I think the only problem is when you end up with things getting a bit of virus when it hasn't show up within the year but it is in the seed, that is a potential issue. On occasion you naturally turn a blind eye if something is slightly declining when trying to save the seeds.
Christine – I've still got some linen bags I made for seed storage which I still use. I am a great seed saver.
Matthew – I collect the seed from flowering plants.
Q4 – How can I overwinter a banana?
Matthew – The Musa basjoo (Japanese banana) is very hardy. What tends to happen is once the roots are established it will then run, and the top may be killed off by frost. But it will then regenerate very easily. However, if you choose to protect it don't wrap it too tightly. You need to protect the roots. It's not cold that kills plants its cold and wet combined that kills them. I would carry on digging it up and keep it in a big pot.
Q5 – I have become obsessed with Agapanthus (African lily) – how do I overwinter them and can I grow them from the seed I have collected off them?
Matthew – If they are in pots they are quite hardy, providing they don't get waterlogged or frozen.
Christine – I would lift them off the ground so if they do get any excess moisture it can drain away – the fleshy roots are very susceptible to rot. If you put pots directly on hard surface it can then seal if it freezes and can kill them. I use cotton reels or stones just to lift them off the ground that will help over winter.
They can be grown from seed – I wouldn't sow them until March and sow them onto a soil-based compost, cover them quite lightly and not too deeply and in a place around 18-20 degrees centigrade (64-68F). Don't pick them out in the first year – I move and pot them the second year.
Q6 – Could the panel tell me how to prevent bitter pit in apples?
Pippa – You can try and improve moisture retention with better mulching but not with something like straw. Perhaps more thinning of the crop. You can apply calcium nitrate, but some apply varieties react badly to that. The fruits are still edible if you don't store them and eat them promptly.
Q7- I have problems growing climbers in my conservatory. They are attacked by white sticky fluffy masses with a pink insect inside. How can I get rid of the best?
Pippa – It sounds like mealybugs. They have an amazing appetite for plant sap so they are literally sucking your plants dry. There is an Australian ladybird called Cryptolaemus which you can introduce.
I might be worth having a clear out of the heavily invested plants and bringing in some clean plants and watching them like a hawk so you can tackle it immediately.
Q8 – Is there anything I should do to prepare my waterlilies for winter?
Matthew – They flower better in deeper water. You need at least a third, minimum, of clear water for a pond to be healthy. Thin them out a bit.
Christine – I would use an extended handle. Go down as far down the stem as you can to get those brown stems off.
Q9 – What flower seeds or plants would you recommend to make the path behind us more floriferous?
Christine – A wildflower mixture of annuals and things that smell so Nicotiana or biennial's such as Sweet Williams (Dianthus barbatus) or Canterbury bells (Campanula medium) or Aquilegia (Columbine). Just rake over the soil and rake some wildflower seeds in. If you put them in in March most of them will be in flower by July or August. Then intermingle some perennials so the following year you don't have so much work to do. Build it progressively.
Plants listed in the feature: Water lilies including 'Pygmaea Helvola', pitcher plants such as nepenthes, ferns, succulents, tillandsia