Main content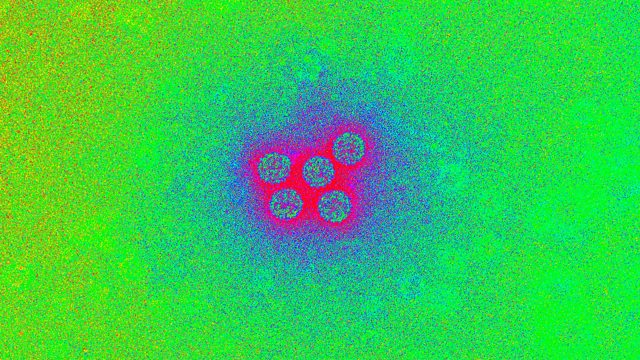 SARS in Hong Kong, by Dorothy Tse
Hong Kong writer Dorothy Tse considers SARS. Part of the Contagious Cities series.
In this special series of Essays, five writers each consider the history and effects of a different contagion in their city. Each is 'shown' the city by a disease historian or clinical expert who reveals something of how urban life has been physically and psychologically shaped by an epidemic – some current, some from the past. The journey through the city that the writer and their 'guide' took was recorded and the sound of the tour ghosts into the background of each Essay.
"In April 2003, you stepped off a Tsim Sha Tsui ferry pier and slid a health declaration card into a white plastic box. A body temperature reader swept your forehead. You proceeded alone into the immigration building lift. Inside the lift, the buttons were covered by a transparent plastic sheet. A sign beside them read: Sterilisation will be conducted once per hour. You knew exactly where you were going, but your outstretched finger froze in mid-air. Following the advice of medical experts, you retracted it and pulled a key from your trouser pocket, using the tip to press the button for your floor. On leaving the lift, you found yourself in a hall with only a few, scattered people. The first thing you noticed was their eyes. Eyes without facial expressions, because every single person had their face hidden behind an N95 anti-virus mask. They looked like birds. A head swivelled, a pair of eyes narrowed. Maybe he or she was smiling at you? But what does a bird-smile look like?"
Experimental writer, Dorothy Tse explores Hong Kong as the setting for SARS. She was 'shown' the city by Professor Malik Peiris, a clinical and public health virologist who was part of the team who identified what was then a new virus. In this essay the sense of the numbed city, sparsely populated by mask wearing people, traces the disease through hospitals and hotels…
Translated by Natascha Bruce
This series has been developed by BBC and Wellcome (www.wellcome.ac.uk/contagiouscities) in partnership. They are part of an international collaborative project which explores the interplay of people and pathogens in urban contexts
A Cast Iron Radio Production for BBC Radio 3.