Main content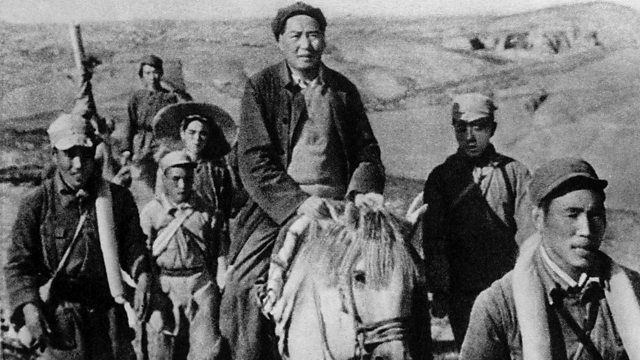 The Long March
Melvyn Bragg and guests discuss the history and symbolism of the Chinese Red Army's escape from the Kuomintang in 1934/5 and Mao Zedong's emergence from it as the future leader
Melvyn Bragg and guests discuss a foundation story for China as it was reshaped under Mao Zedong. In October 1934, around ninety thousand soldiers of the Red Army broke out of a siege in Jiangxi in the south east of the country, hoping to find a place to regroup and rebuild. They were joined by other armies, and this turned into a very long march to the west and then north, covering thousands of miles of harsh and hostile territory, marshes and mountains, pursued by forces of the ruling Kuomintang for a year. Mao Zedong was among the marchers and emerged at the head of them, and he ensured the officially approved history of the Long March would be an inspiration and education for decades to come.
With
Rana Mitter
Professor of the History and Politics of Modern China and Fellow of St Cross College, University of Oxford
Sun Shuyun
Historian, writer of 'The Long March' and film maker
And
Julia Lovell
Professor in Modern Chinese History and Literature at Birkbeck, University of London
Producer: Simon Tillotson
Last on
LINKS AND FURTHER READING
Rana Mitter at the University of Oxford
Julia Lovell at Birkbeck, University of London
READING LIST:
Thomas Kampen, Mao Zedong, Zhou Enlai and the Evolution of the Chinese Communist Leadership (NIAS Press, 1999)
Harrison E. Salisbury, The Long March: The Untold Story (McGraw-Hill, 1987)
Sun Shuyun, The Long March: The True History of Communist China's Founding Myth (Doubleday Books, 2007)
Edgar Snow, Red Star Over China: The Classic Account of the Birth of Chinese Communism (first published 1969; Grove Press, 2018)
Broadcasts

Featured in...
Browse the 20th Century era within the In Our Time archive.

Historical themes, events and key individuals from Akhenaten to Xenophon.