Main content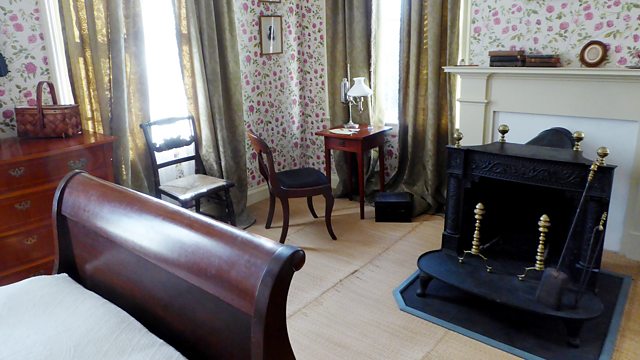 In Emily Dickinson's Bedroom
Cheryl Strayed, Ocean Vuong and Sharon Olds put pen to paper in Emily Dickinson's writing room. What do these very modern writers learn about themselves and the enigmatic Emily?
The house where Emily Dickinson lived in Amherst, Massachusetts, is now The Emily Dickinson Museum. The museum has restored her bedroom, where she wrote most of her poetry, and they offer writing sessions for those who wish to spend an hour or two alone in Emily's Room.
In this programme we invite three very modern writers, Cheryl Strayed, Ocean Vuong and Sharon Olds to visit her room, to write, and to examine their writing through their own personal connections with Emily Dickinson's life and work.
For someone who has had such a huge impact on American poetry, Emily Dickinson lived a very small life. She published only a handful of poems in her lifetime, and as she grew older became a recluse who wore only white. Dubbed 'the myth of Amherst', her posthumous fame poses her as a puzzle to be solved. In visiting her room and meeting her on the page Cheryl, Sharon and Ocean reclaim her as a passionate, politically engaged writer whose work speaks powerfully to our present moment.
Cheryl Strayed is the author of four books and is best known for her memoir of hiking the Pacific Crest Trail, 'Wild', which was turned into a film starring Reese Witherspoon. She also wrote the beloved advice column 'Dear Sugar', the best of which was collected into 'Tiny Beautiful Things'.
Ocean Vuong won the 2018 TS Eliot prize in 201 for his debut poetry collection 'Night Sky with Exit Wounds'. Born in Vietnam, Ocean has lived most of his life in Emily Dickinson's New England, and currently teaches at the University of Massachusetts, based in Amherst.
Sharon Olds is one of America's leading contemporary poets, the author of many collections of poetry and the recipient of many prizes, including the Pulitzer and the TS Eliot.
Producer: Jessica Treen
Last on
Broadcasts