Main content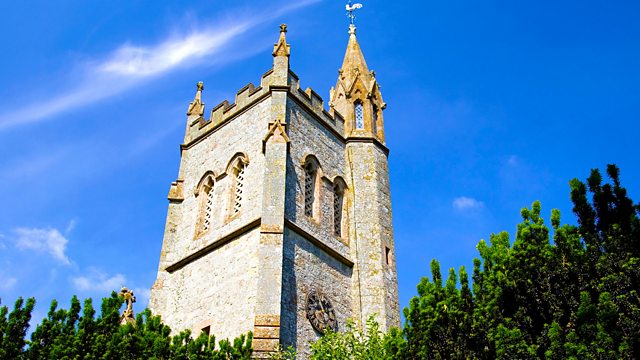 25/11/2018
Live from Glasgow University Chapel, hosted by Anne Muir.
Reflecting Side By Side, a global faith movement working towards gender justice. Chapel Choir is directed by Katy Cooper.
Live from Glasgow University Chapel, presented by Anne Muir.
Reflecting Side By Side, a global faith movement of people working towards gender justice, in partnership with women around the world.
Today is the International Day for the Elimination of Violence against Women, and the start of the UN's 16 Days of Activism against gender-based violence.
Chapel Choir directed by Katy Cooper. Organist: Kevin Bowyer.
Last on

Script
MUSIC:  CHOIR (A CAPPELLA)
HYMN:  A TOUCHING PLACE  (Tune:  Dream Angus)
Writers: John Bell,  Graham Maule

Anne                     Welcome & Introduction to theme
Good morning, and welcome to the Chapel of the ancient University of   Glasgow on this day which is set aside by the United Nations, as the International Day for the Elimination of Violence Against Women.
For while it is true that both women and men suffer terrible violence in our world, the statistics are difficult to argue with:     
In Scotland last year, 79% of the victims of all incidents of domestic abuse were women, while in England & Wales, almost twice as many women as men experienced domestic violence.
The roots of such gender-based violence lie in attitudes that still pervade our society, and many others around the world. Attitudes that    see women as subordinate to men – of less value than men – and deny women an equal share of power, knowledge and resources.
To our shame, the bible has often been used to justify such inequality. But in our worship this morning, we will hear the voices of three women who are working, side-by-side, with people of faith around the world, to bring an end to gender-based violence:
MOUMITA
I call myself a wounded healer. I experienced violence in my life, which has wounded me, my soul and my heart was broken.  I felt shattered, and at times I felt forsaken.  But Christ has always been a source of inspiration to me.
ISABEL
For me, church is home, and church is where change has to happen.  It's slow, but if we are to be the salt to the world, then  transformation must start from inside, so that people can respect our messages outside there.                                                                                
ELINEIDE
It's so good for us to know that even though we are so far away from each other we are still connected and we are all together in this dialogue and in the solidarity and in the struggle to end the situation of suffering for so many women.  
Anne     If we are typical of the UK population, there will be women listening to me now who have experienced violence at the hands of a partner or family member, and among us too, there will be men who have either experienced violence - or perpetrated violence against a woman.
But whatever our situation this morning, in worship, we are invited to bring our whole selves to the God who walks with us in our pain, yearns to bring healing to minds and bodies scarred by past events, and offers hope of a new life in which each one of us, regardless of gender, is valued equally as a child of God:
MUSIC:  CHOIR + CONGREGATION + ORGAN
HYMN:  WE CANNOT MEASURE HOW YOU HEAL  (Tune:  Dream Angus)
CH4 718  Writers: John Bell,  Graham Maule
Anne                     Prayer of Confession
God of Love, we confess that we would prefer to look away from the horror of violence against women. It would be easier to pretend that it is nothing to do with us. After all, we have never used violence.
Yet we confess that we have all, men and women, treated others as less important than ourselves.
We have all, women and men, protected our own interests, at the expense of the interests of others.
Brian                      Forgive us, we pray, for the times when we have failed to challenge the
structures that keep women 'in their place'.
For the times when we have remained silent, when we should have spoken.
For the times when we have colluded with attitudes that prevent others from reaching their full potential - from living the life that you intended    for them.
Anne                     God of Love, whose desire it is that all people should know fullness of life, forgive us for all that we have said or done to limit or dis-able the life of even one of your precious children,
Both                      Forgive us, and show us how to begin again.  
ALL:  Amen
MUSIC:  CHOIR (A CAPPELLA)    
ANTHEM
Take from my instep
the skein of damage … (Copyright material)
Words: Rosie Miles Arranger: Kathryn Lavinia Cooper
Anne                     Scripture Reading Psalm 55
That beautiful poem by Rosie Miles, set to music by our musical director, Katy Cooper, expresses so well feelings that most of us could never put into words.
And the Psalms do the same thing. No matter what we are going through, the psalmist has been there before us. And when we can't find words, the Psalms can express powerful emotions for us, and help us to move forward.
Our reading this morning, Psalm 55, is a lament by someone who is suffering violence at the hands of a loved one – someone the psalmist had trusted.
We read from verse 4:
                                4 My heart is in anguish within me,
                                the terrors of death have fallen upon me.
                                5 Fear and trembling come upon me,
                                and horror overwhelms me.
                                6 And I say, "O that I had wings like a dove!
                                I would fly away and be at rest;
                                7 truly, I would flee far away;
                                I would lodge in the wilderness;
                                8 I would hurry to find a shelter for myself
                                 from the raging wind and tempest."
                                12 It is not enemies who taunt me—
                                I could bear that;
                                it is not adversaries who deal insolently with me—
                                I could hide from them.
                                13 But it is you, my equal,
                                my companion, my familiar friend,
                                14 with whom I kept pleasant company;
                                16 But I call upon God,
                                and the Lord will save me.
                                17 Evening and morning and at noon
                                I utter my complaint and moan,
                                and he will hear my voice.
                                20 My companion laid hands on me, a friend,
                                 and violated a covenant with me
                                21 with speech smoother than butter,
                                but with a heart set on war;
                                with words that were softer than oil,
                                but in fact were drawn swords.
                                22 Cast your burden on the Lord,
                                and he will sustain you.
 
MUSIC:  CHOIR + CONGREGATION + ORGAN
HYMN:  I TO THE HILLS WILL LIFT MINE EYES  (Tune:  French (Dundee)
1 I to the hills will lift mine eyes:
from whence doth come mine aid?
My safety cometh from the Lord,
who heaven and earth hath made.
2 Thy foot he'll not let slide, nor will
he slumber that thee keeps.
Behold, he that keeps Israel,
he slumbers not, nor sleeps.
3 The Lord thee keeps; the Lord thy shade
on thy right hand doth stay;
the moon by night thee shall not smite
nor yet the sun by day.
4 The Lord shall keep thy soul; he shall
preserve thee from all ill;
henceforth thy going out and in
God keep for ever will.
Anne                     Intro Elineide
Elineide Ferreira is an Episcopal Priest, based in the State of Rondonia in northern Brazil. Elineide has worked for the church since she was a teenager, but recently, she was asked to set-up and run a Safe  House for women escaping domestic violence in the city of Ariquemes – over a thousand miles from the capital, Brasilia. This is Elineide's story. (Her words are translated by Sheila Tanaka.)
ELINEIDE
[Elineide in Portuguese]
Sheila:  Ariquemes is a city at the border of the state, and also very close to the highway here, where there's a lot of mining activity. The violence against women is very high. So many women would go to the police stations, they would denounce their partners and husbands for the violence, but they didn't have anywhere else to go.  So that was where the demand for a safe house came from.
What happens is women go first to the police station and then the police contacts offer them the possibility of going to the safe house, and then the police contacts the staff of the safe house, and the staff goes to the police station to pick up these women and take them to the house. 
The women can stay at the house for a period of 1 to 90 days, and during these 90 days we do everything we can for these women to be empowered and get back on their feet, on their lives, and know their rights.
We have also a lot of children in the house, and children are very difficult to deal with because they also suffered violence.

In the house we receive a lot of women who are religious, most of them identify with one religion. And many of them have reported to us that they were suffering violence, but they used to go to the church and their own priests or pastor would say that they needed to stick to the husband and stay in this situation. They would justify the violence and say no, the woman needs to stay by the husband, the role of the family, and really maintain the woman suffering this violence.
So we have seen that happening a lot, and that's why we say we need to always advocate for the churches not to use the Bible or the word of God to justify a situation like this.
While I was working in the safe house, I found out that my own sister was suffering violence from her husband in her home, and discovering this was something that really motivated to continue working in the safe house, and really face this challenge sent by God to me, so I continued working there and I motivated my sister to leave her husband, and now she's working with me in the house.
[Elineide]
I know that we are all vulnerable to facing a violent situation in the future, so we should really all keep together and stay united to bring hope, to fight the violence that still makes so many women suffer in the world.

Brian:    God of compassion, we pray for women who, even today, will experience violence:
Anne:    For the wife who walks on eggshells
Brian:    For the teenager trafficked into slavery
Anne:    For the schoolgirl who fears the walk to school
Brian:    Be with them in their fear and in their loneliness.
Anne:  And may they find sanctuary in the knowledge that they are precious in your sight.
MUSIC:  CHOIR (A CAPELLA)
KYRIE ELEISON
Anne                     Intro Moumita
Moumita Biswas is a Presbyter in the Church of North India. She is Director of the Seminary in Shillong, a hill station in the north-east of India. But at the heart of Moumita's ministry is a call to serve women affected by violence, in one of the most dangerous countries in the world in which to be born female.  This is Moumita's story:
MOUMITA
The culture of rape is prevalent, and it has increased in leaps and bounds in India. 
The 2016 statistics reveal that every 13 to 20 minutes a woman or a girl is raped in India.
Female infanticide and foetocide is very high.
Dowry deaths are common. 
As an Indian woman we also face discrimination in workplace.
Breaking the silence is not an easy process.  When women break the silence they are shamed, their character is assassinated, the victim is more victimised.
So women sometimes hesitate; when they try to break the silence or speak about it to a relative, they will be told keep quiet, be silent, our family reputation will be spoiled.
If a woman is facing violence within workplace, and if she raises a voice, she will be out of a job. And if she is the bread-earner or supporting a family, that's very difficult for her. That's why sometimes they suffer within themselves, but we continuously need to encourage one another to break the silence because that is the first step towards justice and peace, and promoting gender justice.
I have also seen the power of resilience of women, which inspired me.
I as a child has faced violence, also violence in my marriage. And it healed me within my pain. That is the reason why I started working with church to end violence in women and girls.
I started associating with women who are in pain and survivors of violence. The first thing what I did was, I just encouraged them to share their stories.  I listened.  I cried with them when I heard their stories of pain.  I hugged them.  And then I tried to link them with doctors, therapist, counsellors. I told them it's ok to cry. In Indian society we're looked down, when we are cry, and said to be weak.  But crying helps in the process of catharsis, and is therapeutic.
I call myself a wounded healer.
I experienced violence in my life, which has wounded me, my soul and my heart was broken.  I felt shattered, and at times I felt forsaken. 
But Christ has always been a source of inspiration to me.  I realise the body of Christ was broken and wounded on the Cross, but despite his brokenness, Christ had the power to transform the world. 
I realise I also have the power within me, despite my brokenness, to rise and work towards building a culture of peace.   

Brian      God of justice, with the psalmist, we cry out for  restoration of the broken hearted.
Anne     And so we pray for the women and men around our world who are working for justice through education, though legislation, and by modelling a different way of being.
MUSIC:  CHOIR (A CAPELLA)
KYRIE ELEISON
Anne                     Intro Isabel
Dr Isabel Apawo Phiri is a theologian, and Deputy General Secretary of the World Council of Churches. These days, she is based in Geneva, but she was born and brought up in Malawi.  As a member of the Church of Central Africa Presbyterian, Isabel was held in high regard, until, that is, she agreed to help a group of women in her synod prepare a statement on Gender-justice.  Church Leaders set up a Commission of Enquiry, and Isabel was astonished to discover that among their recommendations was that she should be expelled from the church.
This is Isabel's story:
ISABEL                 
I had just come back from studies in South Africa with a PhD. So the argument then was, now that I have a PhD, do I think that I'm a man, you know I'm challenging men? And that became a really difficult case,
And fortunately the global church responded and sided with us, and things turned out well.  So I'm grateful that there was a spirit of solidarity among women globally to help solve a problem.
It's a very difficult topic.  I think it's because it touches people at a personal level, and it touches everyone in the church, including our church leaders. 
I remember one particular case; we were in Kenya at a theological college, and I had just presented a paper on domestic violence in Christian homes, that was in 2000.
And then after I finished, many hands went up, and this was a seminary.  And now, they are asking me – you seem to be saying that you know, we cannot beat our wives.  So how are we going to discipline them?
So that took me by surprise, because I thought – I'm talking with Christians, and we are all in agreement that, you know, the Bible does not give any authority to any man to beat their wives.  But that was an issue then, and it's still an issue even now.  And that concerns me.
When you are a person like me, where church has been part of your life since you were born, I've never thought that a solution is outside the church. 

And that's why I'm still there and that's why I'm working for the World Council of Churches.  Because I want to see change in the churches, and as we change inside, then we can also do advocacy out there.

MUSIC:  CHOIR (A CAPELLA)
KYRIE ELEISON
Anne                     Reflection
Over the past year, as I've worked with a small group of women here in Scotland to tell the stories of Elineide, Moumita, Isabel, and many more people of faith who are working for gender justice around the world, I have been struck once again by the cost of being a prophetic voice.
Elineide lives with the constant risk of the location of the Safe House being discovered, and herself becoming a victim of violence.
Moumita knows that her public role exposes her to the threat of violence.                         
And when Isabel dared to present a paper on rape and sexual harassment on campus at the University of Malawi, a mob attacked her home, threatening to rape her, and kill her son.
But because of their courage, good things are happening.
Women in Ariquemes are finding a safe place, where they and their children can begin a new life.
Women in North India are breaking their silence.
And the University of Malawi now has a Centre for Gender Studies, and a conversation about Gender Justice has begun in that country.
All three women derive the strength to go on, from the support of men  and women like us, who are prepared to stand with them in their quest for justice. But, ultimately, their courage comes from their faith in Jesus  - who challenged injustice , irrespective of the cost. 
And for Isabel, it is in the person of Jesus that we all, men and women, find our true selves.
ISABEL
We want to look at positive images of being a man, and negative images of being a man which are found in the Bible.  And then also look at, what are we learning from our society about what it means to be a man and what it means to be a woman?  And how can we change those things which are life-denying, and promote the images that are life-affirming.  And so for me, the example of Jesus Christ is an example which is life-affirming example of masculinity.  And that is what we want all of us to focus on and say, this is a good thing.  How can we change our cultural understanding of manhood and bring in one which is life-affirming.  Jesus Christ presents us a positive masculinity for men to emulate.                                                                                    
MUSIC:  CHOIR (A CAPELLA)
LORD OF LIFE, WE COME TO YOU (Eriskay Love Lilt)
CH4 782  Words: Catherine Walker
Prayers for Others
Brian                      God our refuge, we ask your blessing on all who like Elineide provide a
                                safe place for women who have nowhere else to go.
                                And on all who like Moumita, help women to find healing and hope.
                                We pray too for all who, like Isabel, are not afraid to call out injustice                                                      within our institutions – despite the cost to themselves and to their families.
Anne                     And we pray for the aggressors – for those who use violence
                                against women.
                                For their lives too are less than you intended – your image deep within                                                     them, scarred and disfigured, but still there.
May they find in the life of Jesus a different model of what it means to be a man, so that they too may be freed from the endless cycle of violence.
Brian                      And on this day when our nation is facing the prospect of great                                                                  change, we hold before you the future of our peoples, and the pain of all the
 troubled places in our world, as we gather all our  prayers in the words that Jesus
 taught us, saying together:
ALL:  Our Father in heaven,  hallowed be your name, your kingdom come,
your will be done, on earth as in heaven.
Give us today our daily bread. Forgive us our sins as we forgive those who sin against us. Save us from the time of trial and deliver us from evil.
For the kingdom, the power, and the glory are yours now and for ever.   Amen        
MUSIC:  CHOIR + CONGREGATION + ORGAN
HYMN:  FOR EVERYONE BORN A PLACE AT THE TABLE
CH4   Words: Shirley Erena Murray / Music: Lauri True  

Anne                     Blessing                               
And now, may the God who created us in love,
                and for love, lead us from Hurt, through Healing to Hope.  Amen


MUSIC:  Organ Voluntary - Postlude in D by Healey Willan
Broadcast

Sunday Worship: Dr Rowan Williams