Main content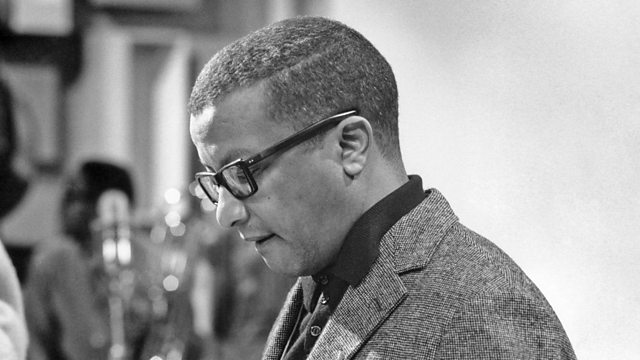 Riverside Drive
Donald Macleod charts the ups and many downs of American jazz musician Billy Strayhorn's final years, which he spent in Riverside Drive, New York.
Donald Macleod charts American jazz musician Billy Strayhorn's difficult final years in Riverside Drive, New York.
"The biggest human being who ever lived, a man with the most majestic artistic stature", so began Duke Ellington's eulogy on Billy Strayhorn.
A life cut short at just 51, Strayhorn's funeral on 5th June 1967 drew a line on a musical relationship that had continued for almost thirty years. During that time Duke Ellington had never produced a formal contract for Strayhorn's services, yet virtually every performance and every recording session done by the Duke and his Orchestra included original compositions and arrangements done by Strayhorn. The band's sig tune, Take the A Train is one of a number of works which were originally registered as being Duke Ellington's. While not an unheard of practice, this neither reflected Strayhorn's importance within the Ellington enterprise, nor could it be regarded as advantageous to his reputation as a composer. It's possible a significant factor from Strayhorn's perspective wasn't musical. Remaining out of the limelight enabled him to lead an openly homosexual life in an age of strong prejudice.
Taking five key environments, across the week Donald Macleod builds a picture of the contributory factors supporting Strayhorn's development as a composer and his extraordinary association with Ellington.
Having lived in the shadow of Duke Ellington for a quarter of a century, when Billy Strayhorn received an invitation to give the first solo concert of his life, he suffered serious anxiety over whether or not anyone would come to hear him play. His decision was to be a significant cross-roads in both his professional and personal life.
Strayhorn: Lush Life
Billy Strayhorn, vocals, piano
Strayhorn: UMMG
Riverside Drive Five
Billy Strayhorn, piano
Clark Terry, trumpet and flugelhorn
Bob Wilbur, soprano saxophone
Wendell Marshall, bass
Dave Bailey, drums
Ellington, Strayhorn: Smada
Duke Ellington, piano
Clark Terry, trumpet and flugelhorn
Bob Wilbur, soprano saxophone
Wendell Marshall, bass
Dave Bailey, drums
Hodges, Strayhorn: Cue's Blue Now
Harold "Shorty" baker, trumpet
Quentin Jackson, trombone
Johnny Hodges, alto saxophone
Russel Procope, clarinet
Billy Strayhorn, piano
Al Hall, bass
Oliver Jackson, drums
Strayhorn: Three movements from Far East Suite
Bluebird of Delhi
Agra
Isfahan
Duke Ellington and his Orchestra
Strayhorn: Blood Count
Duke Ellington and his Orchestra
Strayhorn: Cashmere Cutie
The Dutch Jazz Orchestra
Jerry van Rooijen, leader
Strayhorn: Le Sacre Supreme
The Dutch Jazz Orchestra
Jerry van Rooijen, leader
Strayhorn: Lotus Blossom
Duke Ellington, piano