Main content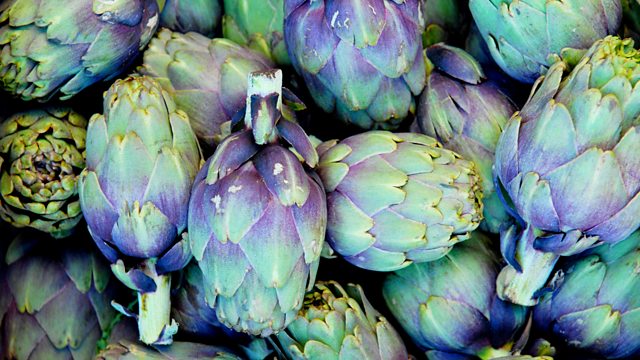 North Wiltshire
Peter Gibbs and the panel are in North Wiltshire. Anne Swithenbank, Bob Flowerdew and Chris Beardshaw answer the horticultural questions.
Peter Gibbs and the panel are in North Wiltshire. Anne Swithenbank, Bob Flowerdew and Chris Beardshaw answer the horticultural questions.
The panellists offer advice on growing globe artichokes, getting frangipani to flower, and generating offspring from an old mulberry tree.
Matt Biggs meets Dr David Wilkinson, a retired consultant anaesthetist, to learn about anaesthetics and how plants used to help ease pain.
Produced by: Dan Cocker
Assistant Producer: Laurence Bassett
A Somethin' Else production for BBC Radio 4
Fact Sheet
Q - My globe artichokes are pathetic – what do you suggest?
Bob – I particularly like the Italian red-headed ones. They need a cool moist climate. Frost can kill them off. It is either the variety or the soil isn't rich enough, and it needs enough moisture. They are very thirsty plants. Cut the plant up, dig up the side shoots in Spring and replant those in a new site and really enrich the soil well before hand.
Anne – They do grow incredibly well from seed, so I would get some seed as well.
Q – I have lots of garden made compost that is full of seeds and nettle-roots, how can I sterilize it to use it on the garden?
Bob – I sieve my compost before I apply it. I let it dry out and put a cover on the top to keep the rain off but leave the sides open. Once it has dried down, I can then push it through a sieve easily so I can get rid of the roots. Leave the seeds in as I don't see the seeds as a problem.
Q – How do I get my frangipani (Plumeria rubra) to flower?
Bob –If it is not flowering it probably needs warmth – they want that Mediterranean heat. Wait until the end of June to put them back out. Also, a little bit of potash might help.
Anne – They may need a change of soil. I would mix it 50/50 with John Innes no. 2 and soil.
Chris – When you bring them in change your lightbulbs to LED day lightbulbs as they deliver the right range of wavelength to get plants to grow.
Q – How do I cope with fine stony soil?
Chris – Look at trying to raise the level of the soil so try and include one or more raised beds around the garden. See if it is possible to import soil and green waste from the local authority to mix that with some imported soil and try and target certain areas within the garden. I would also break open the soil which is there, and you might find there is compaction in the soil which is restricting the draining. If you can plant some deep-rooted plants to break the soil open and bring some life back to it.
Q – Where would you go first when you enter the RHS Chelsea show ground?
Anne – Get in nice and early and do a look at the show gardens first when it is quite quiet.
Chris – I would head to the science exhibits, or the established nurseries – talk to the people who brought the show into fruition.
Q – I have a gnarled old mulberry tree; how can I generate offspring of this tree?
Bob – They are said to be propagated by truncheon cuttings – take a branch the size of your arm and trim it up to the size of a stake and drive that into the ground. Mulberries really need moisture. Little cuttings don't work.
Chris – Layering is another way to go. Take a reasonable sized stem at- least as thick as your finger and then drag the branch down to the ground if you can. If not, then put a hanging basket in the tree hanging off the branch, scour underneath the branch and make an incision into the bark. Invert another hanging basket into the top so the branch is encased by a sphere of 2 hanging baskets – filled full of good quality compost with a layer of polythene over the top. Keep it nice and wet and you will find it will throw root.
Q – I have a windy, high, north-facing front garden. Which shrubs and flowers can the panel recommend?
Chris – I would go with some of the big vigorous grasses such as Stipa gigantean (Giant feather grass) to give you some structure. Plants like Perovskia (Russian sage) which is very resilient. Undercover with things like Geranium macrorrhizum (Bevan's Variety) as it does not dry out. Also, Phalaris arundinacea ('Feesey') or some of the asters and dwarf asters. Eryngiums as well like Eryngium agavifoium (agave-leaved sea holly). Throw in Monarda (Beebalms) such as Violet Queen.
Go for a mix of grasses, vigorous herbaceous perennials and stout sub-shrubs.