Main content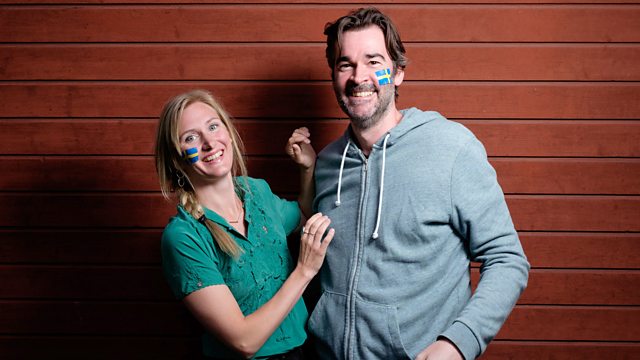 Childhood
Danny Robins' comedy, recorded on location in Sweden. Adam Riches heads an otherwise Swedish cast in a series about a very British comic and his very Scandinavian family.
The fourth series of the comedy following the fortunes of a British comic who has married into a Swedish family and is building a new life in Scandinavia.
The series is set and recorded on location in Sweden, written Danny Robins (co-creator and writer of the Lenny Henry comedy Rudy's Rare Records), and stars Edinburgh Comedy Award-winning comedian Adam Riches along with a cast of Sweden's most popular TV comedy actors.
We catch up with Geoff (Adam Riches) and Linda (Sissela Benn) as the generous period of Swedish paternity leave comes to an end. It's time to discuss sending their son John to dagis (nursery school) and launching Geoff onto the unsuspecting Swedish job market. This means Geoff must come to terms with conflicting attitudes towards health and safety, the sinister undertones of Pippi Longstocking and what happens when the entire staff of a Swedish office 'kicks off'.
In his new, tiny, unpronounceable, Northern home-town of Yxsjö, Geoff confronts the Scandinavian practice of 'death-cleaning', the Mosquito Museum, white water canoeing and Swedish attitudes towards gender equality. His father-in-law Sten (Thomas Oredsson) becomes the voice of Geoff's conscience and Gunilla (Anna-Lena Bergelin), his mother-in-law, helps him make a commercial.
In this first episode, Geoff worries about trolls, mortality and poisoned blueberries.
Cast:
Geoff - Adam Riches
Linda - Sissela Benn
Gunilla - Anna-Lena Bergelin
Sten - Thomas Oredsson
John - Harry Nicolaou
Ian - Danny Robins
Written by Danny Robins
Produced and directed by Frank Stirling
A 7digital production for BBC Radio 4