Main content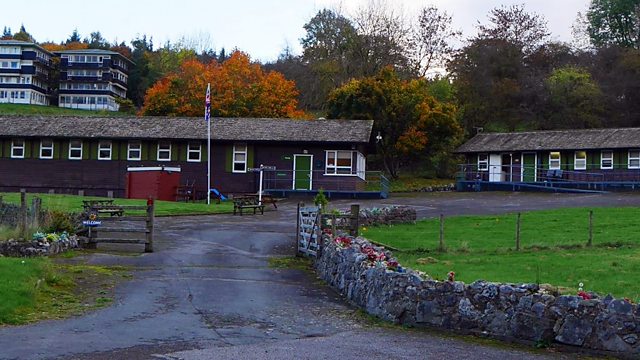 Colomendy: A Rite of Passage
Colomendy Camp in North Wales was a destination for generations of Liverpool schoolchildren. Catherine Harvey listens to their memories and explores its enduring legacy.
Colomendy Camp in North Wales has been a destination for generations of Liverpool schoolchildren for nearly 80 years. For many it was a rite of passage - their first time away from home without their parents and a first taste of the countryside.  
Set in an area of outstanding natural beauty, close to Loggerheads Country Park, Colomendy was originally a country estate.  But with the dangers of war looming closer, the National Camps Corporation purchased the site in 1939 and built two camps for evacuees escaping inner city bombing.  The first group arrived from the Dingle near Liverpool's docks in 1940, and since then over 350,000 children have stayed in its spartan wartime wooden huts.  Members of whole families have visited Colomendy at one time or another – siblings, parents, children and grandchildren.  And there have even been a few celebrities along the way.
When you mention Colomendy to someone from Liverpool, a faraway look appears in their eyes.  A wry smile suggests they've been transported back to childhood - sneaking out of dormitory windows in the middle of the night and scaring each other with ghostly tales.  Everyone who went to Colomendy has a story:  from bad behaviour and terrible food, to freezing cold showers and midnight feasts. Not everyone loved it, but for most it was the best time of their lives - despite dormitory inspections, the nit nurse and minor injuries. For some the place offered the home they lacked, a safe refuge from bullying, poverty or bereavement.  For others it provided a country health cure or much needed holiday.  They developed skills and friends that would last for ever, building their characters, hobbies and in some cases careers. Colomendy's countryside gave city children a unique sense of freedom - tramping up Moel Famau in mud and rain, eating berries by the roadside and seeing teachers let their hair down for the first time.
Actor and writer Catherine Harvey speaks to some of those who've stayed at Colomendy throughout the Camp's evolution, from its incarnation as a haven for wartime evacuees to the present day.  We hear from people who went there to escape the bombing of Liverpool and former students of its boarding schools - Colomendy and Glan Alyn - who remember their school days, how they came to be there and what Colomendy means to them.  We also meet some of those who stayed at the Visiting Camp – including actor Ricky Tomlinson, and Catherine's own classmates from her time there - and talk to people who have lived and work in the area.  Finally Catherine returns to Colomendy for the first time since she was at school to attend a reunion of Colomendy Connections who have been meeting up for nearly thirty years.
Colomendy has had an enduring impact on generations of children and leaves its legacy in Liverpool and Loggerheads – a special connection that still exists today between the two places.
Colomendy - A Rite of Passage is an MIM Production for BBC Radio Wales