Main content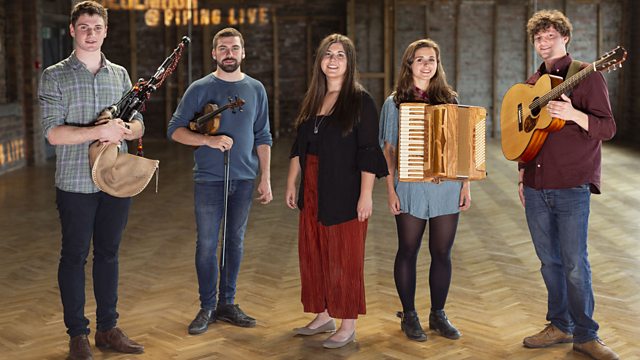 Episode 4
Anns a' cheathramh prògram, Eabhal agus Malin Lewis. Featuring performances from Eabhal, Scott Garden and Scott Figgins, and piper Malin Lewis.
Clàraichte aig àm fèis Piping Live! san Lùnastal 2018, tha an t-sreath Ceòlmhor@PipingLive! air a lìbhrigeadh le Ailean Dòmhnallach. Anns a' cheathramh prògram chithear cuid den luchd-ciùil a b' fheàrr a ghabh pàirt san fhèis am bliadhna. Nam measg sin, tha buidheann a thàinig còmhla bho chionn beagan bhliadhnaichean, Eabhal, a tha a' cosnadh cliù air bheil iad dha-rìribh airidh; càraid chiùil anns a bheil Scott Garden a' seinn na pìoba agus Scott Figgins air giotàr, agus an sàr-phìobaire, Malin Lewis, a tha a' dealbhachadh agus a' cruthachadh a' chuid phìoban fhèin.
Allan MacDonald presents performances from the 2018 Piping Live! festival, including Eabhal, who although only came together as a band in recent years, are developing a stellar reputation as an exceptional trad band; musical duo Scott Figgins and Scott Garden; and piper Malin Lewis.