Main content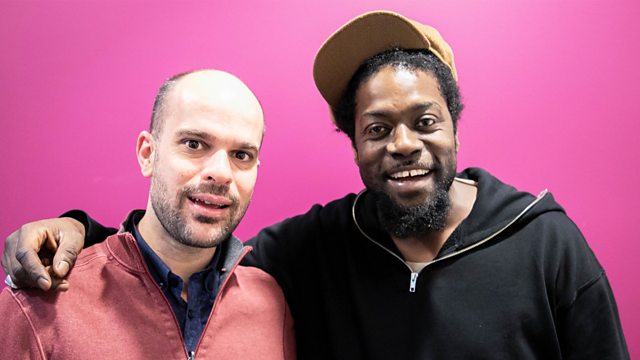 London Jazz Festival live from Kings Place
Soweto Kinch hosts the opening night celebration of the EFG London Jazz Festival
LIVE from London, Soweto Kinch hosts the opening night celebration of the EFG London Jazz Festival from Kings Place with a set from Amir ElSaffar's Rivers of Sound Orchestra, a 17 piece band blending music of East and West, plus many surprise guests offering a selection of music from across the festival.
PLAYLIST
Amir AlSaffar's Rivers Of Sound
Set list:
Jourjina Over Three (7'00)
Penny Explosion (7'00)
Ya lbni Ya lbni (My Son, My Son) (7'00)
Layl (Night) (7'00)
Hijaz 21/8 (7'00)
Shards of Memory/B Half Flat Fantasy (10'00)
Personnel:
Amir ElSaffar - trumpet/santur / vocal                                                                                                                  
Carlo DeRosa - upright bass
Ole Mathisen - tenor saxophone/soprano saxophone                                  
Fabrizio Cassol   - alto saxophone            
Nasheet Waits  - drums
Tareq Abboushi - buzuq                                                               
Dafer Tawil - oud / percussion  
George Ziadeh  - oud / vocal     
JD Parran - clarinet/bass saxophone                                                                      
Mohamed Saleh - oboe / English horn  
Tim Moore - dumbek / frame drum       
Miles Okazaki    electric guitar   
Aruán Ortiz - piano
Rajna Swaminathan -  mrudangam
Naseem Alatrash - cello              
Dena ElSaffar - violin     
Jason Adasiewicz – vibraphone
Camilla George Quartet
The People Could Fly (9mins)
The Most Useful Slave (9mins)
How Nehemiah Got Free (9mins)
Personnel:
Camilla George (sax)
Sarah Tandy (piano)
Jihad Darwish (bass)
Winston Clifford (drums)
Alice Zawadzki/Hyelim Kim/Rob Luft/Misha Mullov-Abado Quartet
Sanjo (8 mins) (Comp. Trad)
Expect The Unexpected (8mins) (comp. Rob Luft)
Falling Ribbons (8 mins) (comp. Alice Zawadzki, Hyelim Kim, Rob Luft, and Misha Mullov-Abbado)
Low Sun; Lovely Pink Light (8 mins) (Comp. Alice Zawadzki)
Personnel:
Alice Zawadzki (vocals, violin)
Hyelim Kim (flute)
Rob Luft (guitar)
Misha Mullov-Abbado (bass)
Featured in...
Celebrating jazz at the London Jazz Festival and beyond.

Electrifying Jazz and World music.