Main content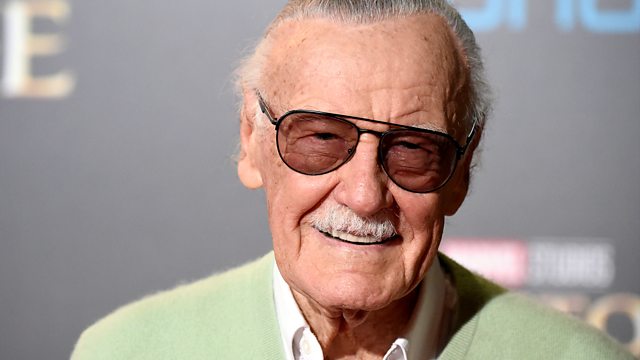 Aubrey Manning, Max Levitas, Babs Beverley, Janet Paisley, Stan Lee
Matthew Bannister on naturalist Aubrey Manning, Communist campaigner Max Levitas, singer Babs Beverley, writer Janet Paisley and comic book creator Stan Lee.
Pictured: Stan Lee
Matthew Bannister on
The naturalist and expert on animal evolution Aubrey Manning who presented the acclaimed BBC TV series Earth Story.
The Jewish Communist campaigner Max Levitas who fought Oswald Moseley's fascist blackshirts.
The singer Babs Beverley - one third of the close harmony singing group the Beverley Sisters.
Janet Paisley the poet and novelist known for her work in the Scots language.
Stan Lee - revered creator of comic book icons like Spiderman, the X-Men and the Fantastic Four.
Interviewed guest: Derwent May
Interviewed guest: Julian Hector
Interviewed guest: Stephanie Hilbourne
Interviewed guest: Matthew Sweet
Interviewed guest: Linda Jackson
Interviewed guest: Michael Goldfarb
Producer: Neil George
Archive clips from: Sunday Morning with Richard Holloway, Radio Scotland 14/02/2010; The Poetry of Life, Radio Scotland 27/01/2008; The Language of Kings, BBC Scotland/Hopscotch Films 28/02/2006; PM, Radio 4 04/10/2006; Woman's Hour, Radio 4 14/08/1985; Richard Bacon, 5 Live 20/08/2009; 5 Live interview 12/11/2018; Third Ear, Radio 4 17/12/1991; Today, Radio 4 18/11/2015; Rules of Life: Life Before Birth, Radio 4 24/01/2006; Earth Story: The Time Travellers, BBC Worldwide / Learning Channel 01/11/1998; Images by Janet Paisley. 31/12/2018; Jeremy Vine, Radio 2 09/11/2011; Max Levitas Battle of Cable Street, Fourman Films 07/09/2013.
Aubrey Manning
Born 24 April 1930; died 20 October 2018, aged 88.
Last Word spoke to his friend, writer Derwent May; Julian Hector, Head of The Natural History Unit, BBC Studios; and Stephanie Hilbourne, Chief Executive of The Wildlife Trusts.
Max Levitas
Born 1 June 1915; died 2 November 2018, aged 103.
Last Word spoke to writer and broadcaster Matthew Sweet.
Babs Beverley
Born 5 May 1927; died 28 October 2018, aged 91.
Janet Paisley
Born 12 January 1948; died 9 November 2018, aged 70.
Last Word spoke to her friend, writer Linda Jackson.
Stan Lee
Born 28 December 1922; died 12 November 2018, aged 95.
Writer and journalist Michael Goldfarb pays tribute.