Main content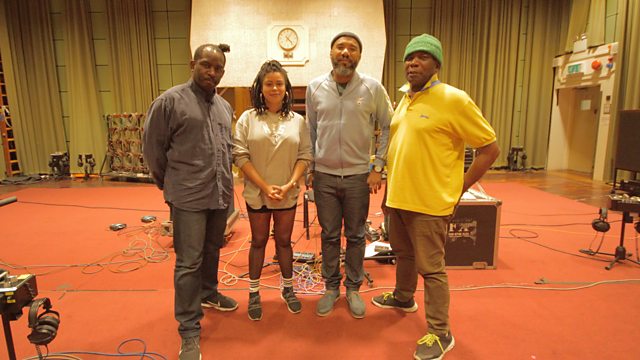 A Windrush collaboration session
An exclusive recording marking the 70th anniversary of Windrush, featuring Anthony Joseph, Jason Yarde, Hannah Catherine Jones and Dennis Bovell.
70 years on from the HMT Empire Windrush's arrival in Essex, a one-off Late Junction collaboration session explores the sonic reverberations of the Caribbean diaspora through UK culture.
British/Trinidadian poet, novelist and musician Anthony Joseph is joined by artists from other disciplines. Saxophonist Jason Yarde is at the heart of the UK jazz scene but as a serial composer, arranger and collaborator his work extends far beyond this; multi-instrumentalist, composer and conductor Hannah Catherine Jones (a.k.a. Foxy Moron), is one of the winners of this year's Oram awards that recognise innovation in music and sound by the next generation of women artists; and pioneering dub producer and multi-instrumentalist Dennis Bovell, a British reggae legend and one of the originators of Lovers Rock.
Max Reinhardt presents the results of their meeting, recorded in a single day at the BBC's Maida Vale studios.
Produced by Chris Elcombe for Reduced Listening.