Main content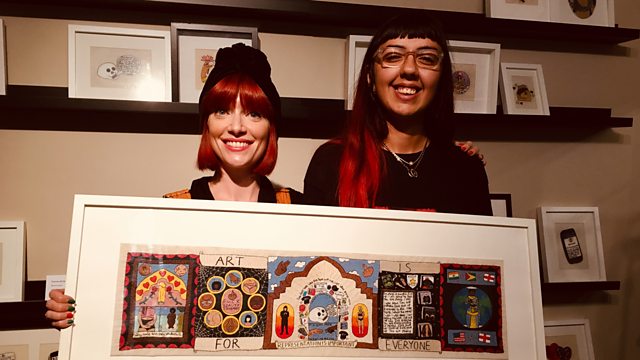 In Stitches
Dress historian Amber Butchart meets embroidery artists at the forefront of liberating embroidery from its past, helping it flourish into a new and radical form of progressive art.
Embroidery is experiencing a boom and with that an astonishing image overhaul. Traditionally viewed as a simple domestic task or maligned as a humdrum craft, a new generation of embroiderers are challenging this with complex, political, dynamic artwork that renews a desire for a lost haptic touch.
Many are drawn to stitch for its tactile nature, hypnotic sound and its ability to convey profound ideas. One artist sews into the sole of her own foot, another embroiders photographs of war time gay erotica. But this new generation of artists are also struggling to be exhibited or seen on the same platform as artists making painting and sculpture.
Dress historian, Amber Butchart, talks to some of these leading contemporary embroidery artists who are liberating embroidery from its past, helping it flourish into a remarkable and radical form of progressive art.
For much of the British medieval and early modern periods, embroideries and tapestries were the most valued form of artistic expression. Embroidered clothing denoted power and status, and it was men who were part of embroiderers guilds.
But the practice lost its prestige and became more associated with women's domestic work in the last few centuries. This, combined with the transition of embroidery being considered more of a craft than a fine art, also dogs the medium.
As textile artist Raisa Kabir explains, the artworks are a "living archive of histories that have not been noted". Embroidery is a perfect medium to tell untold stories. Kabir uses complicated weaving and embroidery techniques as well as performance and sound pieces to comment on race, gender, labour and colonial histories.
Hand embroiderer Hannah Hill uses Instagram to share her punchy embroidery about everything from sexual identity to grime music, while Richard McVetis' intricate graphic embroideries represent abstract mappings of time – with sewing being a form of therapy to him, "an antidote to the busy world we live in".
Presenter: Amber Butchart
Producers: Louise Morris and Andrew McGibbon
A Curtains For Radio production for BBC Radio 4
Last on
Broadcasts