Main content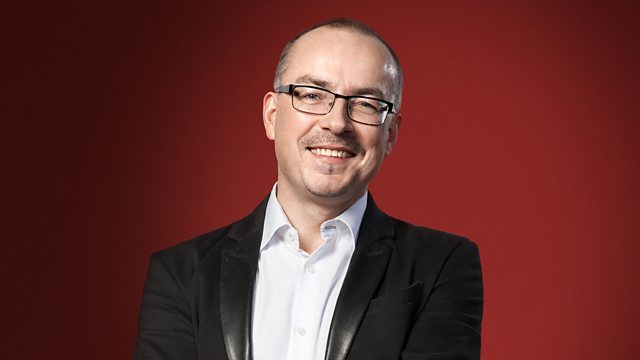 Andrew McGregor with Simon Heighes
Simon Heighes on Francois Couperin's Lecons de Tenebres in Building a Library and Katy Hamilton reviews a box set by legendary Ukrainian-born American cellist Gregor Piatigorsky.
with Andrew McGregor
09.30
Building a Library: 350 years to the day since François Couperin's death, Simon Heighes surveys the Leçons de Ténèbres and makes a recommendation.
In 18th century France theatres were closed during the Easter fortnight and fashionable audiences seeking Holy Week's hot ticket flocked to church services, the only available entertainment - and the only place professional opera singers were allowed to perform. Composers took advantage of their resources and Couperin's Leçons de Ténèbres from around 1713 were written as an integral part of the liturgy for the end of Lent, settings of texts from the Old Testament Book of Lamentations.
Although modestly scored for one and two voices and organ, the music makes a deeply expressive and satisfying sequence, by turns meditative, dramatic and contemplative as it deals with the captivity of the Jews and the destruction of the temple of Jerusalem in 587 BC and demands top-flight singers.
10.50
Katy Hamilton reviews a new box set of re-releases featuring legendary Ukrainian-born American cellist Gregor Piatigorsky.
11.45
Andrew chooses an outstanding new release as his Disc of the Week.
Record Review
9.00am
J S Bach: The Brandenburg Concertos; Overture in B minor, BWV.1067
Zefiro (ensemble)
Alfredo Bernardini (director)
Arcana A 452 (2CDs)
https://outhere-music.com/nl/albums/the-brandenburg-concertos-a-452
J S Bach recomposed Peter Navarro-Alonso: Goldberg Variations, BWV.988
Alpha (ensemble)
DaCapo 8.226210
https://www.dacapo-records.dk/en/recordings/bach-goldberg-variations
'Le Bal des Animaux' – songs by composers including Ravel, Faure, Satie, Poulenc and others
Sophie Karthauser (soprano)
Eugene Asti (piano)
Harmonia Mundi HMM092260
Josquin des Prez: Missa Gaudeamus and Missa L'ami Baudichon
Tallis Scholars (choir)
Peter Phillips (conductor)
GIMELL CDGIM 050
https://www.gimell.com/cdgim050-josquin-missagaudeamus
'Paganini by arrangement' – 24 Caprices, Op.1 orch. Myroslav Skoryk
Lviv International Symphony Orchestra
Alexander Zemtsov (conductor)
TOCCATA CLASSICS TOCC 0463
https://toccataclassics.com/toccata-pipeline/
9.30am – Building a Library – Simon Heighes on Couperin's Trois Lecons de Tenebres
Composer: Francois Couperin
Reviewer: Simon Heighes
Recommended Recording:
Sandrine Piau (soprano)
Véronqiue Gens (soprano)
Les Talens Lyriques
Christophe Rousset
DECCA 4667762

Other Recommended Recording:
Hasnaa Bennani (soprano)
Isabelle Druet (mezzo-soprano)#
Claire Lefillaitre (mezzo-soprano)
Le Poeme Harmonique
Vincent Dumestre
ALPHA ALPHA957
10.20am – New Releases

Mozart: 'Les Trois Derniers Symphonies'
Ensemble Appassionata
Mathieu Herzog (conductor)
NAÏVE V 5457 (2CDs)
Mozart: 'Sonatas for fortepiano & violin' Vol.1
Isabelle Faust (violin)
Alexander Melnikov (fortepiano)
HARMONIA MUNDI HMM 902360
Thea Musgrave: Phoenix Rising; Loch Ness; Poets in Love
BBC National Orchestra of Wales
William Boughton (conductor)
LYRITA SRCD.372
https://www.theamusgrave.com/news/2018/10/26/three-premiere-recordings-on-lyrita-this-november
Couperin: 'Complete Works for Harpsichord'
Carole Cerasi (harpsichords)
METRONOME METCD 1100 (10CD box set)
'In Remembrance' – choral music by Ireland, Holst, Parry, Elgar, Faure, Venables
Katy Hill (soprano)
Leah Jackson (soprano)
Gareth Brynmor John (baritone)
James Orford (organ)
Hugh Rowlands (organ)
Chapel Choir of the Royal Hospital Chelsea
Chelsea Pensioners' Choir
William Vann (director)
SOMM SOMMCD 0187
https://www.somm-recordings.com/recording/in-remembrance/
10.50am New Releases: Katy Hamilton on Gregor Piatigorsky
'Gregor Piatigorsky – The Art of the Cello', the complete RCA and Columbia album collection
Gregor Piatigorsky (cello)
Various other artists
RCA RED SEAL/SONY CLASSICAL 19075832132 (36CD box set)
https://www.sonymusic.pl/albumy/gregor-piatigorsky-the-art-of-the-cello-the-complete-rca-and-columbia-album-collection
11.45am – Disc of the Week
Stravinsky: Petrushka (original 1911 version); Jeu de Cartes
Mariinsky Orchestra
Valery Gergiev (conductor)
MARIINSKY MAR0594 (Hybrid SACD)
https://mariinskylabel.com/products/stravinsky-petrushka?variant=22552478471