Main content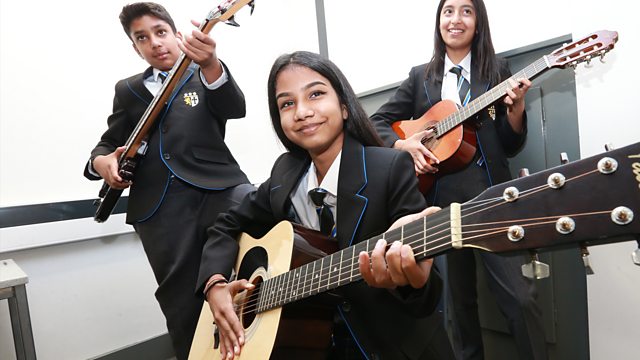 Arts Education in schools - a Front Row debate from Leicester
With a panel of guests, Stig Abell chairs a debate on the current state of arts education in schools, in front of an audience at a secondary school in Leicester.
Arts education has become the focus of a great deal of passion and concern recently, since the core, knowledge-based subjects took precedence over the creative subjects when the EBacc was introduced in England by the then Education Minister Michael Gove, announced in 2010.
With the arts not being a requirement in the GCSE syllabus for the English Baccalaureate (the EBacc), leaders in the arts and the lucrative creative industries have been very vocal in their criticism of government policy.
Stig Abell chairs a discussion on the subject from a state secondary school - Soar Valley College in Leicester - with leading figures in arts and education.
On the panel are:
Bob and Roberta Smith, contemporary artist and education advocate
Deborah Annetts, Chief Executive of the Incorporated Society of Musicians (the ISM)
Trina Haldar, graduate in chemistry and engineering, and director and founder of Leicester-based Mashi Theatre
Branwen Jeffreys, BBC's Education Editor
Mark Lehain, founder (and former headteacher) of one of the first secondary Free Schools. He also leads the Parents and Teachers for Excellence campaign
Julie Robinson, headteacher of Soar Valley College in Leicester
Carl Ward, Chief Exec of the City Learning Trust, a partnership of schools teaching a combined total of 6000 pupils in Stoke-on-Trent
Presenter: Stig Abell
Producers: Edwina Pitman and Jerome Weatherald
Last on
Broadcasts