Main content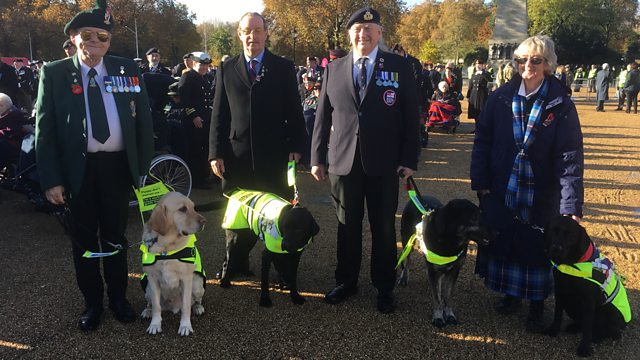 Blind Veterans Remember
In Touch hears from blind veterans attending the London Remembrance ceremony, and one blind veteran discovers an unknown connection with his blind father.
On the centenary of Armistice Day, over 100 blind veterans assembled at Horse Guards Parade in London. Some were blinded in action. However, most started to lose their sight well after their service had ended.
Reporter Dave Williams went to talk to them as they assembled for this historic event - we hear just some of their stories.
Also, Peter White visits 97-year-old blind veteran Peter Van Zeller. He is a resident at a Blind Veteran's UK care home, and shares the story of when he first discovered a previously-unknown family connection to the home, and the charity.
Presenter: Peter White
Reporter: Dave Williams
Producer: Lee Kumutat
Last on
In Touch Transcript: 13-11-2018
THE ATTACHED TRANSCRIPT WAS TYPED FROM A RECORDING AND NOT COPIED FROM AN ORIGINAL SCRIPT.  BECAUSE OF THE RISK OF MISHEARING AND THE DIFFICULTY IN SOME CASES OF IDENTIFYING INDIVIDUAL SPEAKERS, THE BBC CANNOT VOUCH FOR ITS COMPLETE ACCURACY.
IN TOUCH – Blind Veterans Remember
TX:  13.11.2018  2040-2100
PRESENTER:          PETER WHITE
PRODUCER:            LEE KUMUTAT
White
Good Evening.  It almost seems unthinkable that anything positive could emerge from World War 1 – the terrible war we've all been remembering over the past four years.  And yet you can argue that the forming of St. Dunstan's in 1915, to cope with the surge of mainly young men blinded in the first year of the war, eventually led to a major change in the perception of what blind people generally could do.  With so many people with most of their lives still ahead of them, St. Dunstan's, now known as Blind Veterans UK, began to think about ways in which blind people could not only live independent lives, but also do a whole range of jobs and pursue interests which had previously been thought impossible.  
That work still goes on, and along with remembrance, was clearly in the minds of many of the blind men and women who gathered last Sunday to join the Remembrance Ceremony in London.
Our reporter Dave Williams was there to meet them behind the scenes and hear their stories.  
Williams
So, we're gathered at Horse Guards in Central London.  The sun has put in an appearance – thankfully after all the rain over the weekend.  And veterans, this morning, are beginning to gather ahead of the Remembrance Day parade.  And so, we wait now – shortly after 9.00 am – for the arrival of our contingent from Blind Veterans UK.  We understand there will be about a hundred, just over a hundred, veterans from Blind Veterans UK who will be assisted by guides who are also former servicemen and women.
Blind veterans and their sighted guides represent the largest group.  On quite a windy day some walk with guide dogs, others use wheelchairs whilst some have canes.
Simon Brown served in the Army for 13 years.  His career took him to Kosovo and Iraq.
Brown
On my second tour of Iraq I was shot by a sniper, the bullet went in my left – the left side of my face, came out the right side of my face and destroyed my left eye and left my right eye severely damaged.  So, I was subsequently medically discharged and now I work for Blind Veterans UK. 
Those words, you've lost your sight, to me translated to your life is over.  I mean at the time all I could focus on was everything I'd lost.  But the military throws perspective at you very quickly, as you can see here today, and I lost two friends and that's kind of the catalyst for me to get back on me feet and actually refocus my life to being a survivor rather than a victim.
Williams
And have you got any remaining vision or are you totally blind now?
Brown
I have 20% vision in my right eye, so it's like opening your eyes underwater, I can see colour, shape, shadow, contrast but I can't focus.
Williams
And what is your life like now?
Brown
Yeah, my life's in a good place.  I mean I'm back in full-time work and enjoying bits and pieces.  I'm obviously doing a lot of work with Blind Veterans UK advocating for not only veterans but the VI community.
Williams
The youngest veteran on parade today is 28-year-old Sean Stocker who as a teenage soldier was serving with the first battalion, the Royal Welsh, when his career was brought to an abrupt end.
Stocker
I was in Afghanistan in 2009 which – I stepped on an IUD losing my legs and most of my vision.  And that's – I tell people that it's my eyesight that's affected my life a lot more.  So, after I was first injured, I'd lost my left eye and my right eye was quite badly damaged.  And due to a number of operations they managed to gain – I managed to gain 30% back in my right eye.  And the reason why it affected my life so much was because it's a sense, it's a way that we see the world, it's a way that we take in information to the brain and when that goes you – it takes a long time to readjust and find a different way to live your life.  I'd lived my life the whole – with my vision my whole life, you know, and suddenly I've now got to redo everything and that was the hardest thing for me.  Now added with prosthetic limbs it becomes quite scary and it took a long time for me to learn to live a functional life on these limbs with the vision loss I had, so they've kind of contradicted each other.  But the strange thing was I actually started to walk on these limbs with no eyesight – indoors – and I learnt how the legs felt and worked, more so than using my vision.  So, after I had a few operations on my right eye and I started to gain some vision back you could say I had some sort of advantage because I trusted the legs a lot – certain things I could do better than guys with their vision and mainly because I took the information away through my body rather than my sight and in the long run that's basically what you need to do with these limbs.
Williams
Losing your sight whilst serving your country isn't always sudden.  Jamie Weller, trained as a pilot for the Royal Navy.
Weller
As a young boy my dream was about fast jets and technology and I joined the Royal Navy as an aircraft engineer and my dream was to go and work on one of the Royal Navy's aircraft carriers.  And I was a Sea Harrier weapons electrical engineer and for two and a half years everything was going fantastic and my career was on fast track and everything was tickety boo.  And then three months my sight then began to deteriorate and I didn't know what was going on and after three months passed and I'm gone from being a fully sighted individual to a registered blind person in three months and my world was just turned upside down.
Williams
What was the first sign for you that your sight was on its way?
Weller
I was – I was going to RAF Brize Norton and I was driving at night and I noticed that this car was coming towards me and I thought I was on a dual carriageway but in fact I was on the wrong side of the road and I thought – oh dear.  I mean I hid it, you know, I hid it because I thought it would get better but then – then – it was quite funny actually because I used to – just before – doing a field test you put your head into a bowl and they click a button and in those days you knew when the lights were going to come along and I could quickly glance to the left and use the bit of sight that worked and do the test.  So, I could tell the guy where the light was coming from, whether it was one o'clock, two o'clock, three o'clock or whatever.  And he said to me – Jamie, I think you're getting round this test by looking out the part of the eye which we're trying to measure. 
Williams
The time had come for blind veterans to take their place in the Remembrance Day parade.  As blind veterans are called forward to join the parade Sean carries a wreath of remembrance poppies to be laid at the Cenotaph.  Simon wears his own medals, alongside those of his great grandfather.
Brown
I've got my great grandfather's medals on my right chest and on my left chest my medals.  So, my medals are Kosovo, Iraq and the Queen's Golden Jubilee and the bars indicate that I was there for the conflicts.  And on my right chest my grandfather's medals are Pip Bubble and Squeak which were the ones that most World War I veterans got.  But I've also got the Belgium Croix de Guerre, which is their version of the VC, which my great grandfather won at the Somme. 
Williams
Can I touch one of your medals, is that okay?
Brown
Of course you can, yes, so that one there is the Croix de Guerre, that's the Belgium VC. 
Williams
Simon, thank you so much.
Brown
No, it's a pleasure.
Stocker
I've been given the amazing honour of laying a wreath on behalf of Blind Veterans UK.  And for me it's quite important because it's not every year that it's the 100th year since the Armistice Treaty signed and at 11 o'clock today it's exactly a 100 years since the end of the First World War, so it's quite an important duty to lay a wreath on this day but never mind the special occasion.
Ceremony actuality
White
And we'll be returning to the veterans in London before the end of the programme.
But, of course, many veterans won't have been on that march, and a few days before the ceremony I went down to Brighton to talk to a man with his own story to tell.
Just along the coast, in the seaside village of Ovingdean, is a rehabilitation centre run by Blind Veterans UK, which is also home to around 30 veterans.  There I met Peter Van Zeller, now 97 and in a wheelchair, but still hale and hearty.   Peter has only recently discovered the full story of his family's wartime experience.  He himself fought in the Second World War, but he told me first about his father, Thomas Van Zeller.
Van Zeller
Now he was a tank commander in the First World War.  In 1918, I can't remember the month, he was told to cross the River Somme at Brie with his tank.  And when they got there the bridge had been blown up and they couldn't get their tank across the bridge.  So, they set it alight, so it wouldn't be any good to anybody else.  And as he and his crew were about to cross this bridge, still under shell fire, what remained of it, they found wounded soldiers on their side of the river and my father and his team carried these men across the blown-up bridge and they all received an award for that. 
White
And he had not only got his own men across but he'd got these wounded soldiers…
Van Zeller
That's right, that's right.
White
…over as well.  So, what's interesting and coincidental in a way about this – what was his eye problem and was that connected with the First World War?
Van Zeller
Yes it was.  His tank was hit by a shell and he was the only survivor.  All his crew were killed.  But he suffered most severe head injuries in that action.  A piece of shell took out his right eye, another piece took off his nose and upper jaw and another piece – a third bit – lodged behind his left eye and that actually blinded him.  But his face, of course, was wide open while they were rebuilding it and they managed to get this piece of shell out from underneath his left eye and some time later, I don't know about nine months I believe, the sight came back to his left eye.  And he told us about that.  He was in hospital and I believe he had something like 24 operations on his face.  But one day he said he was lying in bed and a nurse came in and he said – did you turn the light on?  And she said – yes, did you hear it.  He said – no I saw it.  And he had excellent sight in that eye until he died at the age of 87.
White
Really?  So, at the time he was injured was he not expecting to get that sight back?
Van Zeller
No, oh no.
White
After the war what did he do, did he go back to work, what was his…?
Van Zeller
Well he was – suffered for years.  I remember as a child, I must have been six or seven I suppose, I know he was still attending outpatients and he came in one day, he'd been to outpatients and my mother said – how did you get on?  Oh, he said, oh not very well, he said, I complained to the surgeon that I was still getting dreadful headaches.  And the surgeon's answer was – Well, when you consider what you've done to your head, I think it's got a right to ache.  However…
White
They weren't exactly sympathetic in those days were they?
Van Zeller
Anyway, he did recover from having these awful headaches.  In the late 1920s, certainly, he started a wine importation business in Scotland.
White
Can you just tell me about your own war because I think that, in itself, was quite eventful wasn't it, I mean for a start you served in two of the services?
Van Zeller
That's right.  At the age of 18 I joined the RAF and trained as a pilot.  And I joined up in the early spring of 1941 and I was in the RAF until the end of 1942.  They had an aircraft called the Wetland Whirlwind and it was probably the worst aircraft the RAF ever had.  They only built a hundred of them.  I don't know if you know what the stalling speed of an aircraft is but when there is insufficient airflow over the wings to keep it in the air it just falls down like a brick or something like that.  And I know I got one record that at least 30 pilots were killed in air accidents with this Whirlwind.  And I believe they were all due to this losing their stalling speed.  By this time, I'd had enough of this damned aeroplane and I refused to fly it any longer.  So, within about 72 hours I became a civilian.
White
So, you just said you wouldn't fly it?
Van Zeller
I said I wouldn't fly it.
White
And can you just explain what action were you involved in with those planes?
Van Zeller
Nearly all my flying with the Whirlwind was on convoy patrols.  We were stationed in the West Country and we were up and down the Irish Sea and the Bristol Channel.
White
So, you were trying to protect the ships basically?
Van Zeller
Protect the convoys, yes.
White
I'm intrigued that you said – I'm not going to fly those planes – and I think you left, could you just do that?
Van Zeller
No, the fact that I refused to fly them any longer, they just closed my commission and said you're no longer a member of the RAF.
White
Right and you did join the Army?
Van Zeller
I did, yes.  And the next thing we knew was we were climbing on to landing craft and the next stop was Sword Beach.  And that was a few days after D-Day, we were the first reinforcements I think going in after D-Day.  So, in fact we were lucky that we missed the onslaught of D-Day and I suppose I lasted about a month and I was wounded on our assault on a town called Villers-Bocage.  End of my second military career.
White
So, you did have a pretty eventful war one way and another.
Van Zeller
Pretty eventful yes.
White
But there's another twist to the Van Zeller family saga.  Peter suffered from glaucoma for around 40 years but it was when he developed Macular Degeneration, a few years ago, that he came to Ovingdean to live.  His father had always been fairly reticent about his wartime experience and it was only now that Peter learned that they had even more in common than he realised.
Van Zeller
I had been here about a month and somebody pointed out to me his name on the honours board here with mention of his military cross award.
White
Did you know that he had been here?
Van Zeller
I didn't, I knew there was an association because I knew about St. Dunstan's, I'd heard him talk about it.
White
And I think you'd been here before and not known it was there, is that right?
Van Zeller
That's right, that's right.  I was coming as a daily visitor and I didn't know his name was on that board.  Now that was – oh that was very moving when I saw that.
White
I guess that makes your feelings about Blind Veterans UK quite complicated in a way because there's your own association and his.
Van Zeller
Complicated and very proud I can tell you.
Remembrance ceremony actuality – gun blast
Ceremony commentary
The leading contingents of the veterans' parade are poised 40, 50 metres up from the Cenotaph waiting for the order to wend their way down past the Cenotaph.  There are among them blind and limbless veterans, for fire, nursing and ambulance services…
Williams
I'm now aboard one of four coaches as we leave the Mall with our blind veterans heading away for their well-earned lunch and some thoughts about how they think this morning went.
Before blind veterans sit down for lunch, I caught up with 95-year-old Margaret Wilson, who, like Sean Stocker I spoke with earlier, also laid a wreath commemorating her family's military service.
How was it, Margaret?
Wilson
It was absolutely brilliant, I loved every bit of it.  I've been very honoured, I think, to be able to lay the wreath on behalf of everybody.
Williams
So, Margaret, what was your connection with the services?
Wilson
I wanted to go as a wireless operator in it and only to find out I couldn't start as a wireless operator for nearly six months or would I go in and do something else till that time came up, which was the barrage balloons – I'd never heard of one, never seen one but that was an experience and one that you can't forget because we got bombed left, right and centre down there, but luckily we survived it.  Somebody must have been looking down from above to keep us safe.
Stocker
Two years ago, was the first time I was using my prosthetic so I was a bit uneasy this year, I was pretty confident stood there for a few hours.  It's amazing for myself to be at this point, actually at being comfortable in these sort of situations, it feels [indistinct words].
Music
Broadcast