Main content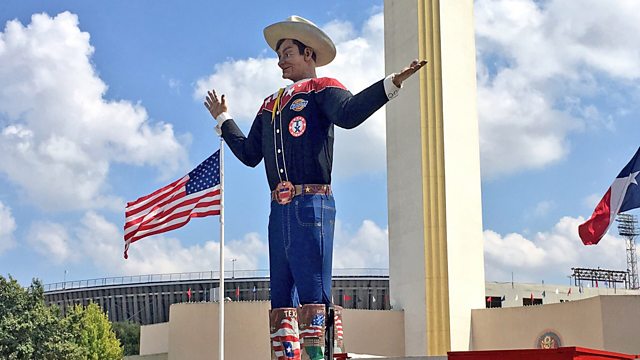 Big Tex
Documentary adventures that encourage you to take a closer listen - starting with a tale of storm drains and schooling from 1970s Texas.
Documentary adventures that encourage you to take a closer listen.
Dallas is a city built on creeks and streams and, in the 1970s, the children of Dallas often roamed a secret landscape of culverts, waterways and tunnels. Meanwhile, above ground, adults in the city were reckoning with a local court order to desegregate the city's schools. Almost twenty years after Brown v Board of Education ruled that racial segregation violated the US Constitution, Dallas began bussing minority students into majority-white schools.
The change brought conflict and strife, but also opened up new worlds for children in a city isolated by race. In classrooms and playgrounds, an osmosis of experience, perspective and rumours took place. Julia Barton, who is white, heard a murky legend of a tunnel to Fair Park, home of the bombastic and beloved State Fair of Texas. Much later (and buttressed by a local basketball star's biography), Julia's black classmate Sam Franklin helps her track the legend down.
But the children of Dallas have a new legend now. The story of desegregation itself has become a distant myth as white families fled the city's schools, leaving new patterns of isolation in their wake. Only the Fair's iconic Big Tex - a 55-foot tall, talking statue of a cowboy - seems to stay the same in Dallas from year to year. But even he may be more changeable than locals want to admit.
With Julia's classmate Nikki Benson, former teenage tunneller Melvin Qualls, local historian Donald Payton, retired teacher Leonard Davis and Sixth Graders from Alex Sanger Elementary School.
Presented by Julia Barton
Additional research by Paula Bosse
Produced by Hannah Dean and Alan Hall
A Falling Tree production for BBC Radio 4
Last on
Broadcasts