Main content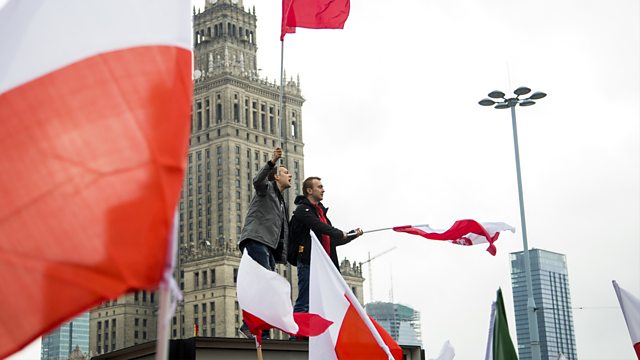 Poland: A hundred years of history
Amol Rajan with Witold Szablowski, Roxanna Panufnik, Michal Murawski and Adam Zamoyski.
Poland turns 100 this November. The country had existed for a thousand years but it was only in 1918 with the Treaty of Versailles that an independent Poland was created. Amol Rajan explores its turbulent history.
No nation's story has been so distorted as Poland's, says historian Adam Zamoyski. He looks back to the great medieval nation that was once a European heavyweight. But Russia, Prussia and Austria divided Poland up in 1797 and turned it into a backwater - before the Nazis and Soviet soldiers arrived to do more damage.
The decades since independence in 1918 have seen extraordinary twists in the tale. Composer Roxanna Panufnik combines Polish poetry with a Catholic mass in her new oratorio Faithful Journey - Mass for Poland. This huge work for choir and orchestra covers the bloodshed of two world wars, the relative prosperity and optimism of the 1930s, the censorship of communist rule and a new hope for the coming years.
In the 1950s Stalin offered the people of Warsaw a choice between two gifts: a metro system or a vast skyscraper. They asked for the metro. He built the Joseph Stalin Palace of Culture and Science instead. Today the Palace is one of Poland's most recognisable sights and has starred on the cover of Vogue. But Michal Muraswki explains that to Poles today the Palace represents their communist legacy - something that the ruling Law and Justice Party are keen to forget,
The reforms of the Law and Justice Party, including a move to ban all abortions, have been met with criticism at home and abroad. Award-winning journalist Witold Szablowski examines Poland's relationship with Europe, with its neighbours and with its past.
Producer: Hannah Sander
Last on
Adam Zamoyski
Adam Zamoyski is a British historian of Polish origin.  He is the author of several books on key figures and aspects of European history, including the best-selling 1812: Napoleon's Fatal March on Moscow (2004) and its sequel Rites of Peace (2007). He has also written a comprehensive history of Poland, first published in 1987, which was updated and republished as Poland: A History in 2009. 

His new book, Napoleon: The Man Behind the Myth is published by William Collins.
Roxana Panufnik
Roxanna Panufnik studied composition at the Royal Academy of Music and, since then, has written a wide range of pieces – opera, ballet, music theatre, choral works, orchestral and chamber compositions, and music for film and television – which are performed all over the world. She has a great love of world music, and is especially interested in building musical bridges between faiths. Her first project in this field was the violin concerto "Abraham", commissioned for Daniel Hope, incorporating Christian, Islamic and Jewish chant to create a musical analogy for the fact that these three faiths believe in the same one God.
Faithful Journey – A Mass for Poland premieres in Poland on 9th November and in UK on 21st November, performed by the City of Birmingham Symphony Orchestra.
Michal Murawski
Dr Michal Murawski is an anthropologist of architecture and cities at the School of Slavonic and East European Studies, University College London, where he is a Leverhulme Trust Early Career Fellow and Lecturer (Assistant Professor). His work focuses on the architecture and planning of Eastern European communism. He received a PhD in social anthropology from Cambridge University in February 2014, and is currently conducting research for a project on the urbanism of Putin-era Moscow, and has also carried out research on the domestic lives of political dissidents living under house arrest.
Palace Culture, an account of the Warsaw Palace of Culture and Science, will be published in spring 2019.
Witold Szablowski
Witold Szablowski is a Polish journalist and author. His 2013 book about Turkey, The Assassin from Apricot City, won the Beata Pawlak Award and an English PEN award, and was nominated for the Nike Award, Poland's most prestigious book prize. Szabłowski currently resides in Warsaw.

Dancing Bears: True Stories About Longing for the Old Days
was published in April 2018.
Szabłowski's forthcoming book is How to Feed a Dictator: Pol Pot, Saddam Hussein, Idi Amin, and Fidel Castro through the Eyes of their Cooks.
Broadcasts