Main content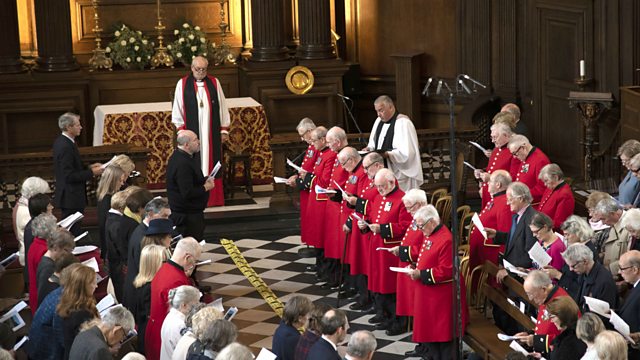 For the Fallen
A service from the Chapel of the Royal Hospital, Chelsea, to mark the centenary of the WWI Armistice. The preacher is the Right Reverend and Right Honourable the Lord Chartres.
To mark the centenary of the Armistice which brought fighting to an end on the Western Front in World War One, Sunday Worship comes from the Chapel of the Royal Hospital, Chelsea. The Hospital is the home of the Chelsea Pensioners - veterans of the British Army who served in Korea, the Falkland Islands, Cyprus, Northern Ireland and World War Two - many of whom take part in the service, along side the staff who care for them.
The preacher is The Right Reverend and Right Honourable The Lord Chartres KCVO PC, and the service is led by the Chaplain of the Royal Hospital, The Revd Steven Brookes. Director of Music: Will Vann. Producer: Ben Collingwood.
Last on

Script
RADIO 4 OPENING ANNOUNCEMENT:
BBC Radio 4. It's ten past eight and time now for Sunday Worship recorded at the Royal Hospital Chelsea. The preacher is the Dean of the Chapels Royal, Bishop Richard Chartres, and the service is led by the Chaplain, the Reverend Steven Brookes, who introduces the service with the first verse of Psalm 46.
CHAPLAIN:
God is our refuge and strength; a very present help in trouble.
INTROIT: For the fallen (Guest)
CHAPLAIN:
Good morning and welcome to the Chapel of the Chelsea Pensioners here at the Royal Hospital Chelsea. Founded by Charles II in 1682 it is the home today of 300 men and women who have served their country in the Army and now live here in retirement. Today is Remembrance Sunday when we recall all who have served and given their lives in the cause of freedom. It is the 100th anniversary of the ending of World War One. No soldiers of the Great War survive. Yet, throughout the world people are gathering to commemorate the tragedy that had been for five years and for the peace that was to come.
Our congregation comprises of Chelsea Pensioners, staff and local residents.
In this historic military Chapel we now commemorate in our worship all those who have served their country in war, their families, and communities marred by war.
We meet in the presence of God.
We commit ourselves
to work in penitence and faith
for reconciliation between the nations,
that all people may, together,
live in freedom, justice and peace.
We pray for all who in bereavement,
disability and pain
continue to suffer the consequences
of fighting and terror.
We remember with thanksgiving and sorrow
those whose lives, in world wars
and conflicts past and present,
have been given and taken away.
HYMN: O God, our help in ages past
CHAPLAIN:
Beloved, we are come together in the presence of almighty God and of the whole company of heaven to offer unto him through our Lord Jesus Christ our worship and praise and thanksgiving; to make confession of our sins; to pray, as well for others as for ourselves, that we may know more truly the greatness of God's love and shew forth in our lives the fruits of his grace; and to ask on behalf of all men such things as their well-being doth require. Wherefore let us kneel in silence, and remember God's presence with us now.
ALL:
Almighty and most merciful Father,
we have erred, and strayed from thy ways like lost sheep.
We have followed too much the devices and desires of our own hearts.
We have offended against thy holy laws.
We have left undone those things which we ought to have done;
and we have done those things which we ought not to have done;
and there is no health in us.
But thou, O Lord, have mercy upon us, miserable offenders.
Spare thou them, O God, which confess their faults.
Restore thou them that are penitent; according to thy promises declared unto mankind in Christ Jesu our Lord.
And grant, O most merciful Father, for his sake,
that we may hereafter live a godly, righteous, and sober life,
to the glory of thy holy name. Amen.
CHAPLAIN:
Almighty God, our heavenly Father,
who of his great mercy
hath promised forgiveness of sins
to all them that with hearty repentance and true faith
turn unto him: have mercy upon you;
pardon and deliver you from all your sins;
confirm and strengthen you in all goodness;
and bring you to everlasting life;
through Jesus Christ our Lord.
Amen
CHAPLAIN:
During World War One the Royal Hospital was subjected to a Zeppelin raid. Regimental Quartermaster Sergeant, John Rochester our Heritage Manager tells us what happened: 
REGIMENTAL QUARTERMASTER SERGEANT JOHN ROCHESTER:
Saturday 16th February 1918. The mid-month temperatures in London were close to normal with some sunny days and frosty nights. At about 9.30 pm, the peace and quiet of the Royal Hospital Chelsea was shattered when a 1000 kg high-explosive bomb dropped from a German aeroplane devastated the North East Wing which at that time was used as staff quarters.
The windows throughout the hospital and in much of the Burton Court area were blown in and a thick coating of red brick dust was to cover the place in the morning. However the major losses that night were the personnel casualties. Captain of Invalids Ernest Ludlow MC late Grenadier Guards, his wife Jessie, two of their five children – the sons Ernest and Bernard – along with a niece Alice Copley, who was staying with them at the time, were all killed.
Fatefully, six months earlier Ernest had been invalided out of active service on the Western Front both to recuperate himself and to help look after other old soldiers at Chelsea.
However war was changing, the demarcation between the frontline and the home front was being seriously eroded by the German bombing campaign on the United Kingdom and London in particular. This started in 1915 initially with Zeppelin airships, but as technology developed they then moved onto winged aircraft such as the Gothas capable of carrying heavier bombloads that were raiding in 1917 and 1918. Total war had arrived in town. In future it was not just those in uniform and deployed who would become casualties, but the families at home were just as much in the path of danger.
One hundred years later to the day and with a dozen of Ernest and Jessie's descendants in attendance from as far afield as Vancouver in Canada, the Royal Hospital commemorated the Centenary of the First World War bombing. For despite a number of members of staff having enlisted and gone off to the front, some never to return, this incident was to be the only real tangible link the Hospital was to have with the War itself. To memorialize this and the subsequent inclusion of those at home amongst the casualties of war, the communal lounge of the wing was dedicated by the Governor to the Ludlow family whose home it had been at the time.
HYMN: O Valiant Hearts
CHAPLAIN:
We gather our thoughts and Prayers together in the Prayer for this day.
Ever-living God,
we remember those whom you have gathered
from the storm of war
into the peace of your presence;
may that same peace bring justice to all
and establish harmony among the nations,
through Jesus Christ our Lord. Amen.
ANTHEM: They are at rest (Elgar)
CHAPLAIN:
The Choir of the Royal Hospital have just sung 'They are at rest' by Edward Elgar with words by Cardinal John Henry Newman. We now hear the Governor of the Royal Hospital, General Sir Adrian Bradshaw read from St Matthew's Gospel, Chapter 5 verses 1-12.
Bishop Richard Chartres, Dean of Her Majesty's Chapels Royal, will then deliver the Sermon.
GENERAL BRADSHAW:
When Jesus saw the crowds, he went up the mountain, and after he sat down his disciples came to him. Then he began to speak, and taught them, saying: 'Blessed are the poor in spirit, for theirs is the kingdom of heaven. Blessed are those who mourn, for they will be comforted. Blessed are the meek, for they will inherit the earth. Blessed are those who hunger and thirst for righteousness, for they will be filled. Blessed are the merciful, for they will receive mercy. Blessed are the pure in heart, for they will see God. Blessed are the peacemakers, for they will be called children of God. Blessed are those who are persecuted for righteousness' sake, for theirs is the kingdom of heaven. Blessed are you when people revile you and persecute you and utter all kinds of evil against you falsely on my account. Rejoice and be glad, for your reward is great in heaven, for in the same way they persecuted the prophets who were before you.'
+RICHARD:
Today one hundred years ago the guns fell silent and the First World War came to an end. 10,000 people will parade this morning in Whitehall as the nation honours those who fell not only in what was proclaimed a century ago to be the "war to end all wars" but also in the conflicts which have followed.
The 20th century had begun in a spirit of optimism. There had been a growth of international trade and of institutions to regulate transnational problems. Communications were better than at any time in human history. The ruling families of Europe were mostly related and a series of peace conferences had generated solemn declarations. In 1910 a distinguished journalist, Norman Angell published a book in 1910 called "The Great Illusion". It argued that war between nations was irrational. Developed economies were interdependent and it made no sense for any nation to impoverish its trading partners.
  
And yet an atmosphere of mutual distrust and suspicion led to the unthinkable: an outbreak of hostilities between the peoples of Europe which very soon involved millions of people beyond Europe. It was a massive failure of statesmanship.
And we remember with sorrow the loss of so much talent and young life but we also remember with pride those who endured the fearful battering on the Western front and in so many other theatres of this truly global war in which Empires disintegrated and resources which could have been used to improve the human lot were turned into killing machines.
We cannot change the past but we are responsible for how we remember it. The business of remembering, with compassion and honesty, is of vital importance because what we remember shapes our future. Our memories nourish our identities for good or ill; they teach us with our many different heritages what together we stand for as a community. Our memories can help us to see what is so worth living for that it is even worth dying for.
     
We remember the courage of countless men and women in this country who endured pain, bereavement, and death to ensure the survival of our way of life. Civilisations die in the night when no one is prepared to sacrifice their lives for their survival.
As we remember those who served in the armed forces of the Crown and on the home front in the conflicts of the past one hundred years, we honour the men and women who serve now. Remembrance is an intergenerational obligation. This Royal Hospital is home to men and women who have served in the armed forces and knowing the cost of war at first hand they – in my experience – tend to be less belligerent than many arm chair warriors.  War is a terrible evil and should never be glorified but doing nothing to defend the vulnerable and to uphold international law opens the door to even greater evils.
Ours is a time of great promise but as the tectonic plates of power shift and a new multi-polar world comes into being there will also be peril. And our prayer must be that with the wisdom sown in blood and tears we may be lovers of life and agents of the reconciliation which is God's will; reconciliation wherever we live or from wherever we come, rejecting those who would stir up hatred and division and instead working for reconciliation that will ensure that our children and our children's children will never have to go through what so many men and women before us so bravely endured in the wars of the past century.
Jesus said 'Blessed are the peacemakers for they will be called the children of God'. So may we be peacemakers in our homes and wherever we live. Conflict begins in the heart of human beings and it is the responsibility of every single one of us to cultivate that reconciling spirit of Jesus Christ, whose fruits are love, and joy, and peace. Amen.
HYMN: He who would valiant be
CHAPLAIN:
Harriet Page our Dementia Specialist Activity worker leads us in Prayer.
HARRIET PAGE:
Let us pray for all who suffer as a result of conflict,
and ask that God may give us peace:
for the service men and women who have died in the violence of war;
may God give peace.
God give peace.
For all members of the armed forces who are in danger this day, remembering family, friends
and all who pray for their safe return;
may God give peace.
God give peace.
For civilian women, children and men whose lives are disfigured by war or terror, calling to mind in penitence the anger and hatreds of humanity;
may God give peace.
God give peace.
For all who bear the burden and privilege of leadership,
political, military and religious;
asking for gifts of wisdom and peace;
may God give peace.
God give peace.
We gather these and all of our prayers as we say together the words that Jesus taught us.
ALL:
Our Father, who art in heaven,
hallowed be thy name;
thy kingdom come;thy will be done;
on earth as it is in heaven.
Give us this day our daily bread.
And forgive us our trespasses,
as we forgive those who trespass against us.
And lead us not into temptation;
but deliver us from evil.
For thine is the kingdom,
the power and the glory,
for ever and ever.
Amen.

ANTHEM: Requiem (In paradisum) (Faure)

CHAPLAIN:
The Matron of the Royal Hospital, Mrs Susan Williams now leads us in an act of Commitment.
SUSAN:
Let us commit ourselves to responsible living and faithful service.
Will you strive for all that makes for peace?
We will.
Will you seek to heal the wounds of war?
We will.
Will you work for a just future for all humanity?
We will.
Merciful God, we offer to you the fears in us that have not yet been cast out by love: may we accept the hope you have placed in the hearts of all people, and live lives of justice, courage and mercy; through Jesus Christ our risen redeemer.
Amen.
HYMN: I vow to thee, my country
CHAPLAIN:
God save the Queen and all In-Pensioners of this Royal Hospital.
NATIONAL ANTHEM
God save our gracious Queen,
Long live our noble Queen,
God save the Queen,
Send her victorious,
Happy and glorious,
Long to reign over us:
God save the Queen.

CHAPLAIN:
God grant to the living grace, to the departed rest, to the Church, the Queen, the Commonwealth and all people, unity, peace and concord, and to us and all God's servants, life everlasting; and the blessing of God almighty, the Father, the Son and the Holy Spirit, be among you and remain with you always.
Amen
ORGAN VOLUNTARY: The Old Brigade (Slater)
Broadcast

Sunday Worship: Dr Rowan Williams